Antoinette [an-twuh–net, -tuh-; French ahn-twa–net]
A French given name, the feminine form of Antoine (from Latin Antonius) meaning beyond praise or highly praiseworthy.
By its name alone, one would expect Antoinette to be some Parisian pâtisserie teahouse that only carries delicate cakes and pastries on its menu. After all, it is helmed by Singapore-born Chef Pang Kok Keong, who has distinguished himself as one of the most prolific pâtissiers in Singapore and the region. But if you're looking for a place with wholesome mains, do not be too quick to dismiss Antoinette just yet.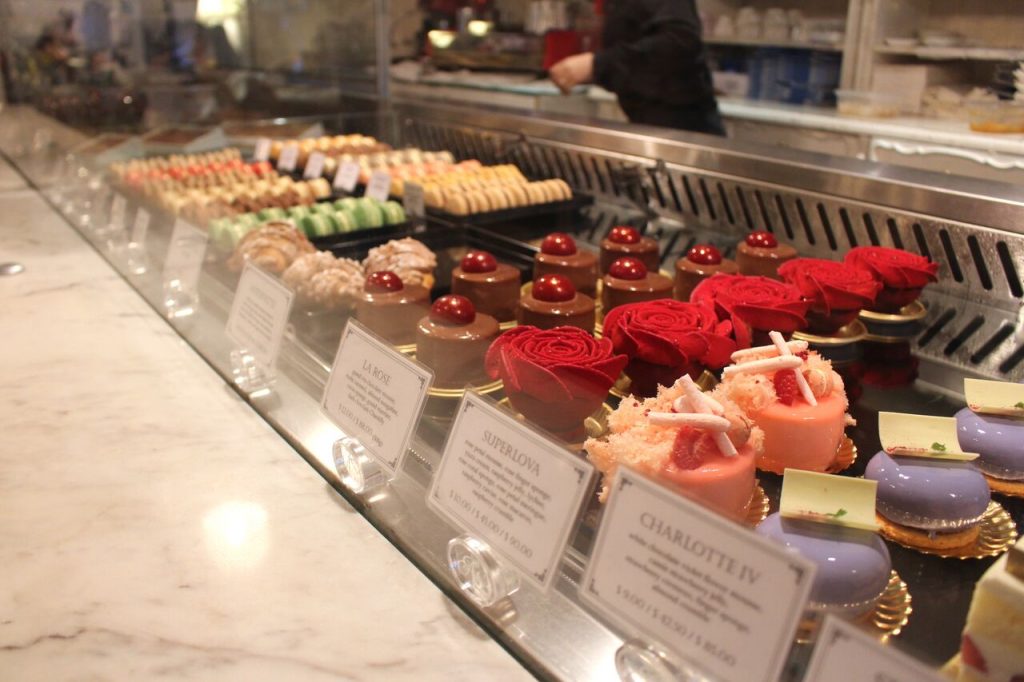 Chef Pang has recently created a new menu for savoury mains, infusing Singaporean ingredients with Western elements. Here's our take on what is worth your palate and wallet (and what is not):
Bread and Butter
OK, I am cheating a bit here. Bread and Butter (S$5) does not really count as a main dish, but this item is one of the interesting creations by Antoinette, to be launched in conjunction with the culinary heritage menu. The bread basket carries five different types of bread, accompanied by four distinct local flavours of cute LEGO-shaped butter – purple turnip (commonly known as "chye po"), shallots, beancurd, and rempah.
I personally preferred the beancurd butter because it is light but flavourful. But, I was told the most popular flavour is Chye Po. Bread and Butter is recommended only if you're a bread lover; otherwise, it is unlikely you will make a satisfied meal out of  polishing off all the bread and butter.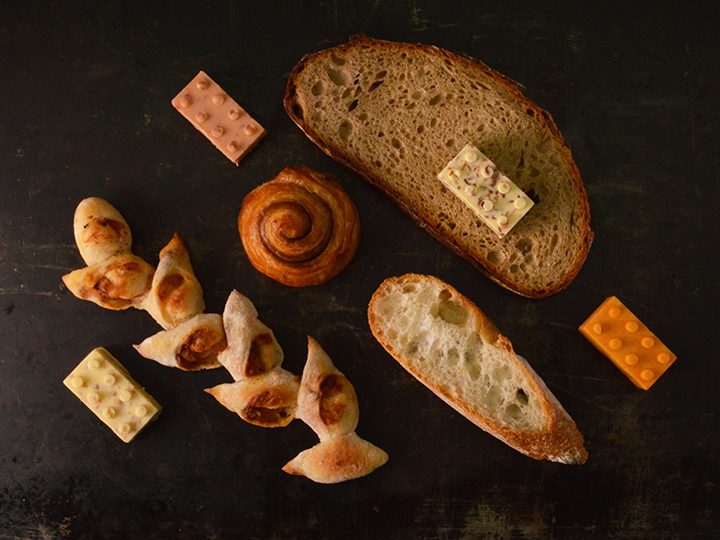 Hakka Nocchi
Now, this is some real savoury food. Of all the mains, Hakka Gnocchi (S$24) is my top pick as it is the most aesthetically pleasing and economically worthwhile, thanks to the ingredients used. Known locally as Abacus Seeds or "Suan Pan Zi", this Hakka dish is typically made using tapioca flour and yam. But at Antoinette, the colourful scheme is put together through the use of beetroot, sweet potato, purple sweet potato and yam. It features a medley of dried shrimp, foie gras, cured pork and morel. We all know that these ingredients – especially foie gras – are pricey. So S$24 for a dish with these ingredients seems reasonable in my books. Who knew foie gras can be featured in a Hakka dish?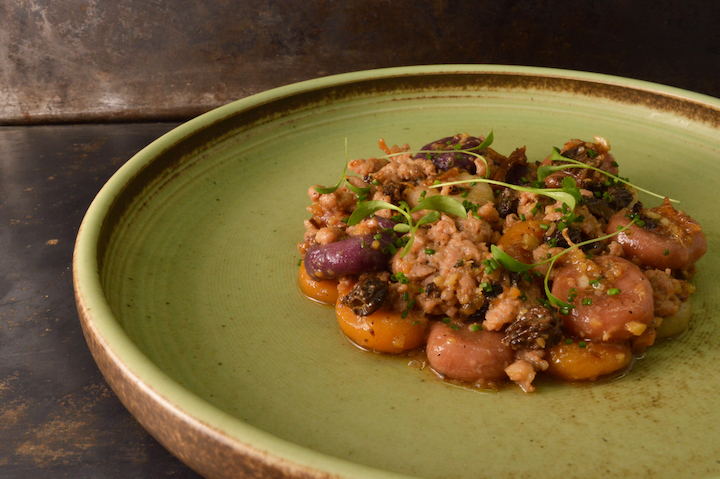 Kale Caesar
It is no brainer the star of this dish is kale. But veggies aside, Kale Caesar (S$22) comes with three pieces of roasted five spice chicken roulade, which is the main reason why I like this dish. Shaped like a single piece of sushi, the chicken roulade is made of marinated chicken breast meat wrapped with roasted chicken skin. A much healthier option than the traditional five-spice meat roll (or "Ngoh Hiang"), the chicken roulade is worth a shot especially if you're a health junkie.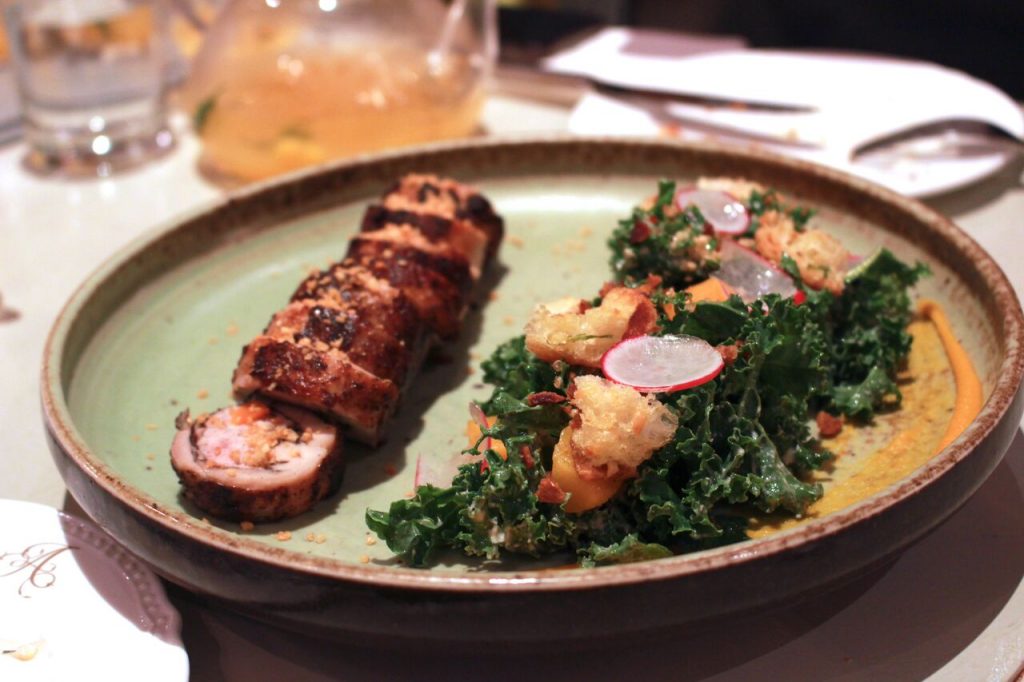 Chilli Crab Arancini
A departure from the chilli crab and mantou pairing, the Chilli Crab Arancini (S$16 for three pieces) features homemade chilli sauce filled in a risotto ball cooked with lobster bisque and crab meat. A combination of all my favourites, I had high expectations for this dish. However, I was somewhat disappointed as I could hardly taste any crab meat. The risotto overpowered the supposed star of this dish. So unless you are a huge fan of cheese, you can give this a miss.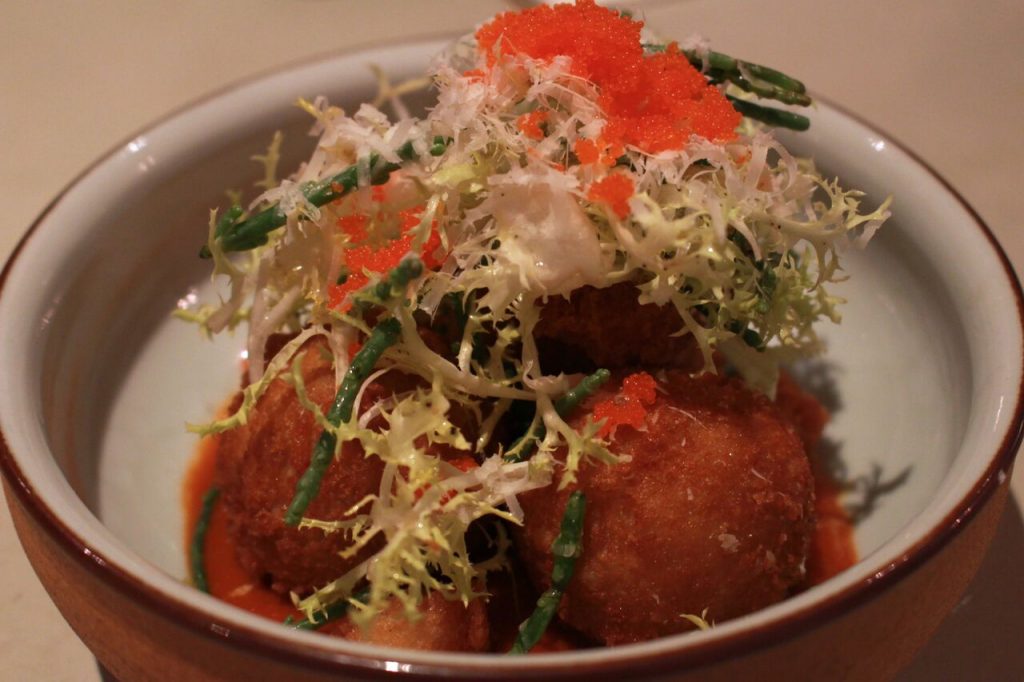 Tuna mousse
Unlike other items on the Culinary Heritage menu, the Tuna mousse (S$18) leans more towards Western flavours and less so Singaporean. The twist in this dish comes from the use of Chinese vinegar instead of balsamic vinegar and Thai basil in place of Italian basil. The plate is also garnished with fine slices of lotus roots, commonly used as an ingredient in Chinese soups. In a nutshell, the dish retained more Western elements and is ordinary in the taste department. Think tuna mayo sandwich.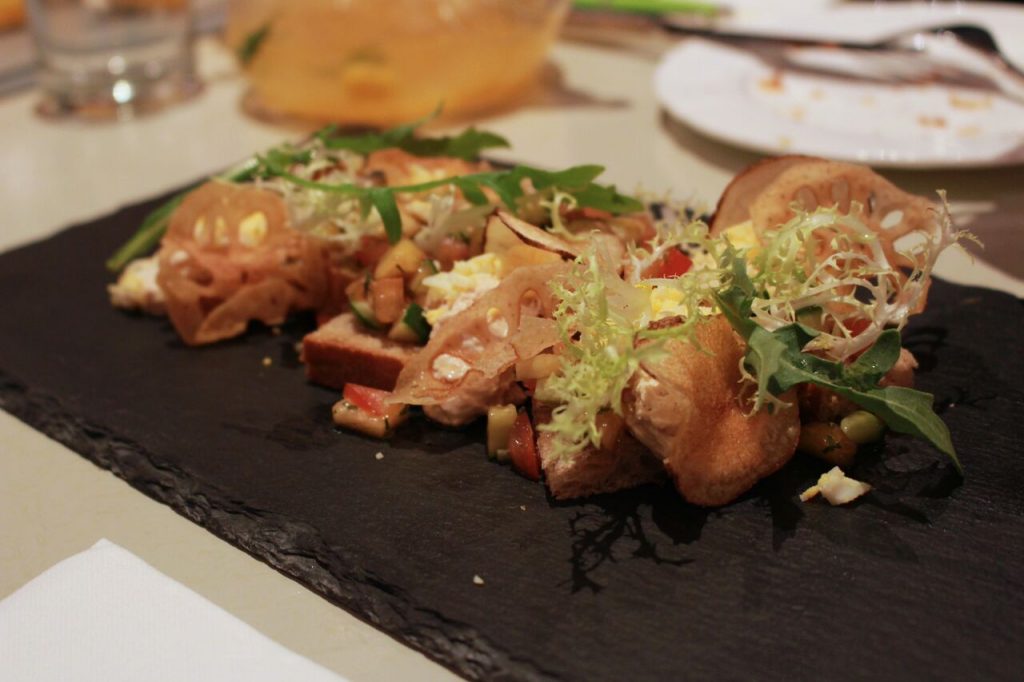 "Chicken Rice"
In the "Chicken Rice"(S$26), chicken breast meat is served with barley grains, replacing traditional rice cooked in chicken oil and fat. While I cannot deny this is the most impeccably plated chicken rice I had in my entire life, this dish was not as impressive as I thought it would be, especially with the price tag it carries. The barley grains did not absorb the aroma of chicken stock and the chicken breast meat, though prepared sous-vide style, was not particularly exceptional.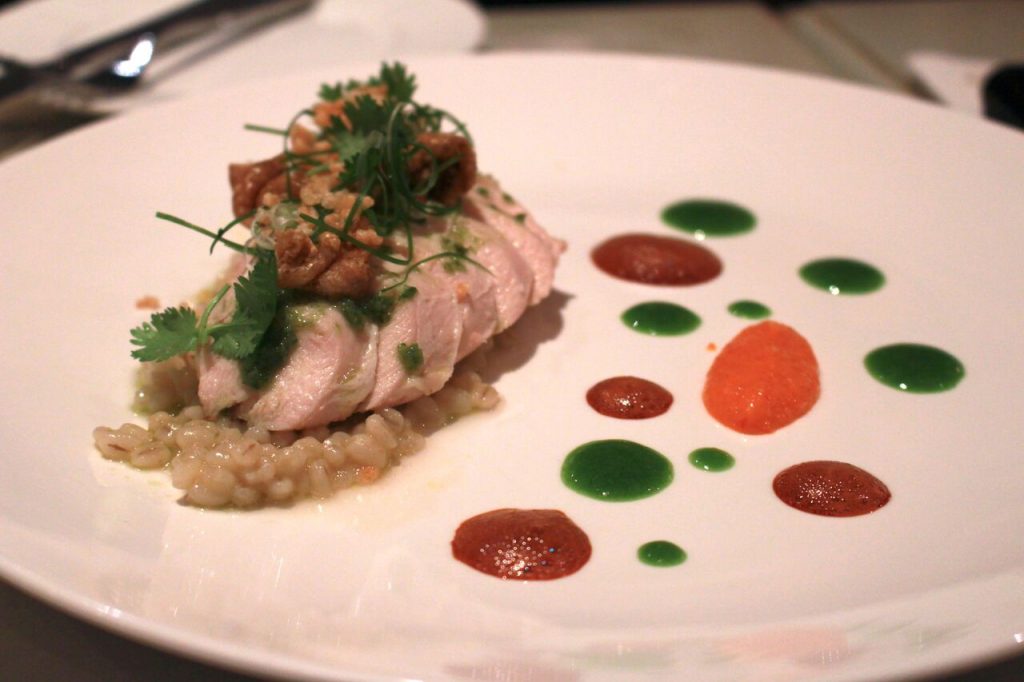 Misty Forest 
If you're looking for the next Instagrammable food shot, you can find it in the Misty Forest (S$18). In this dish, grand cru dark chocolate cremeux is assembled with yuzu curd, praline cream, cashew nut nougatine and smoke (yes, you read that right). Note though, the smokey taste might be overwhelming upon your first bite.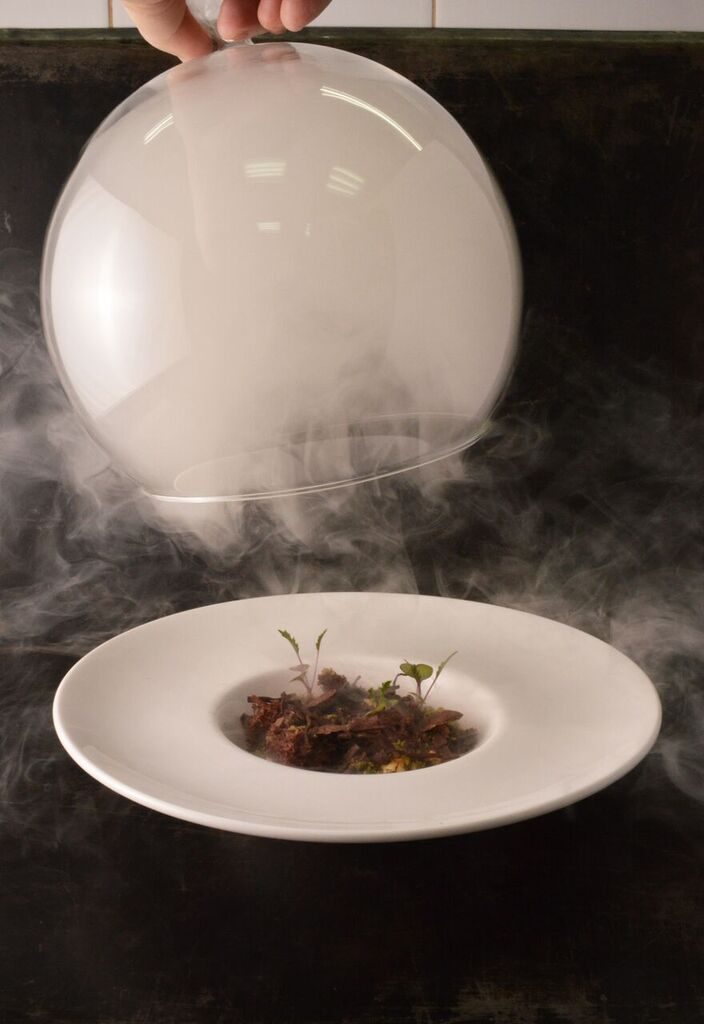 Pandan
The best dish has been left to the last. Traditional, fragrant and a combination of all things nice, the Pandan (S$14) won my heart for the night. The pandan ice-cream complements the ensemble of salted gula melaka and lime foam, resulting in a dessert that is not overly sweet and yet extremely fragrant.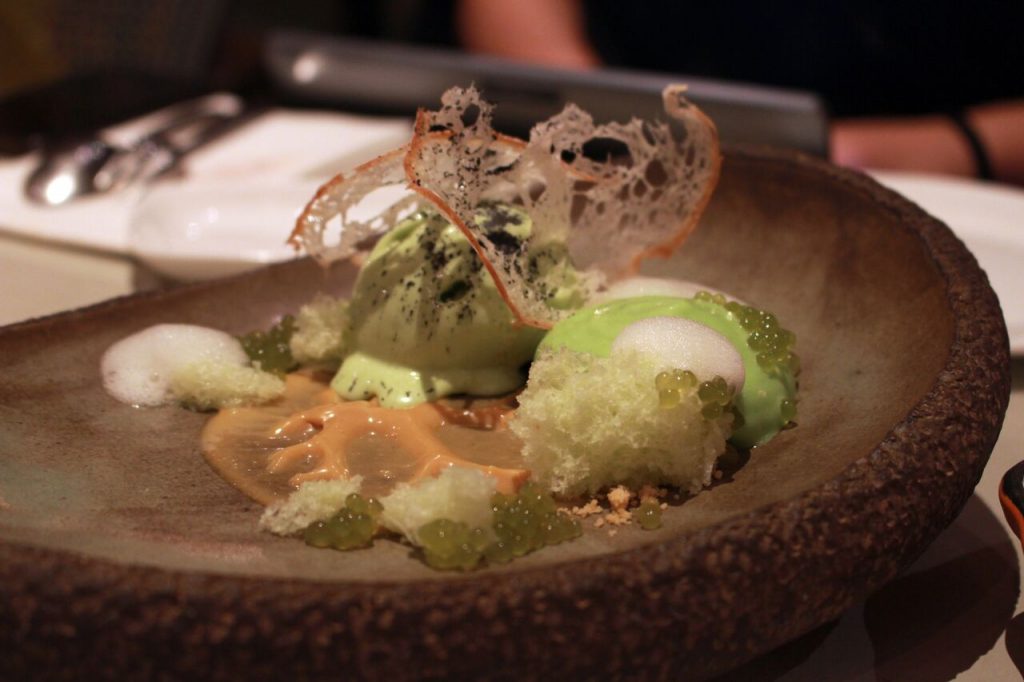 Selected dishes from this new menu will be available at Antoinette, Mandarin Gallery, from 1 September 2017 onwards.
Antoinette – Penhas Road
30 Penhas Road
Singapore 208188
Tel: +65 6293 3121 (reservations allowed)
Opening hours: Mon to Thu – 11am to 10pm; Fri and Eve of Public Holidays – 11am to 11pm ; Sat – 10am to 11pm; Sun and Public Holidays – 10am to 10pm
Antoinette – Mandarin Gallery
333A Orchard Road
Mandarin Gallery #02-33/34
Singapore 238897
Tel: +65 68369527 (no reservations allowed)
Opening hours: Daily 10am – 10pm