You strive to have picture-perfect hair, especially when travelling. After all, you want to look great in your Instagram shots, right? But things – or should I say our hair – don't always go where we want.
Sometimes our hair's good in Singapore but the moment we step out of the country, everything seems to go wrong. Or it could be the other way round — after we've escaped the humidity of our shores and realised the true beauty of our hair overseas, it reverts to its old frizzy state once back in Singapore. Either way, we just can't seem to get it right.
In fact, getting your crowning glory to be really glorious is not that hard. Here are five simple tricks that will improve your daily hair routine, especially if you are a jet-setter.
Wash your hair every day
You may have heard of some old wives' tale about how you shouldn't wash your hair every day. Guess what? You're doing your hair more harm if you deny it a daily wash. I actually learned this from the experts at Beijing 101 during a recent consultation.
Lest you have not heard of Beijing 101, it's a leading hair care centre with specialists who devoted years of research to perfect their technique in addressing scalp problems from dandruff to sensitivity through Traditional Chinese Medicine (TCM) Practices.
I learnt from my consultant June that wherever you are, be it the countryside or the city, tiny impurities can accumulate in our hair and dwell on our scalp's surface. When you choose not to wash your hair, oil and dirt gather in that short amount of time, and that's when dandruff problems begin to surface. My consultant advised that we should all take a shower within one hour of getting back home each day, as tempting as it may be to laze around.
And when you travel, you are tired by the end of the day and might have thought of skipping your hair wash because of the hassle. Now you know you shouldn't skip it. Healthy hair goes far beyond just the products you put on it; it's also a reflection of your body's overall health.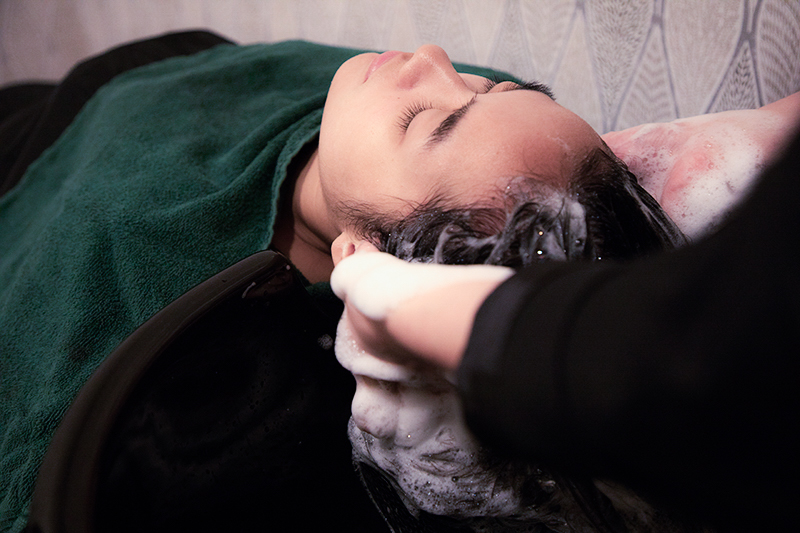 Check the weather forecast
Weird as this hair tip may sound, do check the weather forecast. According to June, it would do good to plan your hair products according to the weather.
If you're headed somewhere colder, the strong winds can be drying, particularly for your scalp, leaving it irritated. Pick a good natural shampoo, one that perhaps contains natural oils and herbs like lemongrass to hydrate the scalp. Back away from shampoo choices that are loaded with harsh chemicals and alcohol, which can accelerate the drying effect.
For humid and sunny environments, protect your scalp from UV exposure with a cap. Our scalp is full of sweat and sebaceous glands that produce oily secretions in such weather. Opt for an oil-control shampoo that will absorb the excess grease and a good conditioner that will nourish and keep the moisture in and frizz out.
Incompatibility with climate and hair products – particularly during travels – can really hurt our hair at its roots. It weakens and makes our hair more likely to fall. Don't be mistaken and think that hair loss only comes with age. It can happen to young people too.
Pick the right shampoo
This takes me to my next point on picking the right shampoo. You've probably used the shampoos provided by hotels, simply because you want to travel light. And you've also probably realised how drying those hotel shampoos are for your hair.
June recommended sticking to one suitable shampoo for your scalp type as a must-bring. Shifting from hotel to hotel or having to settle for drugstore shampoos can be a nightmare when on holiday, so it's important to first know your specific scalp issues and find a good brand that works. If you have a bit of extra luggage space, a conditioner is also essential especially for ladies with long tresses.
If you have yet to find your magic formula for hair care, Beijing 101 also offers a range of essential shampoos targeted at different scalp problems. I got a quick 10-minute scalp analysis done. The analysis is comprehensive, and my consultant made sure to examine various parts of my scalp to spot the different areas that have different problems.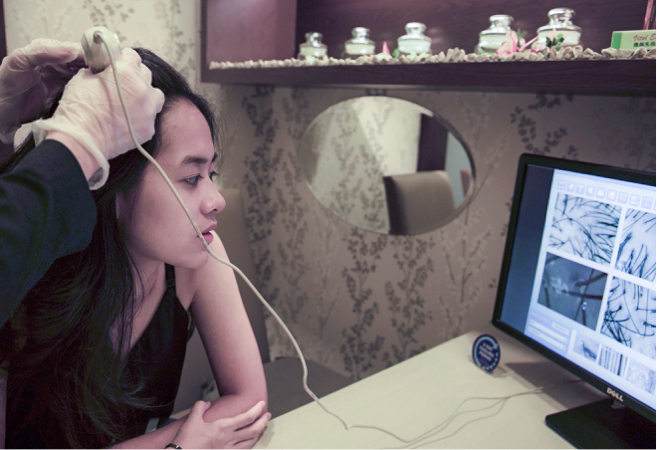 The analysis showed that my scalp was more prone to oiliness, and this covering of oil would affect the growth of new hairs, as the hair follicles are unable to breathe properly. Also, surprisingly, while I've always been confident that my hair doesn't flake, the analysis revealed that I had early dandruff. Early dandruff is when the dry skin surrounds the hair roots, but hasn't yet accumulated to big pieces that break apart and flake off, forming the white dandruff we commonly see. At this juncture, my consultant recommended that I use an oily scalp shampoo to address the underlying oil issue, instead of an anti-dandruff shampoo which may be too strong.
Beijing 101 has hair products prepared with natural premium-grade herbal ingredients that are soothing and vitalising, and can effectively rejuvenate your hair. Their extensive range even includes herbal hair colours, with red blonde or medium brown shades to dye your hair without the strong, drying chemicals.
Get some shut-eye
Frequent flyers will understand how hard it is to enjoy a good sleep. From uncomfortable plane rides to the effects of jet lag, it's easy to find yourself with disruptive rests. The bad news is, this can be pretty harmful to your hair.
The digestive and hormonal systems in our body are regulated by a constant rhythm that resets itself every night. As we sleep and clock in a good eight hours of rest, our body takes that time to absorb the nutrients from the food we eat and control the renewal cycles of our skin and hair cells. With only short periods of rest, there isn't enough time for our hair to build the necessary proteins to keep it strong, so it ends up brittle and falls easily.
With Beijing 101's philosophy centered on TCM, they focus greatly on your overall well-being. With their signature Meridian Herbal Treatment, a customised tonic is applied to your scalp and gently massaged in. You can choose which treatment you want, so the massage targets the source of your problems, be it sleep disorder or stress. The 20-minute massage helps to relieve tension and promote better scalp circulation so that all areas of your scalp receive sufficient blood flow with nutrients and oxygen to stimulate hair growth and healthy cell turnover.
Treat yourself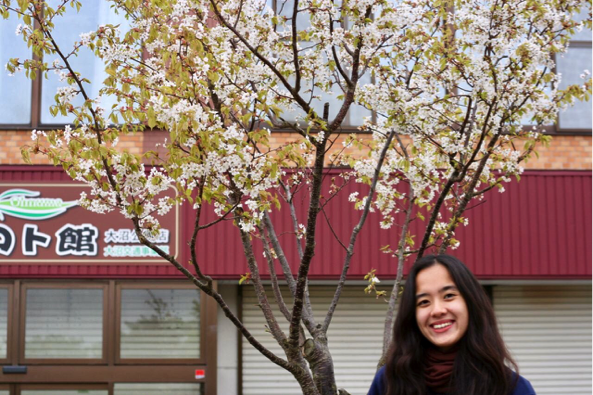 My two short hours with Beijing 101 taught me many things, the biggest takeaway being how important it is to treat ourselves every once in a while.
While the problems of oily or dry scalps can be slightly remedied by choosing the right shampoo for yourself, these only constitute an early superficial cleansing. Frequent travels can stress us and our hair out, and subjecting it to varying temperatures without proper rest or nutrition can be harmful in the long run. It's good to go for a hair care treatment every now and then to get a good, deep cleanse of your hair roots and balance out secretions and pH.
Beijing 101's popularity as a hair care centre is well-deserved, with 90% visible results, as audited by Nielson. There are eight outlets at convenient locations around Singapore. If you have more questions and hair problems that need solving, they're your go-to place for a traditional and effective way to restoring your hair to full health.
Exclusive Promotion for Asia 361 readers: WIN up to S$700 Shopping Vouchers (7 Winners)
Redeem FREE Hair Care Essence worth S$108 with purchase of Hair & Scalp Detox Treatment @ S$40 (UP: S$460). Click here for details.