In the final week of July, global football favourites, Chelsea F.C., F.C. Bayern Munich and F.C. Inter Milan faced one another in a series of friendly matches known as the 2017 International Champions Cup. The four-year-old sporting competition is now into its fifth edition and has seen participation from teams such as Real Madrid, Manchester United and Liverpool.
This is the first year that Singapore listed among the list of host countries, which includes North America, Europe, Australia and China as past destinations.
Strong Showing at the National Stadium
The series of three exhibition matches was held at at alternate days in late July, and included dates where fans could come down to view training sessions. There was no shortage of fans and attendance reached close to 50,000 spectators during the match between Chelsea and Bayern. Interspersed with local football fanatics, there were large contingents of regional supporters, especially during the last game between Chelsea and Inter Milan where an amalgamation of shirtless Inter Milan fans from Indonesia, China, Malaysia and elsewhere made their presence felt with fervent cheers and singing.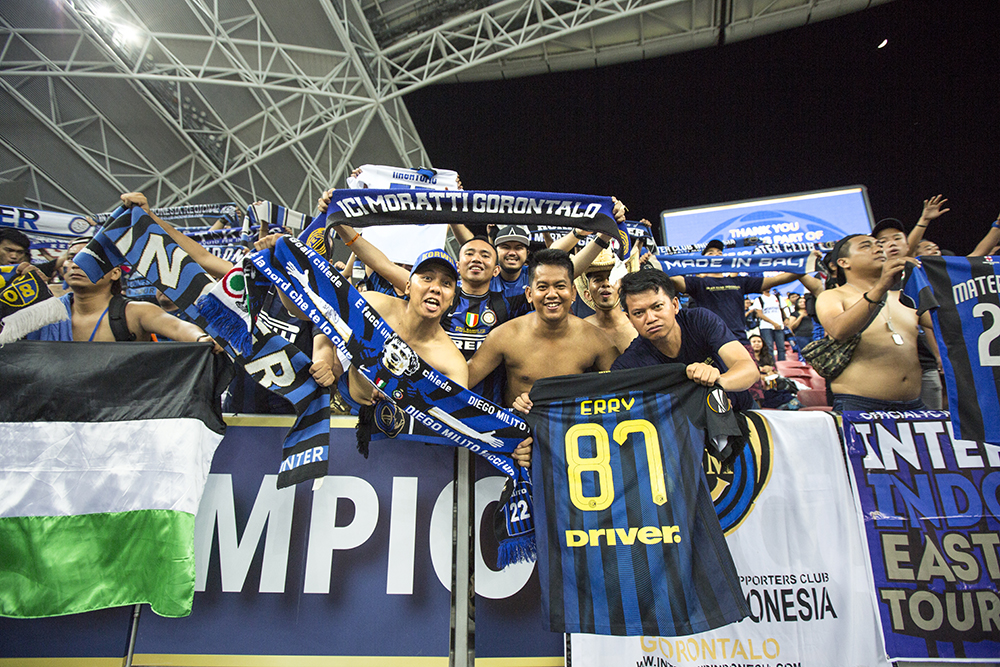 A Fine Performance
Despite a spate of unexpected losses by Chelsea F.C, the reigning 2017 Premier League champions, the performance of all three teams was a sheer delight to all fans in attendance. Chelsea's Michy Batshuayi, Willian and Tiémoué Bakayoko were the uncontested drivers of the match, pushing home wave after wave of attacks, only to be met with sheer resilience and persistence of virtual stone walls, Nagatomo and Valero. Ultimately, it was both Bayern and Inter Milan that prevailed against the incumbent Premier League champions.
During the first match, pitting Chelsea against Bayern, a devastating first half for manager Antonio Conte saw his team utterly routed in less than half an hour, scoring no goals at all to Bayern's three. An invigorated Alonzo and Batshuayi then came around in the second half to sink two goals but the energy levels petered out, leaving Chelsea lagging behind by the game's end.
The tournament's second match-up of Bayern and Inter Milan continued the unexpected winning trend that started two days prior with the Italians' win. Inter played the conservative card, bolstering their defenses against the German assaults, venturing forward only when afforded a chance to make a break for the goal. At the eighth minute, Eder Martins' diving header hit home, and then again half an hour into the game.
By the finals, a growing show of support from Inter Milan fans from around the region was brewing at the stadium's South West corner. Rousing cheers and choruses were heard throughout the match as their heros continued their superb showing that ended in a 2 -1 win for the Nerazzurri (The Black and Blues).
If there is anything to be said about Inter's achievements, it is that they managed to block all attempts at their goal and, in fact, also monopolised any goal scoring completely.  Kondogbia's own goal in favour of Chelsea at the sixty-fifth minute ensured it. The 45-yard own goal quickly took the footballing world by storm, with many hailing his botched pass to the goalie as an ignominious most memorable contribution to football legend. This is certainly going to be one joke that remains in the sporting almanacs for a long time to come. Thereafter, Chelsea's renewed attempts to equalise after that blunder gathered momentum, but still failed to materialise in any tangible gains.