Ever had a hair dye job gone wrong? Well, even hair colour experts have had bad hair days.
"My first hair colour was a hair manicure; I think it was blue or violet. I used semi permanent without bleaching so I had no colour on the hair but my scalp was brightly coloured," recalled Hidero Nakagami, Creative Director of cult UK hair brand TIGI's salon in Singapore.
Sounds mortifying but those days of colour mistakes are long gone for Hidero. The Japanese industry veteran has recently moved from Tokyo, Japan to head the creative team in Singapore, following the opening of TIGI's first ever salon on the island.
Founded in 1986 by British hairstylist Anthony Mascolo, TIGI is all about vibrant, edgy colours. And the brand is certainly not shy about its loudness. A trip down to its spanking new 1,600 square-foot salon at Orchard Gateway will make you trippy with just the products on display – including iconic ones like Superstar Queen For A Day Thickening Spray, Bed Head Motor Mouth Mega Volumiser with Gloss and Flexi Head Hairspray. It's so electrifying it feels like a party.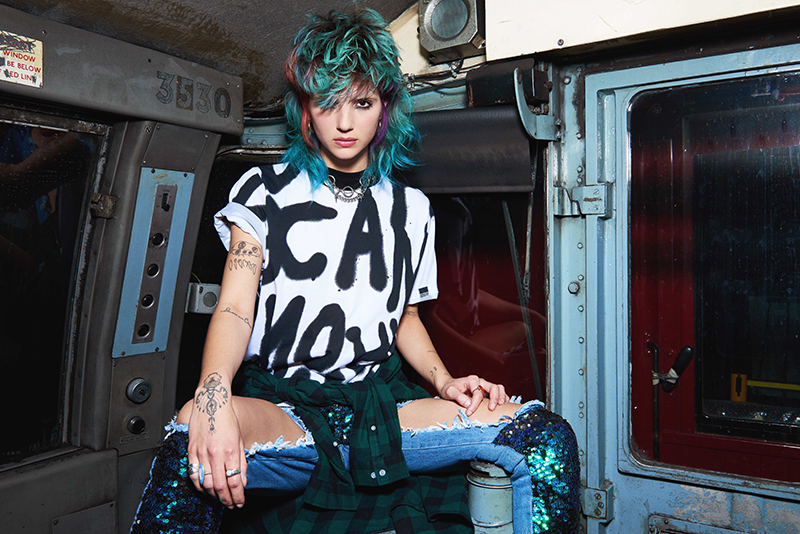 Each season, the TIGI global creative team comes out with the trends for each season. If you are the adventurous type, well, you're in luck. This year is all about rebellious colours, according to Andy Cheong, Regional Education Director for TIGI Colour Asia.
"TIGI is coming out with a lot of cool tones, which work well for Asian skin as our skin tone is naturally warm. Green, blue and violet tones are very 'in' in Asia," shared Andy. "For bold colours, I would say that violet is most popular in Asia as it's strong but not too obvious. Warm tones, especially copper tones, tend to look bad on tanned Asian skin."
For those who want to change up their looks and yet aren't exactly bold enough, TIGI offers a Bed Head Colour Trip range of 12 semi-permanent and bright shades. Think green, purple, pink and blue – essentially any hue you can think of, your stylist will be able to create from the lineup. Good for about 20 washes, the dyes used in this range are formulated with hydrolysed keratin and coconut oil to strengthen and nourish the hair.
Now, go forth and embrace colours to relive the heady (pun intended) days of your youth at TIGI.
A hair colouring service starts from S$100. TIGI is located at B1-02 Orchard Gateway, Singapore.