The latest musical production from the acclaimed creator of the South Korean shows NANTA and JUMP has arrived on the sunny shores of Singapore – more precisely, Sentosa. Pioneering the new concept of "eat-ertainment", Director Choi Chul Ki's latest live show concept is a unique blend of food, culture and comedy to tantalise the Singaporean tastebuds.
CHEF: Bibimbap vs Chilli Crab is a first-of-its-kind collaboration between Resorts World Sentosa and Director Choi. It features beatboxing, B-boying acrobatics, theatre and comedy infused with South Korean food and cultural references. The story revolves around a cooking contest between two teams of chefs – Red team vs Green team – battling it out to produce the best dishes to win the hearts of the audience.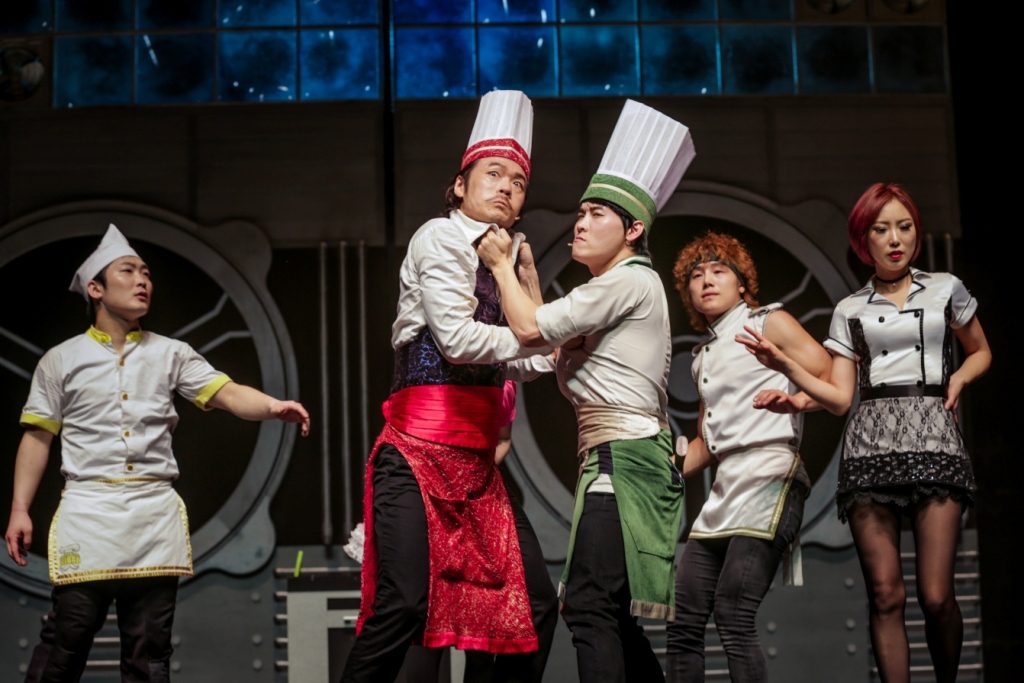 To lend a touch of familiarity and star power, local celebrity twins, Jayley and Hayley Woo will take turns to play the role of Cutie Chef for a month each during the show's run from 10 June to 22 July 2017.
The relatively small but power-packed cast members each possess a special talent which is utilised to create various dishes. The musical culminates in the final showdown, or rather cook-off, where the teams pit the iconic Singaporean dish of chilli crab against the signature Korean dish of bibimbap.
Audience interaction is a key feature and highlight of CHEF. In a fairly packed hall of lively, enthusiastic mostly millennials, there is no lack of opportunities to get involved. Audience members are roped in at every scene to participate in the performance and to determine the outcome of the contest. It is refreshing to laugh with and at others who are not afraid of making a spectacle of themselves and who bring out the spontaneity and humour of the cast.
Overall, the multitalented Korean cast does not disappoint. Special mention goes to the beatboxers – Rhythm Chef and MC Chef, who display solid skills and precision throughout the show – quite a feat considering nearly the entire show relies on their voices. The finale where they belted out iconic songs and popular K-pop tunes showcased the range of their beatboxing skills, which was quite simply, impressive.
Also, be wowed by the operatic voices of the red team's Master Chef and Sexy Chef who delivers an emotional yet new age rendition of the traditional Korean folk song "Arirang". A minor gripe would be perhaps a lack of clarity of speech from the cast, especially so from Cutie Chef whose enunciation was a little hard to decipher. Nevertheless, riding on the Korean wave, many would not want to miss this exclusive showcase which promises to deliver great fun and laughter for the entire family.
Surely Korean popular culture is the clear winner here.
---
What: CHEF: Bibimbap vs Chilli Crab
Where: Resorts World Theatre, Singapore
When: 10 June – 22 July 2017; 8pm (2pm show is available on select Saturdays and Sundays)
Tickets: Get your tickets via SISTIC online or Resorts World Theatre. Prices range from S$38 to S$118 per ticket. Click here for details.