Setting up your own business can be a daunting process, especially for a first-timer. You have to get financial support, register your business with the authorities, create a business website for online presence, think of and execute an online marketing strategy for your new business – the list can go on and on.
Your enthusiasm for your new business could very well fizzle out before it even kicks off proper.
Not everyone is tech-savvy, and certainly not everyone is well-versed in the ways of the digital world to kick-start a business online. Sounds unnerving? Not if you get help from the geeks behind Host Geek.
Who are these Geeks?
Host Geek has been around since 2005, helping businesses to take care of the nitty gritty including domain name registration, email-only hosting, shared hosting, reseller hosting, WordPress and Magento hosting solutions, digital marketing and more.
In a nutshell, Host Geek is pretty much like a one-stop shop that helps to make creating your online business presence as easy as ABC.
To get started, all you need to do is to choose a hosting type based on your business needs and size. For instance, if you are simply a sole proprietorship looking to start small with a modest online presence, opt for the Shared Hosting Plan that offers 1GB to 8GB of storage, 10 to unlimited emails with unlimited bandwidth.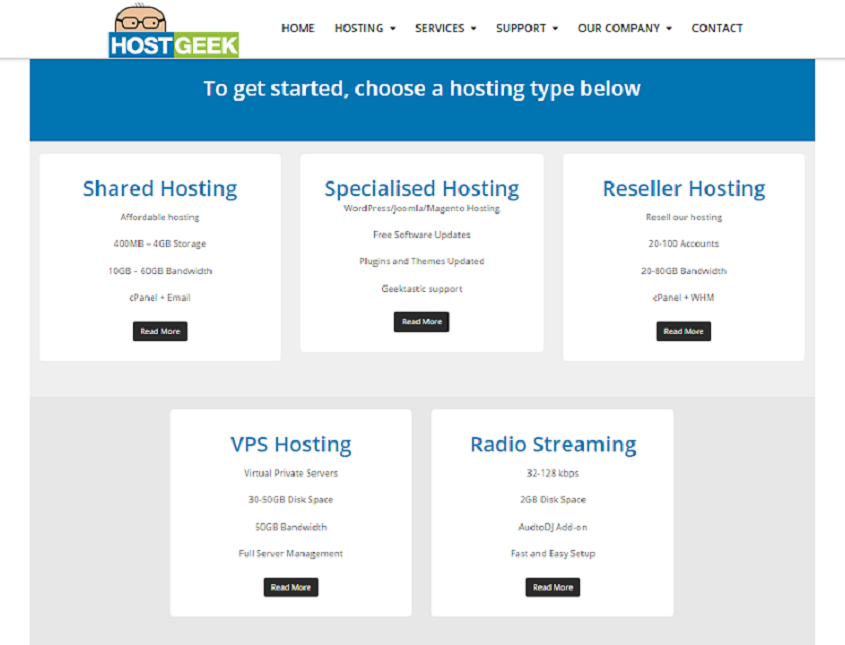 If you are looking to build your website on the most popular website and blogging platform on the market, choose from one of their WordPress Specialised Hosting plans. The Geeks can also help you with your website design needs if you require assistance in that department.
And do terms like Search Engine Optimisation (SEO), social media boosts and/or content marketing sound like Greek to you? Fret not – Host Geek will help to build up your online visibility and get the word out on your business.
Startup Programme
Host Geek also helps to ease the process of starting a startup (no pun intended). With its Startup Programme, they aim to take away much of the hassle and initial costs from you so you can concentrate on other aspects of launching your business.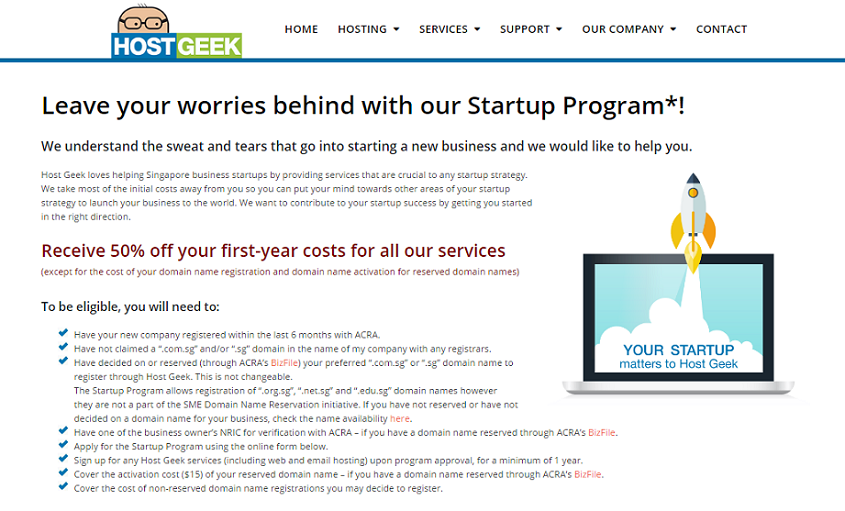 In fact, Host Geek is offering 50% off your first-year costs for all the services they provide, except for the cost of registering your domain name and domain name activation for reserved domain names. The first of its kind in Singapore, the Startup Programme is only for newly registered companies that sign up for Host Geek's services for a minimum period of one year.
To be eligible, you will need to:
Have your new company registered within the last 6 months with ACRA.
Have not claimed a ".com.sg" and/or ".sg" domain in the name of my company with any registrars.
Have decided on or reserved (through ACRA's BizFile) your preferred ".com.sg" or ".sg" domain name to register through Host Geek. This is not changeable.
The Startup Program allows registration of ".org.sg", ".net.sg" and ".edu.sg" domain names however they are not a part of the SME Domain Name Reservation initiative. If you have not reserved or have not decided on a domain name for your business, check the name availability here.
Have one of the business owner's NRIC for verification with ACRA – if you have a domain name reserved through ACRA'sBizFile.
Apply for the Startup Programme using the online form below.
Sign up for any Host Geek services (including web and email hosting) upon program approval, for a minimum of 1 year.
Cover the activation cost ($15) of your reserved domain name – if you have a domain name reserved through ACRA'sBizFile.
Cover the cost of non-reserved domain name registrations you may decide to register.
With the techy hassles of starting your online business out of the way, are you more inclined to make your dream into a reality now?