OSIM recently introduced their new uStiletto leg massager for the fashion-conscious and we fell in love with it after trying it at the launch preview.
The uStiletto is not just functional, but also pretty. It is available in three designs, each catered for a different modern woman:
| | | |
| --- | --- | --- |
|   | | |
| Elegant, for the sophisticated lady with that touch of class. | Homemaker, for the homemaker who loves all things pretty and feminine. | Kawaii, for fun-loving and lovable, young ladies. |
Most other massagers in the market are in single colour or with dull designs. The uStiletto definitely stands out from the crowd and some may even call it the prettiest leg massager coming from OSIM.
The men don't get it, but ladies have a love-hate relationship with heels, a common staple for any woman who wants to boost her height or simply complete the look of their elegant outfit. Heels potentially make the wearer look and feel more confident, but alas, all these come at a price.
Prolonged wearing of high heels result in excess muscle fatigue and strain, a sore back, stress on the knees, calves and feet. Frequent wearing of heels may cause calf muscles to tighten and shorten over time, leading to uneven weight distribution on the sole of the foot.
Don't we all just love the looks of the heels but hate the aches that come with wearing heels?
The OSIM uStiletto is here to make the aches go away. This latest leg massager from OSIM is specially developed and designed to provide a thorough and pampering massage of aching legs and feet with it's S-Tone Airbags and S-Care Rollers.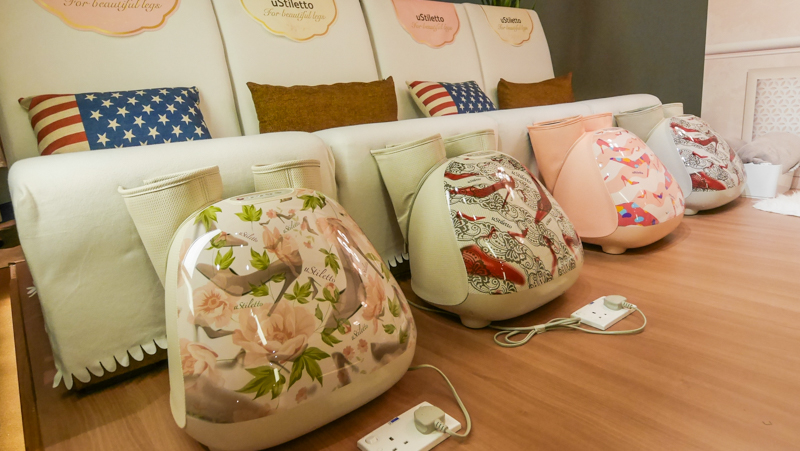 In addition to the soothing relief of muscle aches and strains, the uStiletto helps to beautify the legs by reducing water retention, reducing the appearance of varicose veins, toning and tightening the muscles.
The uStiletto gives your legs a snug embrace from the toes, all the way up to the calf, giving a perfect fit. A selection of light strokes or vigorous massages brings almost instant relief. Gentle yet firm compressions from strategically placed airbags around the calf, foot and ankles stimulate circulation while strategically positioned reflexology rollers under the foot arch, heel and toes knead away the day's aches and strains.
The uStiletto comes with five programme settings designed to suit individual preferences:
1. Pamper
·   Combination of gentle and comfortable massage techniques soothes discomfort arising from wearing stilettos – the perfect choice for users new to leg massage.
2. Relief
·   Emulating the agile kneading and pressing massage techniques of a professional masseur, this programme relieves the tension accumulated on tired legs and ankles after a day of walking on stilettos.
3. Beauty
·   Intense airbag massage improves circulation and metabolism in the legs, reducing water retention, toning and tightening muscles, achieving healthier and beautiful legs.
4. Reflexology
·   For health and better well-being through foot reflexology; stimulate vital reflex points to enhance circulation and the curative effects of massage

·   For people who like stronger reflexology massage, such as high heels wearer who have a regular massage regime

·   Strong reflexology massage helps improve metabolism for better well-being, giving you a healthy glow.

5. Sleep
·   Gentle and soothing, relaxes body and mind for a restful beauty sleep
We recommend the Pamper and Sleep programmes for those who prefer light massages and the other programmes for those who prefer stronger strokes.
Don't just take our word for it. Check out the testimonials from these bloggers who also attended the preview launch:
Limited Period Pre-sale Exclusive:
Use our promo code <OSIMKOL3o48gl> at http://www.lazada.sg/osim1/ to enjoy an exclusive offer for the uStiletto from now till 30 May 2017.
The uStiletto is also available at these selected OSIM roadshows:
Suntec City, Outside Gudetama Restaurant (Now till 4 Jun)
Takashimaya Interior Department, B1 (Now till 29 May)
Causeway Point @ Level 1 Linkway (29 May till 4 Jun)
Waterway Point, outside Charles&Keith (29 May till 11 Jun)
For more information on uStiletto, visit the OSIM website. We heard that prices are only going to go up, so do grab it fast!