Compared to prestigious international hotel chains, Hotel Jen Tanglin Singapore may appear to be a less premium player in the hotel industry. But unknown to some, it is actually an offshoot of the acclaimed Shangri-La group. With the Shangri-La name behind Hotel Jen Tanglin, it was inevitable that I was expecting top notch service during my staycation at the hotel.
Check-in
I checked into a Deluxe Room on the 15th floor. Upon entering the room, I was greeted by a sense of passion for design and a familiar sense of homeliness. I loved how the simplistic yet chic design of the wall blended so well with the hanging bedside lamps.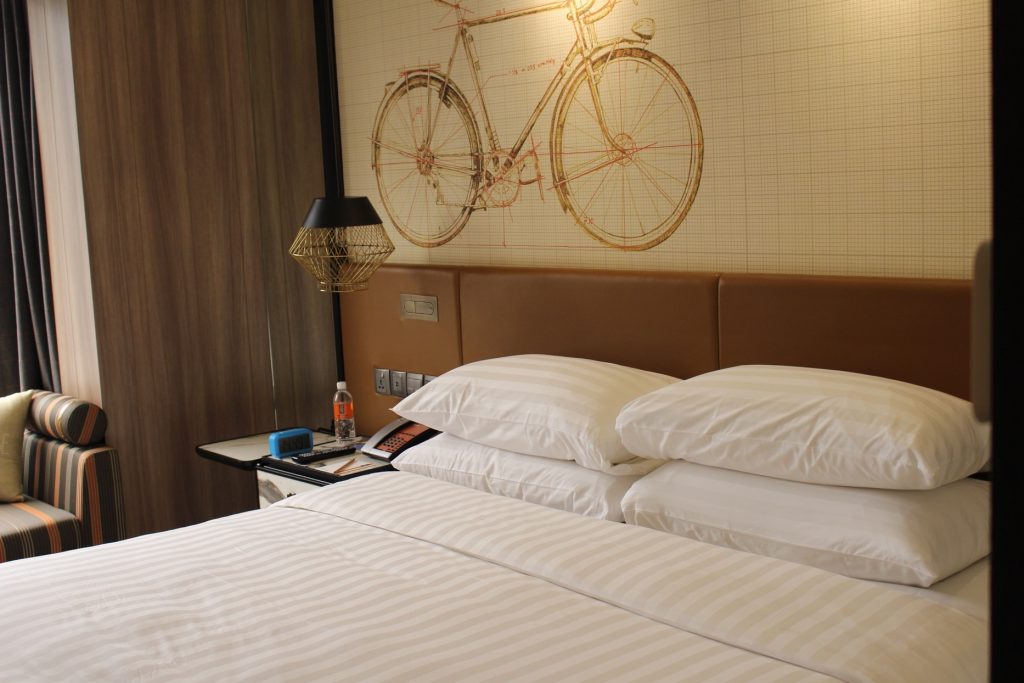 Although the room was not particularly spacious, it was of a comfortable size for me. A couple of steps from the king-sized bed is the bay window sofa designed to fit perfectly with the overall theme of the bedroom. I was impressed by the fact that no detail in the room was left out of the wistful design – including the cushions on the window sofa. Every spot was photo-worthy!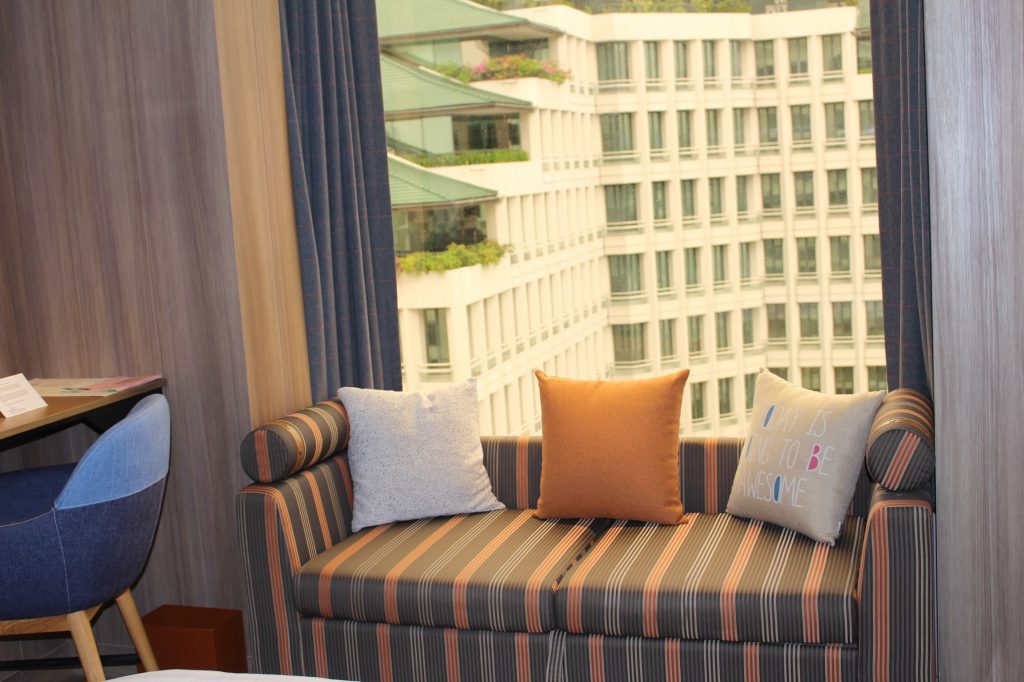 What intrigued me the most is the handy smartphone which is provided for guests in every room. Besides giving guests free Internet access and international calls, the smartphone also recommends various tourist attractions and things to do in- Singapore for first-time visitors here.
The bathroom did not disappoint as well. Even though there is no luxurious bathtub of any sort in the deluxe room, I liked the clear segregation between the standing showers and basin. I have stayed in hotels where the shower area is not separated from the dry area and it can get pretty messy.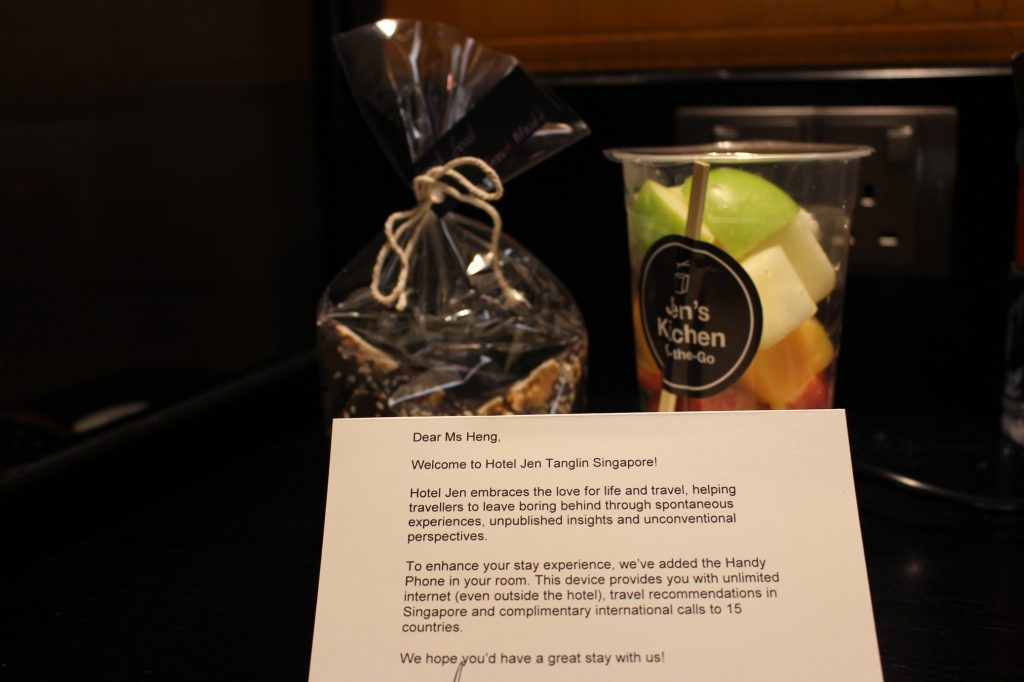 Adding icing to the cake, Hotel Jen Tanglin also offers cut fruits in-a-cup as a welcome gift to guests. Recognising that guests are constantly on the go, this simple gesture displayed the hotel's thoughtfulness.
Munch at Hotel Jen Tanglin
After a good night's rest, I headed to J65 buffet restaurant for a hearty breakfast the following morning. Located on the ground floor next to the Hotel Jen's lobby, J65 spans a large floor area with a seating capacity of 150. Compared to some hotels where I have stayed at, I had no issue searching for a comfortable seating here, one that was not too close to other guests.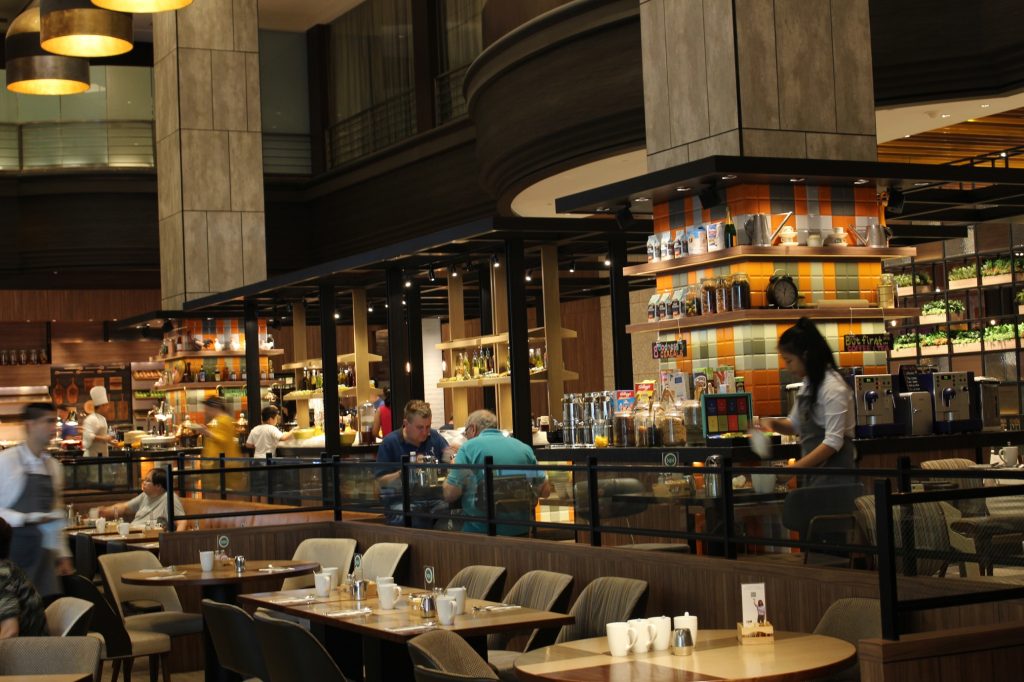 J65's breakfast menu is wide-ranging, from the traditional English breakfast to Asian choices, including authentic Singaporean dishes such as Roti Prata, laksa and dim sum. If you're in for a healthy start to your day, J65 also offers a whole myriad of cereals to choose from.


During my travels, I have stayed at both luxury and boutique hotels, but there's never one quite like Hotel Jen Tanglin Singapore. Hotel Jen Tanglin Singapore, with its unique formula bringing elegance and simplicity together, has given me a different kind of staycation experience. Short but sweet, that's how I'd remember my stay by.
From now till 26 November 2017, Hotel Jen Tanglin Singapore lets you maximise your stay with a best weekend staycation deal from S$176 a night, valid for stays on Fridays, Saturdays and Sundays. Visit the website for more details.
Hotel Jen Tanglin Singapore
1A Cuscaden Road,
Singapore 249716
Tel: +65 6738 2222
Reservations: [email protected]