I hate folding, period. I have no patience for origami, couldn't care less for the KonMarie or any method of folding clothes, and I would rather leave the packing away of tents or inflatable kayaks to my camping companions. I do, however, appreciate a well-made piece of outdoor equipment. When you go head to head with mother nature, you want to be assured that what you bring along with you is as tough as you'd like to think that you are.
The Matador Freerain24 Backpack is a lightweight, foldable backpack that weighs just 156 grams and rolls into an attached pouch just 13 cm X 8 cm. Unfurled, this nifty little knapsack sports two side pouches, a waterproof front pocket and a massive 24 litre main compartment that is also waterproof. As a piece of outdoor equipment, examining its light and thin construction might cast some doubts on its durability. However, Matador ensures quality by using only the finest materials available: 30D Cordura® fabric, Hypalon® rolltop closure, ITW Nexus® buckles and YKK® zippers. It is puncture-resistant, and guaranteed for one year against normal wear and tear. However, it is not rip-proof, especially if you take a box cutter to it, so I would advise being careful when scrambling through dense brush or when rubbing against rocks.

Putting the Matador through some real world tests, the list below details some of my observations, likes and dislikes in each scenario:
Trekking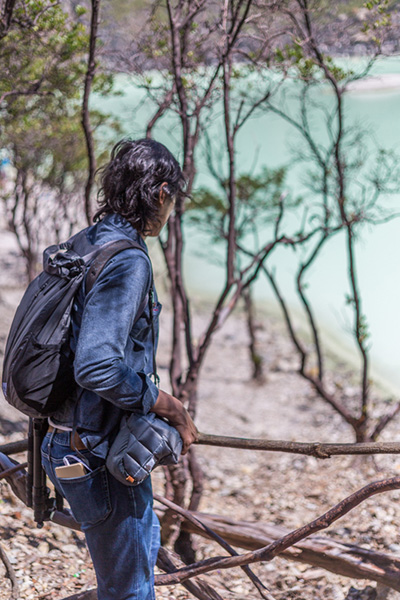 When trekking, I like to keep the weight that I am carrying to a minimum. The Freerain 24, at 156 grams is compact and lightweight enough to pack in one's main backpack without additional effort. It can then be used in the event of rain, or when making short trips away from the main place of rest. On short journeys, it is spacious and sturdy enough to hold additional items such as water, a jacket and a camera. I would, however, have prefered if there was a D-ring or a plastic loop on the straps where I could hang additional equipment such as a small torchlight.
When I am pushing past tropical foliage, every piece of material on me must be tough enough to withstand rips, snags and scratches. I have had a few minor scrapes against rocks and gotten snagged on branches but, Cordura, the material which the Freerain 24 is made from, is known to have good resistance to scuffs, tears and punctures. So trusted is its durability that it has been used by the military for 45 years. That said, I would still treat it with reasonable care and not subject it to deliberate puncture tests with a pocket knife.
Kayaking
When kayaking, I want to know that my belongings won't get wet, and if they fall overboard, that it won't sink. When closed properly, the Freerain 24 was water tight as well as air tight. Like the traditional heavy-duty dry bags commonly seen at beaches, this bag can also float if not filled with items that are too heavy. The air tight rolltop seal made from Hypalon virtually guarantees all contents stay as dry as they when they were packed.
Camping
When I am camping, I want to have a smaller bag handy when I make  short trips away from camp. For the stated reasons of durability, light weight and convenience, this is hands down the perfect bag.
Skiing
When out skiing, I want to ensure the main compartment is adequately sealed off and can keep its contents dry. The air tight rolltop seal is impervious to all moisture in any physical state.
On holiday, the Freerain 24 makes the perfect daypack. It fits comfortably into your luggage or pocket. You could pop your shopping in, or your personal items. What I would have liked to see, for the sake of security in this case, is a strap that clips across the chest or waist.
In any case, this rugged, compact daypack has won me over, I foresee this handy little bag becoming my nifty travel companion for some time to come.
The Matador Freerain 24 is available for sale at Tangs Orchard, Robinsons at Heeren and Analogue+ at Vivocity.