The heart of our nation's culture lies in its mouth-watering local hawker delights. As Singapore's 51st birthday rolls around, what better way than to celebrate with a hawker fare buffet by the riverside?
This year, The Fullerton Hotel's Town Restaurant has assembled an gastronomic line-up of hawker delights at its "River Hawker Festival". With rich and multicultural heritage culinary creations by well-loved hawker masters and Fullerton in-house chefs, be prepared for a feast!
I am a huge fan of hawker food. If you too are like me, this is the place to satisfy all your cravings in one sitting. Save the time and petrol by heading down to Town Restaurant for your one stop shop of Singaporean local delights. Here's a sneak peek of what you can expect:
1. Casuarina Curry Restaurant Roti Prata (Casuarina Road)
Derived from Indian cuisine, roti prata is uniquely Singaporean. Unlike the original Indian version, Casuarina Curry's prata has a delightful crispiness that is slightly different from the usual chewy doughy texture.
I later also discovered that Casuarina Curry has a unique folding technique for their prata, which makes for its fluffy texture. Dip the prata in their signature (read: extremely thick and supremely satisfying) curries and you can thank me later.
2. Haron Satay (East Coast Lagoon Food Village)
Personally, this is hands down the best satay I've encountered so far on my satay pilgrimage.
Haron has had 30 years under its belt for its old-fashioned Malay-style satay. The marinade is flavorful, comprising cumin, ginger, lemongrass, tumeric and other spices. The meat (especially the mutton) is truly spectacular, as it is tender, succulent, and with just the right amount of barbecue.
3. Kway Guan Huat Joo Chiat Popiah & Kueh Pie Tee (Joo Chiat Road)
The Kway Guan Huat founder has had a long 70-year family tradition of making authentic handmade popiahs in Singapore. What I loved about the popiah was that the skin was so soft. It must be the secret family recipe handed down from the Fujian province.
4. Nusa & Tara Lontong (ABC Brickworks Market and Food Centre)
The last I heard, their lontong is so good that it sells out by 11am on weekdays. Madam Mariani inherited the family recipe from her mother-in-law and even modified it to cater to the health-conscious!
5. Riyan Hidayat Soto Ayam (Serangoon Garden Market and Food Centre)
The Malay version of chicken soup, soto ayam is a rich chicken broth braised with cinnamon sticks and cloves, giving it a delightful light spicy flavour. I call this the "chicken soup for the Singaporean soul".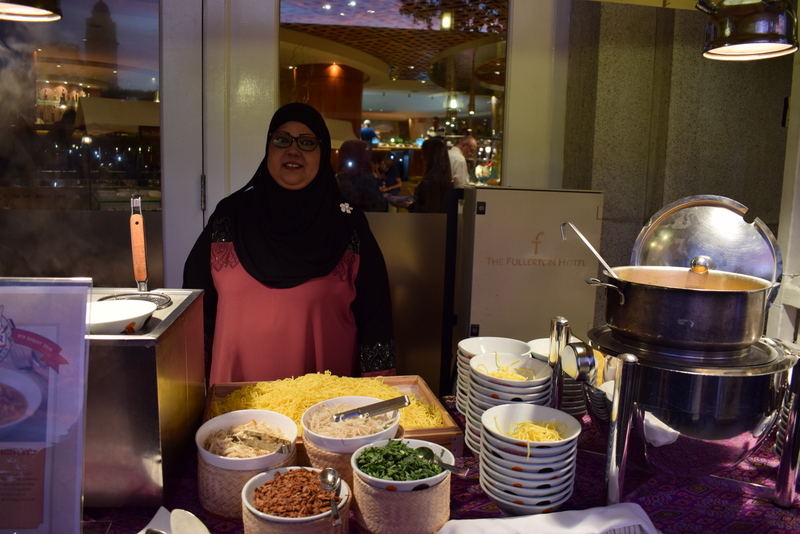 6. Rojak & Mee Siam's Indian Rojak (Geylang Serai Market & Food Centre)
Rojak, which means "mixture" in Malay, is more than just throwing ingredients randomly together and mixing them around.
The brothers behind this amazing plate of rojak (Dheen and Yasin) start their day as early as 3am to prepare over 20 variety of food items themselves. If that's not passion for their art, I don't know what is. You can truly taste it in the food.
7. Roxy Laksa (East Coast Lagoon Food Village)
This needs no introduction. Laksa is a classic dish that most Singaporeans love. Roxy Laksa was first born in 1952 in a pushcart next to where Roxy Square is now. I think this is easily one of the best laksas in Singapore.
8. Tiong Bahru Tau Suan (Tiong Bahru Hawker Centre)
This dessert is prepared in true Teochew fashion. The beans are al dente and the syrup has a light and sweet pandan flavour. The Tiong Bahru stall has a 40 year history, a testament to their Teochew tradition.
9. Ya Hua Bak Kut Teh (Havelock Road)
Bak Kut Teh literally means "meat bone tea", and comes in either a Teochew style (more peppery) or Klang style (more herbal).
Ya Hua was founded by Madam Gwee, who is Teochew. This means you're promised a clear, thick, peppery meat broth. Usually, Ya Hua is a bustling restaurant even late at night. Madam Gwee's secret? It's good timing – "cook too quickly, no taste; too long, wrong taste".
I dare say she hit the right spots in the taste department. The broth is not overtly peppery but rather brings out the pork flavour. The meat falls off the bone delicately. It is truly beautiful.
10. Xiu Ji Ikan Bilis Yong Tau Foo (Chinatown Complex Food Centre)
Did you know that the owner's husband makes more than 1,000 fish balls by hand every day using yellow tail and parang fish? Couple with their ikan bilis and fish bone broth, this simple recipe makes for a tasty, comforting bowl of yong tau foo. There is nothing more homey than handmade fishballs and clear Chinese soup.
Bonus: Town Restaurant's Inhouse Steamed Chicken Rice & Bak Chor Mee
Town Restaurant has its own local delights to boast about. The steamed white chicken is tender and so juicy, you will not be able to stop at one serving.  You can get your fix of Bak Chor Mee tossed with Town Restaurant's house-made chilli, oyster sauce, fish sauces and Chin Kian vinegar and topped with meat balls, crispy baby sole fish, prawn wanton, braised mushroom and there you have it – crispy pork lard.
The Fullerton Hotel Town Restaurant
Daily dinner, 29 July to 9 August 2016; 6:30pm to 10:30pm
Sunday to Tuesday
River Hawker Festival Buffet with International Selections: $51++ (adult), $28++ (child); inclusive of coffee & tea
For reservations and enquiries, visit www.fullertonhotels.com or call Dining Reservations at +65 6877 8911/8912.