"And the first to return… Team Singapore!" the emcee announced.
About two hours back, my tag team partner Wilbur and I huddled over our 'Passport' map together with Nuttie. Wilbur of  popular food blog Aroi Mak Mak is an agreeable man who loves his Thai cuisine and claimed Bangkok as his second home. Naturally, his world of knowledge on the land of smiles made him the perfect strategist. That in turn put a smile on my face as I knew I could depend on him as the brains of the operation.
I was the legs of the operation; as an athlete who loves his Muay Thai, I trusted my tank of stamina to help me blitz around the Bangkok malls. It was said Team Singapore had good synergy. We were only completed by our Thai guide Nuttie, an indefatigable Chulalongkorn University fresh grad. Despite recovering from a fever, she ran hard with us in hopes of seeing us win the 100,000 baht prize and the title of Amazing Thailand Grand Sale Shopping Challenge 2016 champions.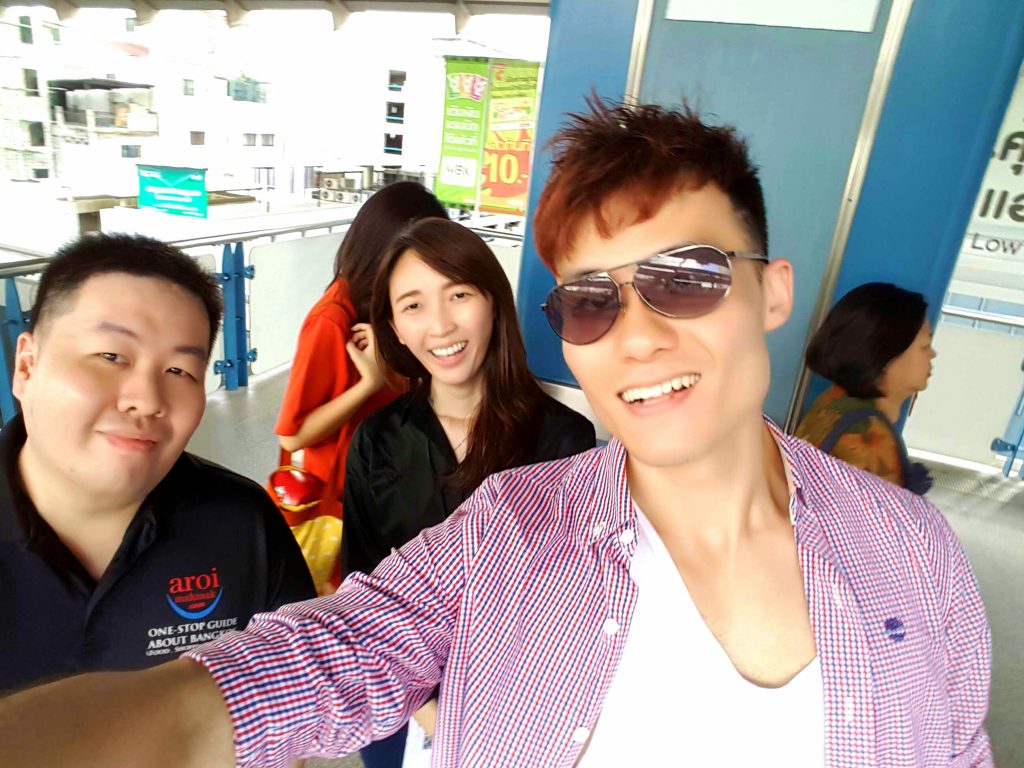 This year, the annual Amazing Thailand Grand Sale was a little different. It was no longer a race, but a point-based competition slated to start and end at a walkway right outside National Stadium BTS. A total of 14 teams from 14 different countries threw their names in the hat and we were up against the likes of Philippines, Japan, Korea, Mumbai and China. Each team was given 10,000 baht and a time limit of 90 minutes; in order to amass points, we had to accomplish a total of three things in each mall we visited: make a purchase, present the receipt at the information counter to get our 'Passport' stamped and locate the sukja standee for a selfie. In short, a team would do well to cover as many participating malls within 90 minutes as possible. For every 10 minutes a team is late, a tiered point deduction would be imposed.
With 100,000 baht and our reputation as the best shoppers on the line, a lot was at stake. Our strategy was simple; we would start with the furthest mall as the purchases made there would gain us the most points, and then we would quickly work our way back from there.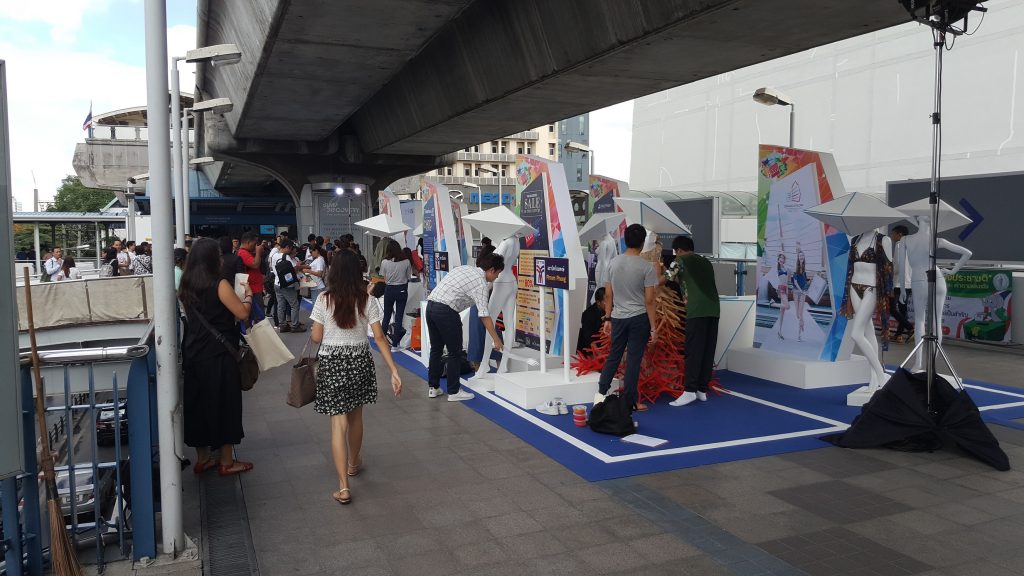 Once the emcee flagged off the grand sale challenge, the three of us made a beeline for the BTS station and made a five-stop journey to the 'EM District' at Phrom Phong station. We dashed into EmQuartier and opened our account with a black leather jacket from Zara. When we got back down to the information counter for the 'Passport' sticker and a selfie with the standee, we couldn't help but spot a few other teams crossing paths with us. It turned out our strategy wasn't so unique after all.
We had to be faster.
We were back out in the sunlit plaza as quickly as we hopped into Emporium department store. Behind the shelves of glittering heels and bags, I spied a Swarovski counter behind them and bought a 1,700 baht white and gold crystal pen. I quickly learned it was a most unwise move. Because it was a really luxurious pen, the sales lady handled the wrapping like a film on slow-mo and each passing second felt like a stab to the heart. With the pen. Thankfully, Nuttie intervened and explained that it was all right to do away with the packaging as we were live in the middle of a shopping challenge.
Although we were out of the 'EM District' in a heartbeat, another 'Em' word awaited me at our next stop: Embarrassment.
Our sprint took us to Terminal 21, a popular mall connected to Asok BTS. That was when we had a run-in with Team China, which always seem to be a step ahead of us. Like how they jumped my queue just when I was an inch away from the cashier counter at Esprit. But I let it slide, because I was certain I could outrun them if I wanted to. Wilbur, Nuttie and I then crossed over to the Robinson's department store that was also connected to the BTS; it was there that I almost had to face the embarrassment of having a run-in with the mall security. In the heat of the competition, I snatched a black card holder off a leather goods counter and took off with the sales lady's holler echoing behind me. On hindsight, I couldn't blame her for mistaking me as a kleptomaniac.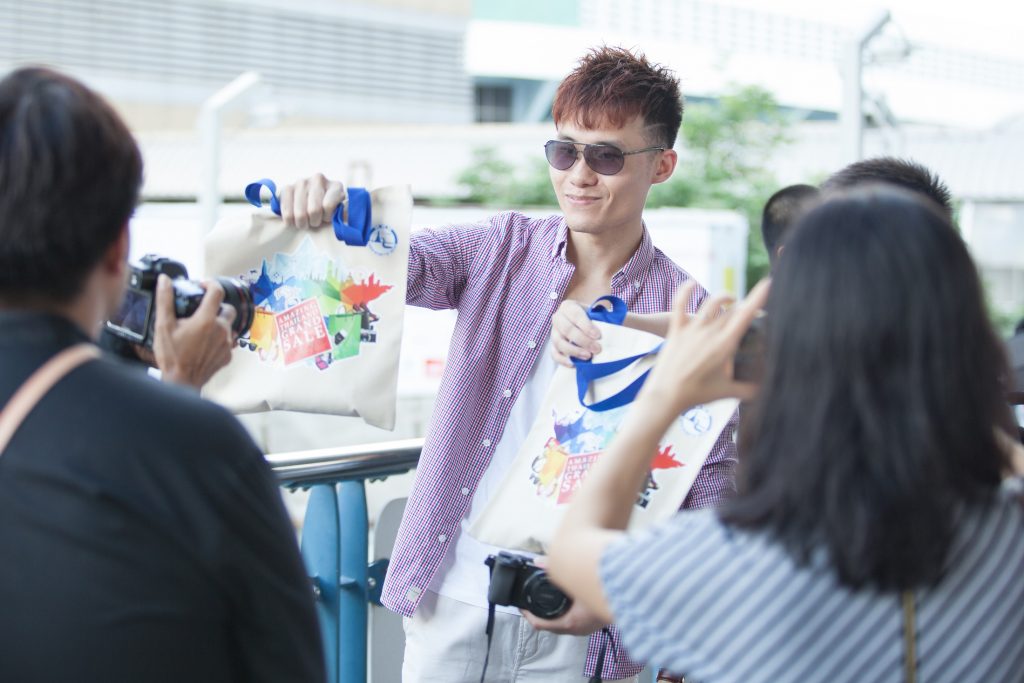 At that point, we barely had half an hour left on the clock. Rivers of perspiration ran down all our faces and breaths came out in labored gasps. Wilbur mentioned that he felt a little nauseous from the relentless pace, and Nuttie was still stubbornly fighting the residual fever. Although our desire to win burned at fever pitch, we agreed that we really shouldn't be making Bangkok Hospital as one of our Amazing Thailand Grand Sale stops. I offered to run ahead to secure the purchases so that by the time I was done, I could reconvene with them just when they were to reach the information counter.
There was no rest for the weary.
The divide and conquer plan was on autopilot after we next alighted at Chit Lom station. I soldiered through the Amarin Plaza doors to be greeted by nothing but tailoring shops; Nuttie reminded me that our war chest was running low and nothing there would fit the budget, so I ventured into a ladies' fashion outlet to bag a brown clasp wallet while she hunted for the standee together with Wilbur. Team China made an appearance again. A quick check told us we were down to the last 2,000 baht or so, and we had about 15 minutes to spend it all. We eventually blew all our dough on the only thing we could afford at Gaysorn Plaza: two Panpuri Clementine & Patchouli aromatherapy bottles at a push cart stall.
10 minutes
With no money left, all we could do was to secure points via selfies with the standees in the remaining malls. We eyed one last pair of malls before making the final burst to victory. "Go to Central World with Nuttie. I'll cover Siam Paragon. Meet back at Siam station," Wilbur huffed. I didn't disagree with the man. Desperate times called for desperate measures, and we split.
8 minutes
Unlike the other malls, the standee wasn't immediately obvious in Central World. The customer service staff had no idea there was a shopping challenge going on, let alone the location of the standee. Nuttie was left flustered, while I stood enduring the raw chafing on my feet. But a little voice in my head told me to keep running. And so I did, until the standee deep in the mall appeared within sight.
3 minutes
Nuttie and I met up with a waiting Wilbur at Siam BTS. The finishing line was still a stop away and the train had yet to arrive. There was nothing we could do but to wait helplessly. Impatience threatened to explode out of us.
12 seconds
I made a head start once the train doors slid open, weaving through the crowd like a (mad) man on a mission. I crossed the finishing line to rows of empty seats. Team Singapore was the first one back. But according to the MC, we were one minute late. That meant we would be penalised.
And so would all other 13 teams.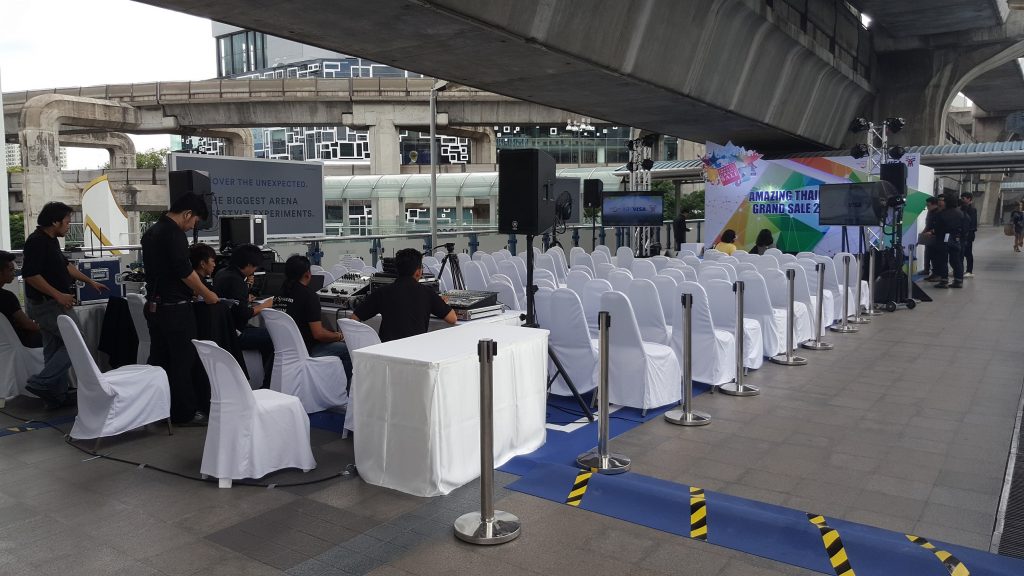 The Amazing Thailand Grand Sale was officially over and done with for us. I could finally hang up my trainers and put my feet up. Wilbur and I sat through lunch and the opening ceremony in agonizing suspense, wondering if we had done enough. We had stamped a total of eight malls and spent all our money. We were the first team back. The organizers threw a thumbs-up at us. Thailand's Channel 3 news asked to interview us. We were getting a good feeling it was Singapore's year.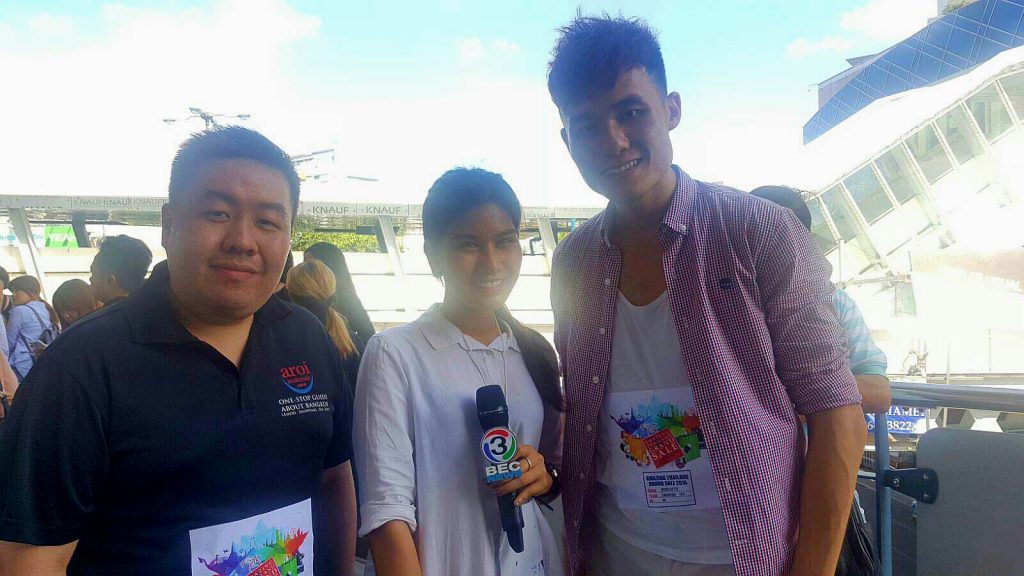 The formalities were all over, and the suited MC took to the stage again. He waved an envelope detailing the winners inside. Well aware of that much anticipated moment, he apologised for putting us through the wait and whipped out the content. The drums rolled. Was it really us?
"And the winner of the Amazing Thailand Grand Sale 2016 is… Team China!"
The television screens flanking the stage flickered and a points chart came up. Team Singapore was placed third with about 23,400 points, behind Indonesia (approx. 24,000) and China (27,000). We had devoted all of our sweat, nausea and foot chafing into the competition but alas, it wasn't meant to be.
Were we steep in disappointment? Definitely, because we were even having a pre-celebratory lunch at Greyhound Café in Siam Center before the big announcement. But I guess it's true that in life, you win some and you lose some. We might have lost out on the riches, but we won ourselves a great deal of immaterial gains. Like the new bonds of friendship forged with my Singaporean compadre Wilbur and the lovely Nuttie. And also the amazing experience of indulging ourselves in the buffet spread of shopping outlets in Bangkok.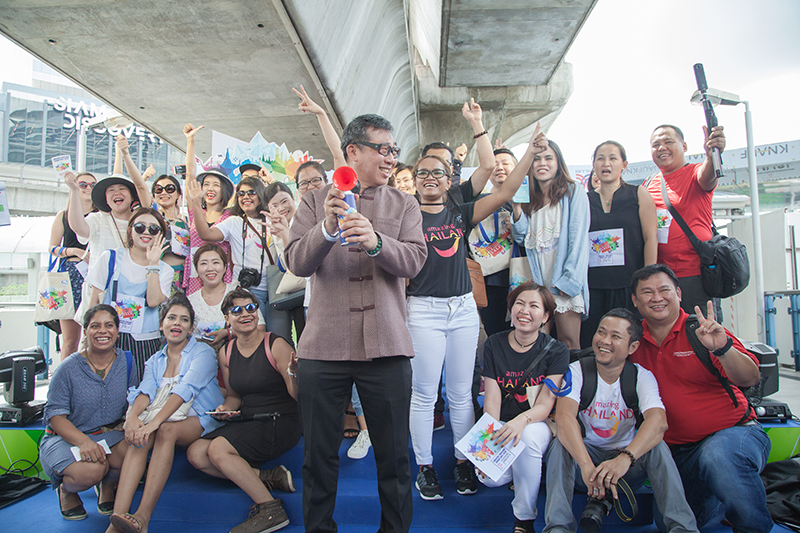 Oh, before I forget, we were all informed that we could keep our shopping loots from the grand sale challenge. It was music to my ears knowing we could keep our Panpuri Clementine & Patchouli essential aromatherapy oils among other things. In my book, that had pretty much made all of us winners.