In this age of smartphones, travelling with an additional mobile battery pack or portable charger has become a daily necessity. With a competitive market, discerning consumers increasingly favour battery packs that have larger battery capacities, are light yet solidly built, slim, and sleekly designed. mophie – the number one selling mobile battery case maker in North America, aims to bring the mobile power industry to the next level with its latest range of mobile charging devices, which was showcased at its official media launch here last Tuesday.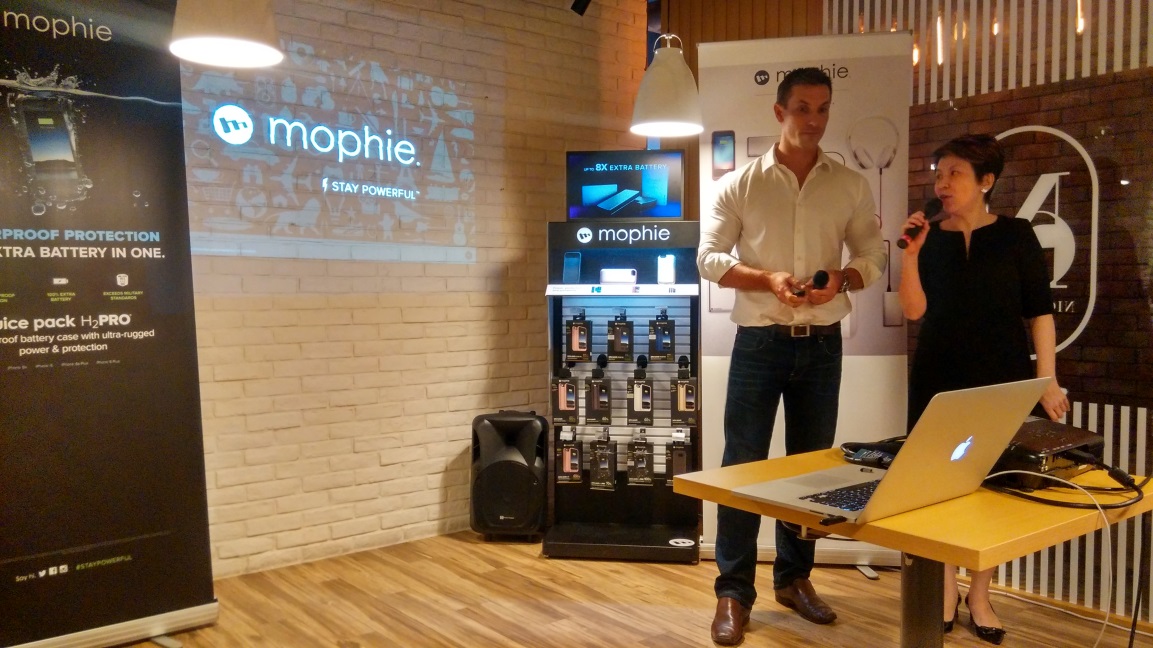 First up in line are the latest compact juice pack battery cases – mophie's slimmest range to date. Featuring mophie's trademark Priority+ charge and sync technology, these mobile battery juice pack cases allow pass-through charge, and sync while connected to a PC or Mac, ensuring that the smartphone charges before the juice pack itself. They come in various handset models – iPhone 6, iPhone 6 Plus, iPhone 6s Plus, Samsung Galaxy S7 and S7 Edge.
For iPhone 6 and iPhone 6 Plus
Staying true to its roots as the only recognised Apple partner for mobile battery cases, mophie has released its latest collections for the iPhone 6 and 6 Plus – Juice Pack and Juice Pack Air, Juice Pack Reserve, and the H2Pro.
The Juice Pack caters to users of iPhone 6s Plus and iPhone 6 Plus. It packs a battery capacity of 2600mAh, offering up to 60% extra battery life, or up to additional 48 hours of music playback and an additional 7.5 hours of web browsing. The Juice Pack Air caters to users of iPhone 6s and iPhone 6, and comes with a larger capacity of 2750mAh, allowing 100% additional battery life hours, or up to an additional 50 hours of music playback and additional 10 hours of web browsing.
Both are similarly built using high impact protection, with rubberised support points within the casing to guard the phone during hard falls. Originally available in three colours – Black, White and Gold, the latest launch has now added an additional option of Rose Gold, giving consumers a variety of designs to choose from.  The Juice Pack and Juice Pack Air are available at all authorised retailers at S$139.
On the other hand, the Juice Pack Reserve is specifically made for the iPhone 6 model, and is touted as the company's most compact battery case available to date. It comes equipped with a powerful 1,840mAh rechargeable lithium-ion polymer battery, allowing users to enjoy up to 8.4 additional hours of talk time, or 30 additional hours of music playback. The  mophie  juice  pack®  reserve™ made  for  iPhone®  6  is  currently  available in Black,  Blue  and  Rose  Gold, and  can  be  purchased at  all authorised dealers for S$79.
Next up on display was the juice pack H2PRO, made for both the iPhone 6 and iPhone 6Plus. It is mophie's first ever 100% waterproof juice pack battery case, and comes with a powerful 2,750 mAh rechargeable lithium-ion polymer battery, featuring the Priority+ charge-and-sync function as well. During the media launch, a demonstration of the battery case's waterproofing ability was conducted. The sleek, sturdy design of the H2PRO also allows it to withstand accidental drops, sand and sawdust amongst others .It is currently available in black at all authorized mophie dealers in Singapore at S$189.
For Samsung Galaxy S7 and S7 Edge
In its latest launch, mophie has also expanded its range of juice pack offerings to include Android devices such as the Samsung Galaxy S7 and S7 Edge. Featuring wireless charging, the juice pack for the Samsung Galaxy S7 and S7 Edge is compatible with universal wireless charging bases and pads, such as Samsung, Qi and other wireless technology. Providing up to 60% extra battery (3,300mAh), these come similarly with mophie's pass through sync and quick charge capabilities, and feature its proprietary Impact-Isolation System, which adds extra cushion to the edges and corners for better support.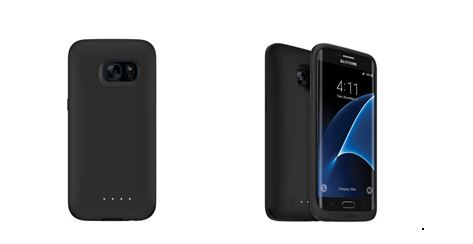 Powerstation Line and mophie Power app
Besides mobile battery cases, mophie has also released its latest and slimmest collection of universal charging power products. This new powerstation line comes in multiple battery sizes (1X to 8X, with X representing the number of recharges based on an iPhone model), and feature a premium aluminium finish. It is also able to integrate with mophie's power management app, which allows users to concurrently monitor and manage the battery life of both their powerstation units and smartphones at the same time.
The app also automatically readjusts the charge output of the powerstation based on the capacity of the smartphone model connected, ensuring that the mobile device will not get overcharged. The power station 3X and 8X are now currently available at all authorised dealers at S$119 and S$224 respectively.