"What would Mum love?" is a popular question as Mother's Day approaches around the corner. If you're thinking of a gift for Mummy dearest this Mother's Day, what better than the gift of time? Appeal to Mum's aesthetic senses and share some mother-child bonding time over a therapeutic painting workshop and learn basic porcelain painting techniques. Not only would you offer her the best gift of time, you can also present her the gift of the your personally-painted porcelain.
For the month of May, artists from the "Poetic Strokes" art exhibition, are conducting weekly Porcelain Painting workshops at the Fullerton Hotel. What's even more meaningful is that 40% of proceeds raised from workshop tickets will be donated to the Breast Cancer Foundation.
There are several designs for you can choose for the porcelain painting.  Be it a rose or a teddy bear, it's bound to delight the very first woman in your life. Luckily for novices like me, the outline of the rose was already sketched on the porcelain for us when we had a go at porcelain painting at The Fullerton Hotel. All we needed to do was simply follow the sketch and fill the porcelain with colours.
Whether you're an artist by craft or not, you have nothing to fret about — the ladies who guided us through the workshop were meticulous and ever so patient, refining our work and making sure that our porcelain paintings had the necessary technique involved.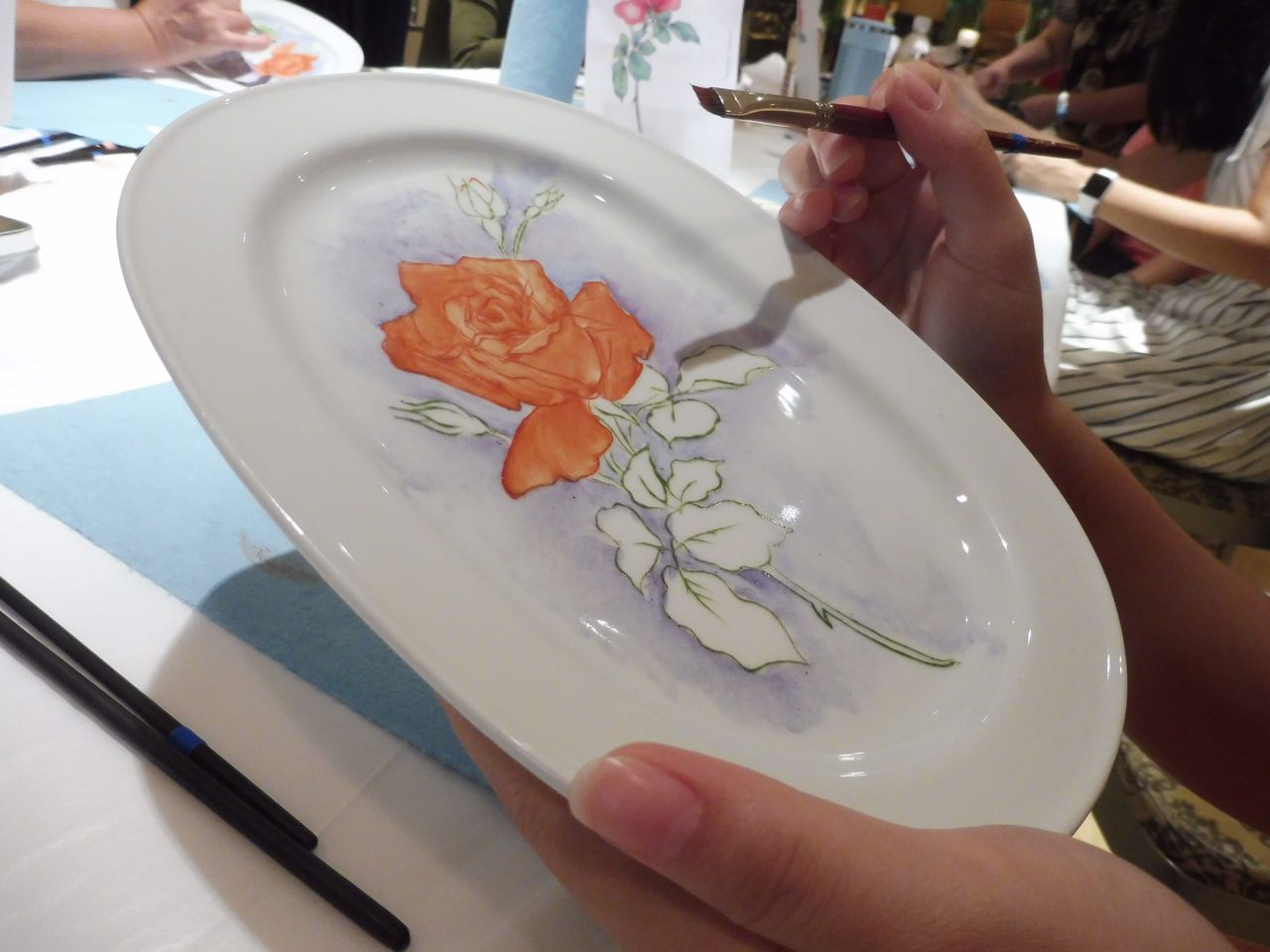 For me, I spent a good couple of hours learning simple brush-strokes and shading techniques for painting on porcelain — and this was even after the designs were pre-sketched for us! The trick is to simply go with the flow and natural intricacies and contours of the rose.
The end product is a lovely piece of porcelain art, which you can collect the next day from the Fullerton Hotel's Concierge after they have fired the porcelain piece. The porcelain plate will serve as a meaningful ornament, whether as a Mother's Day gift, or an avenue for Mum's artistry.
After all, there is nothing more meaningful than the simple joy of spending time with Mum, and offering her your gift of time, a symbol of your love.
Dates: Every Saturday and Sunday
30 April 2016 – 29 May 2016
2.30pm – 5.30pm
Venue: The Fullerton Heritage Gallery, The Fullerton Hotel Singapore
Pricing: S$78 nett (adults), S$38 nett (children aged between 6 and 11 years old)
Workshop tickets can be booked at 
http://fullertonporcelainworkshop.peatix.com/
 and are inclusive of a slice of cake and coffee/tea/juice at The Courtyard (The Fullerton Hotel). All painting materials will be provided and the finished porcelain plates will be fired and ready for collection the day after the workshop.