One would hardly liken a car to a Marvel Comics character. But, I couldn't help but see resemblances between the newly launched Volvo XC90 and Thor.
A couple of weekends ago, I had the chance to take the Volvo XC90 for a spin. The one I got was the T6 R-design variant with a sharper looking sports body kit 20-inch rims and also R-design interior trim elements like sports seats wrapped in nappa leather. This is currently Volvo's flagship and it is packed to the brim with technologies related to entertainment, and of course a Volvo strong point – safety.
Design and exterior
The entire car seems to be Thor-inspired with Thor's hammer being the main theme here. The headlights fronting an aggressive grill makes this car look ready to pounce. Speaking of which, these headlights are one of the brightest I have ever seen and have the ability to scare lesser vehicles off from hogging the overtaking lane at night with minimal effort.
Interior
Sensus, Volvo's new in car control system is much like BMW's iDrive and Mercedes-Benz's COMAND system. The centre console – again in the shape of Thor's hammer – is extremely user-friendly working like a tablet where you swipe to switch pages and tap to select apps. It's extremely intuitive without the need to read the manual (which Volvo provides in soft copy stored in the centre console).
In my opinion, it's easier to use than what the three big German car marques – Mercedes-Benz, Audi and BMW – are using; you primarily jog dials to scroll and select functions or keystroke recognition pads. The instrument cluster is a virtual display which can be switched to various mood themes. This car is also equipped with an aircon filtration system. The T6 variant comes with a full Panaromic sunroof, letting an abundance of natural light in as well.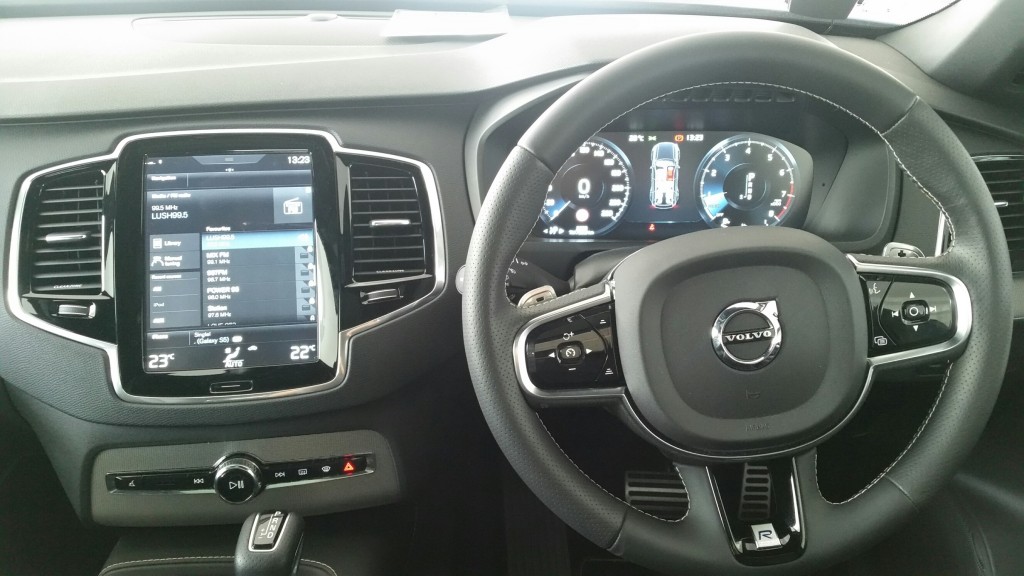 Ingress and egress is simple and straightforward with just a lifting of a lever at the top of the middle row of seats and pushing it forward to access the rear seats. The rear seats, unlike most seven seaters, are actually really practical. My 1.83-metre-tall friend actually felt fine in the third row which has its own set of air vents.
Folding down the third row of seats to increase boot space is an equally easy affair. Just lift the lever and push to tumble and reveal a boot capacity that can easily accommodate two bicycles.
Road and wind noise up to expressway speeds is well suppressed with hardly any exterior noise so much so that you think you are going slower than you actually are.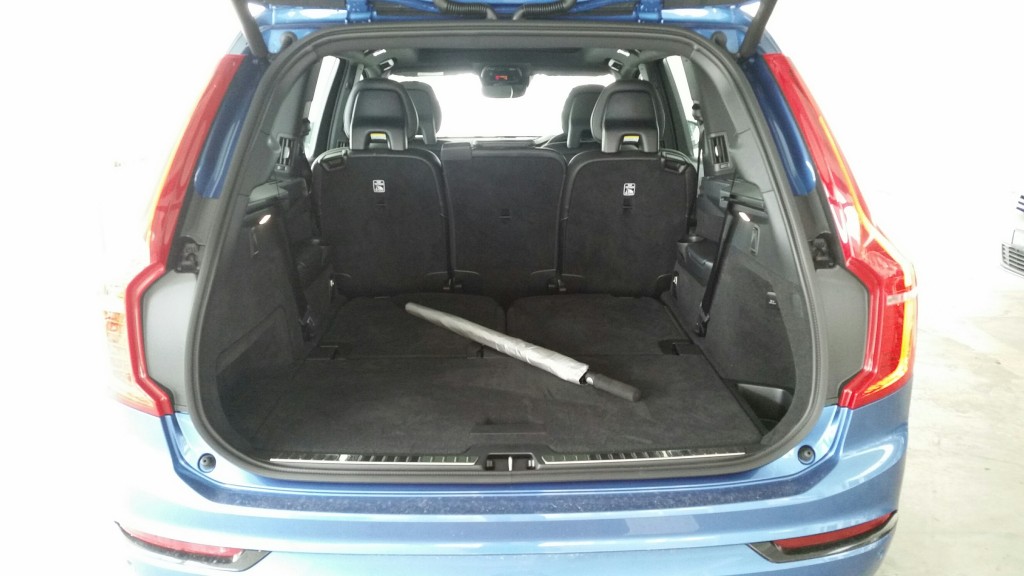 Engine
I was quite doubtful the 2.0 engine (supercharged and turbocharged ) would be able to sufficiently haul this 2.1-tonne behemoth around. However, it proved to be more than sufficient for our road conditions and appeared even to be quite sprightly from standstill. My only gripe is probably the gruff engine note which does not sound very inspiring. The gearbox is smooth and reacts quickly and there are handy paddle shifters behind the steering wheel as well. The R design variant comes with a selectable drive mode function that adjusts the engine and transmission response and there is also an individual setting.
Handling
Body roll is evident, though well-controlled as long as you do not drive it like a sports car. The steering is light but communicative and is greatly appreciated when required to manoeuvre through tight carparks and U-turns. The car has a self-parking feature and automatically brakes if you come too close to the car in front.
Conclusion
A strong engine with a smooth gearbox, a comfortable and spacious interior and with mutiple hauling capabilities. In all, if you are looking for a premium seven-seater family car that looks sharp and is also suitable for ferrying corporate clients, the XC90 is a strong contender in this sector and is definitely worth considering.