Purveyor of fine foods and premium groceries Ben's Independent Grocer (B.I.G) has recently opened up a second outlet in Plaza Batai within Kuala Lumpur's Damansara Heights neighbourhood, serving up more choices and delectable delights for discerning folks. While the outlet is smaller compared to its flagship store in Publika, the 17,000 square feet store maintains a strong selection of products and produce within its signature lively and interactive environment, along with a dining enclave to top off the whole experience.
Lovingly nicknamed Little B.I.G, the shop is divided into several sections – Botanical Produce (fresh fruits and vegetables), Barn Butchery (for great cuts of meat), Bon Gourmet (gourmet selections from around the world), Malaya Kitchen (local ingredients), Japanese, Dairy and Frozen, Boozelt (wines and spirits), and S.wine Deli (for non-halal food items). It also has a dedicated Cheese Room – inspired by a French fromagerie – which offers one of the most extensive selection of seasonal cheeses from around the world.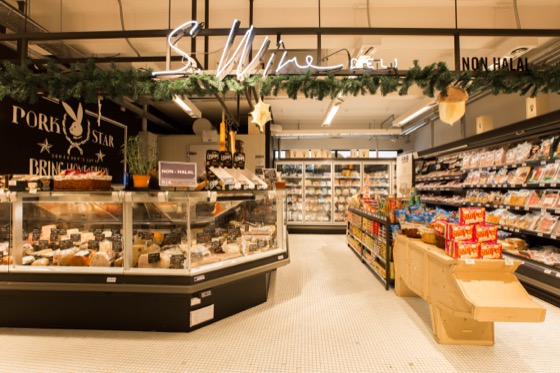 "We are delighted with this new opening not only because we are able to bring the B.I.G. experience to a new audience but the exciting challenge it presents us in presenting a store that is relevant to its neighbours. We have spent a great deal of effort in sourcing products and working on ideas that would appease the expectations of our customers here," said The BIG Group founder Benjamin Yong.
"My first stop for when I travel abroad is always the local supermarket, where I could get lost for hours perusing the aisles, where I would be mesmerised by the selection of fresh produce, ingredients and food. My team and I worked hard to make B.I.G come true – it's essentially the supermarket of my dreams – and I hope the community here feels the same way as well," he added.
Alongside B.I.G comes Eat.Drink.Shop – a concept that combines grocery shopping with a variety of dining options spread out on the same row that ranges from coffee and drinks at Plan B Roasters to Ben's General Food Store. Signature fresh salads, spit roasted chicken and pizzas, modern tapas and seafood is the order of the day; it's the perfect venue for families and friends to hang out.
In November 2015, another new dining concept joined the B.I.G family at Plaza Batai – Beauty and the Beast. The latter is a bar and grill offering juicy steaks, lobsters and hearty burgers and more; while the former is a bar that pays homage to strong women who enjoys exquisite cocktails and the finer things in life.
"Essentially, we hope that B.I.G. and our dining options would become a top destination for everyone living in the area and beyond. We will continue to work closely with our customers, paying close attention to their feedback through continuous dialogues," continued Benjamin.