Fit for Fashion is one of Asia'a top reality TV shows that revolves around two main concepts – fitness and fashion. The objective is to inspire both contestants and viewers to exercise their own rights to a healthier, happier, more stylish lifestyle. The show is a partnership between Fitness First and Imagine Group, who have produced other hit shows including The Contender Asia, The Biggest Loser Asia, The Challenger as well as The Apartment. This season, Zalora have also stepped in as the fashion sponsor for the show.
The first edition of the show saw 12 unique individuals transform their lives into fashionable, fit and confident people through a 10-week programme. Citira Corrigan, 33, an Australian-born mother of three who is now living in Singapore, overcame all the challenges and emerged as the champion of the competition, taking home a grand prize of US$100,000. After the successful launch, Fit for Fashion is now ready to return for Season Two – to empower both contestants and the viewers.
How the show works
Hosted by fashion stylist Louise Roe, the second edition of the reality show features 14 contestants, ordinary men and women selected from across the globe. A team of celebrity experts will put the contestants through their paces, together with fitness trainers Christine Bullock and Mitch Chilson.
The 10-episode show will run for 10 weeks, and each week's episode will see the contestants face new physical and mental challenges. One contestant will be eliminated each week until the grand finale when the eventual winner will take home US$100,000 in cash.

Behind the scenes
We are very privileged to be invited to Bintan Lagoon Resort, Indonesia, to catch the making of the show. All the filming, live action, training session, fashion challenges and talks with the contestants and producers were such an amazing experience. But of course, we will leave the juicy bits for later (after you catch the premiere of the show on StarWorld).
At Bintan, we also learned some fitness tips from Fitness First Asia Head of personal training, Mitch Chilson.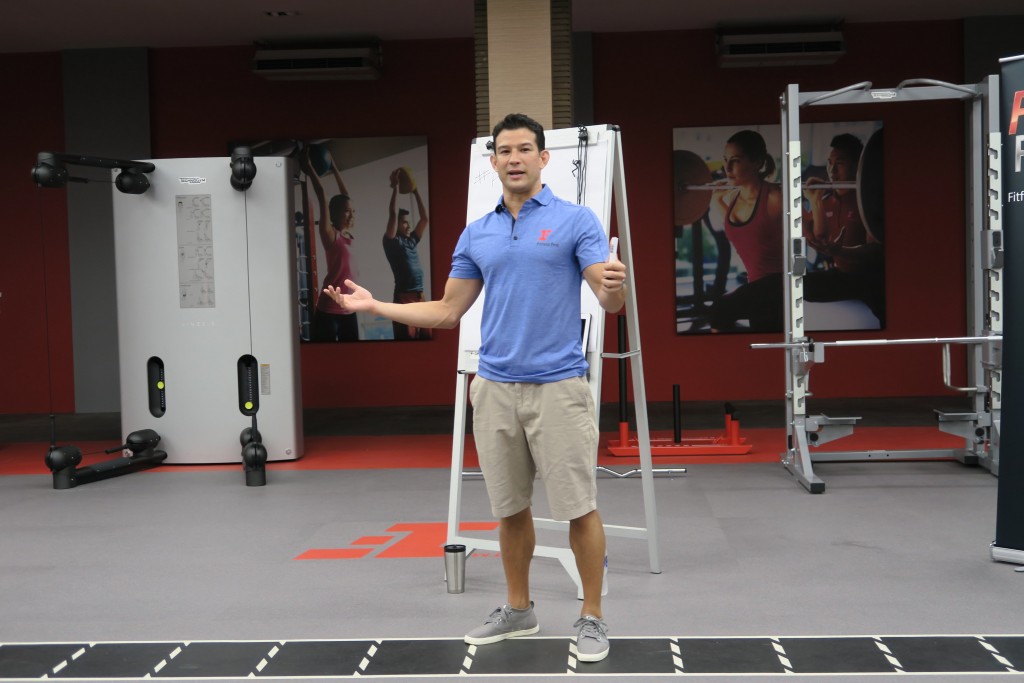 Mitch have been training since a very young age and he is no stranger to the media industry, having hosted a couple of television shows such as SuperModelMe, Mega Kids and Fit for Fashion Season 1. He realised that fitness is not just about being physically fit and healthy, but that it also transforms the lives of many people and offers new perspective and confidence.
Through media, he is able to inspire and reach out to so many others who may be struggling. He lives by what he calls "The Big Four". These four rules may seem simple, but it takes dedication, discipline and hard work to accomplish it. The ultimate goal: a stronger body, mind and attitude towards life. Here are the "Big Four" according to Mitch:
Eat Better
Food takes up to 70 per cent in a physical transformation, and 80 per cent in a mental transformation. Most people eat for pleasure, e.g. you see a nice piece of cake in a cafe and you order it. However, that is not the right tactic to fuel your body. You need to control the amount and type of food you put into your system. The right amount of protein, carbohydrates and vitamins will fuel you right for training and help your body attain the right shape. Ideally, you should get a nutritionist or personal trainer to help calculate the amount of nutrition you need to intake for your body to reach its maximum capacity. The general rule of thumb is no processed and fast food.
Train with a Coach
Unknowingly, your body will get used to the training ultimately. So, even if you are working out often, you may not be getting the results you want. It is imperative to change your training methods once in awhile to get your body to work hard (or harder). A coach is important as he or she will not only motivate and guide you through the workout, but  is also accountable for your results. And believe or not, working with a personal trainer or coaching app (more into that later) will definitely show faster results compared to working out alone.
Prepare to Move
We are awake for 10-12 hours a day and half the time, without knowing, you would most probably be seated down. Once seated, your hip flexor shortens and tightens, and you might find yourself less flexible overtime. Once in a while, do remind yourself to get up and about. Move your body and stretch your muscles often to relax them.
Drink Water and Sleep More
It is important for your body to get sufficient rest for it to repair damaged cells. Ideally, you should be getting six to eight hours of sleep daily. Also, it may seem like an extremely simple tip, but drinking more water will help with your metabolism rate. This way, you will not be dehydrated and is able to think clearly throughout the day while maintaining a healthy digestive system. You should be drinking a minimal of 2 litres per day. Studies have shown that the average Asian drink less than 500ml of water daily. Start off your day right and flush down all your toxins first thing in the morning with a cup of water.
We hope these tips will help you get started with your 2016 fitness goals. Remember to tune in to the premier of Fit for Fashion Season 2 on 7 January 2015 at 8pm on StarWorld.