Treacherous stepsisters, fairy godmother, glass stilettos. The familiar fairytale has just hit shores with the opening of "Cinderella, A Fairly True Story" at Resorts World Sentosa.
We all think we know this story, about a kind-hearted girl who lost her parents and lives with a terrible stepmother who belittles her and treats her like a servant in her own house. The all-too-familiar bedtime story of a girl who is transformed into a princess by her fairy godmother, and then sneaks into a ball at the royal palace and eventually marries the prince.
If you are looking for a nostalgic childhood story, you might be in for a disappointment. This musical is presented with a twist to the original storyline of Cinderella, and here's a sneak peek at the non-ubiquitous parts:
The story is portrayed through the eyes of a reporter (Nordin De Moor), with his own vision of Cinderella's life and ambitions. His appearances are sporadic; he seems to play the role of a second fairy godmother to Cinderella, encouraging Cinderella to face her own challenges. Perhaps, such subtle twists to the storyline are meant to add zest to the common story plot of Cinderella. However, the Reporter's intermittent involvement in this musical seemed to disrupt the smooth storyline.
Prince Charming (Caleb Vines) doesn't seem to be so charming after all in this musical. In this fairly true story, the Prince is portrayed to be child-like. He throws tantrum easily, only to be pacified by his minions and over-protective Nanny (Wanda Joosten). This alteration to the original character of a Prince Charming did not score points for me and somehow shattered my dreamy image of a suave, intelligent and mature Prince whose performance was anticipated.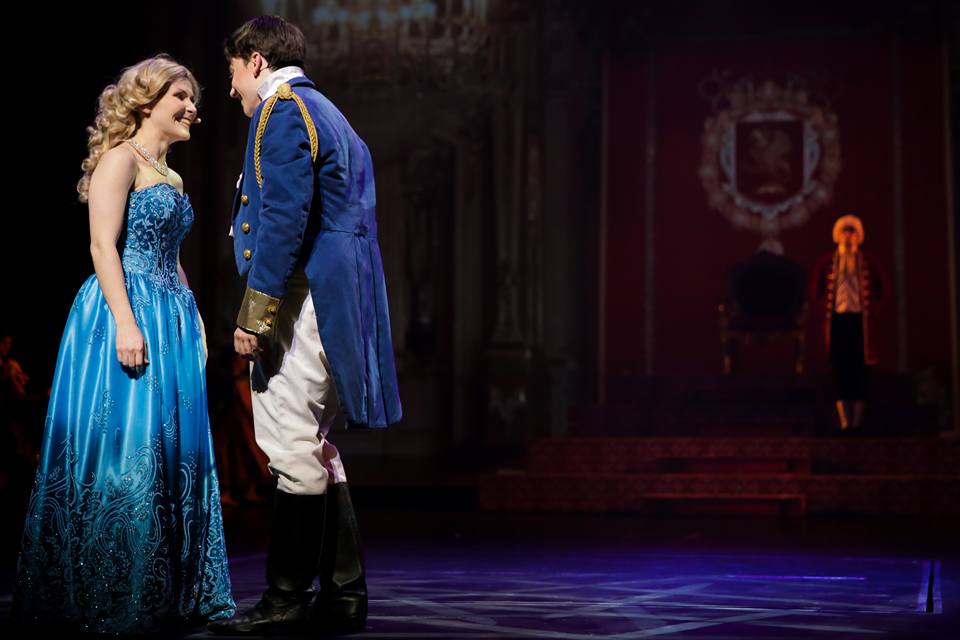 Fortunately, the saving grace to the musical was Cinderella's exchanges with her deceased mother. In this musical, Cinderella's mother (Deborah de Ridder) is no mere passing whisper but an active participant of the plot in a spiritual form. Her exchanges with Cinderella are genuine and beautiful, and were the true heart of the show.
The stepsisters, Distressa and Grimella (Saartje van Houtte and Dorien Schrijnemakers) did a fairly good job at making the audience laugh. Adding onto the top-notch acting skills of the stepsisters is the evil stepmother's (Sara de Smedt) on-point singing. As horrific as she seems to be, the stepmother successfully portrayed her role as a bully right from the beginning, not only verbally but physically abusing Cinderella and her father when he is still alive.
Binding the entire performance together are the stage set and music. In a memorable scene, the pumpkin was magically transformed into a carriage behind a curtain with glowing lights and the use of fire. The use of fire was exciting and not over the top for a theatrical performance. That being said, the younger audience might not be used to the unexpected appearance of fire and might be caught off guard at certain parts of the musical.
This music production is also assembled with an array of popular pop hits and original music and contemporary dance choreography. While the combination of music genres is a noble concept, I felt that the assembly was somehow discordant. Perhaps, it might be a better idea to do away with Black Eyed Peas "I Gotta Feeling" amongst the line up of classical music.
Interestingly, the cast of Cinderella is made up of non-native speakers. So do expect the accents of some cast members to creep in and fit awkwardly with the music.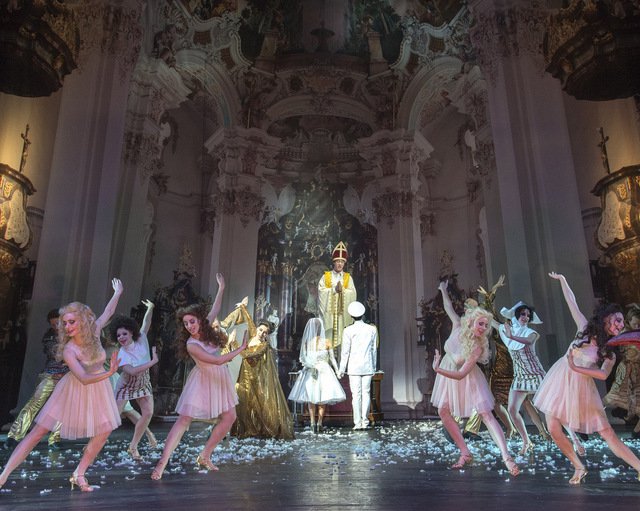 If you're looking for familiarity in your childhood bedtime story, this might just not be the musical for you. However, if you're not one who anticipates for a nostalgic original Cinderella storyplot, this musical is a must-watch!
---
What: Cinderella – A Fairly True Story
Where: Resorts World Theatre, Resorts World Sentosa, Singapore
When: Thu, 10 Dec 2015-Mon, 4 Jan 2016
Tickets: Tickets are priced at S$168, S$138, S$108 and S$78, and are available for purchase online via SISTIC.