With Petsmore's new and improved grooming facilities, bloggers and media like myself were invited to participate in their "So You Think You Can Groom?" grooming workshop last week at their SS2 outlet – their largest outlet to date. It was a fun and educational experience for us and I found it especially enlightening to learn the tips and tricks about grooming I would have never learnt anywhere else.
Petsmore is unlike any other pet retailer in Malaysia; it stands to distinguish itself from the rest by going the extra mile to educate pet owners as well as prioritising the welfare of pets through their available grooming services. They believe pets deserve to be treated with care and respect, something I wholly agree with.
I was in awe when I saw their new grooming facility at their SS2 outlet – natural light streaming through the sky roof decorated with colourful and cleverly used recycled plastic bottles, and an inviting patch of grass any pet would love to roll on – these simple yet thoughtful touches convinced me of Petsmore's advocacy towards healthier and happier pets.
To ensure the safety of our pets during the workshop, Petsmore's Master Groomer Kate gave us a slide presentation and quick demonstration on how to handle our pets and what the basic grooming procedure is like. She talked us through the process step-by-step before we dispersed to our designated stations.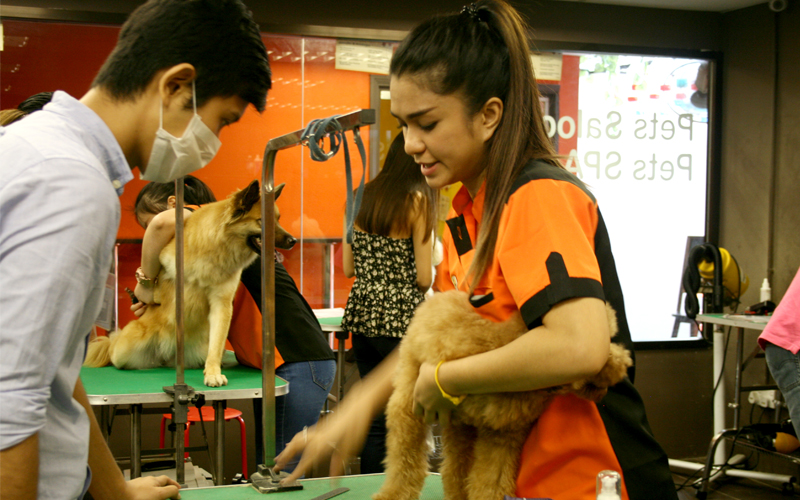 At our stations, Petsmore's trained groomers gave us a one-on-one training session. We were able to enjoy a private learning session and picked up a number of tips and tricks on simple tasks such as trimming nails, ear cleaning, brushing and handling. These things may sound like common sense and people may assume it would apply the same way as treating humans, but in fact, a lot of technique, practice, patience and passion are involved just to provide your pet some basic grooming.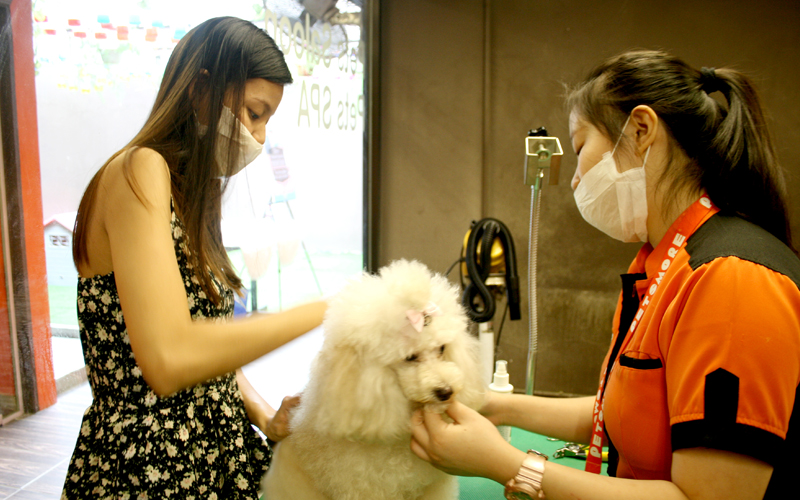 Personally, this experience was very informative for me as a pet owner and it has definitely helped me understand the struggles my pets face daily and how I can help them solve it. Pets need just as much daily attention to their fur, skin, teeth and ears as much as we do and this has taught me to pay closer attention to them. However, like most of us, grooming time can eat into our busy schedule and if you haven't got the time, don't hesitate to send them over to Petsmore! Their staff and groomers are trained every year to ensure top-notch service and care for your pets.
Petsmore is offering an attractive ongoing promotion for their grooming services to encourage everyone to experience the importance of grooming:
RM150 for the first trial of Cat Basic Grooming Package (savings of RM265); there are five sessions in total and includes ear cleaning, nail care, bathing and blow drying.
RM100 for the first trial of Dog Basic Grooming Package (savings of RM195); there are sessions for your canine to enjoy eye area trimming, leg trimming, ear cleaning, ear hair removal, nail care, shaving of paw pad, stomach, private area cleaning of anal gland, bathing and blow drying.
For more information about Petsmore and their grooming services, visit the Petsmore website.