At the age of 20, most individuals have not even have graduated from university, but for Apple Fang who is a pastry chef at the Langham in Shenzhen, she has already had a slew of accolades to her name. She had won the gold medal for the 25-metre breastroke swimming competition held at the Summer Special Olympics, and to her name another two gold medals in a 25-metre and 50-metre breastroke swimming competition.
Apple is however not your regular 20-year-old.
Suffering from congenital moderate mental retardation, Apple did not have an easy life. She fought hard for everything that she has. Her story began at the Yuan Ping Special School in Shenzhen, China. It was during her time at the school that she discovered her interest and talent in swimming. With well-equipped swimming pools and professional training, Apple has since gone on to win three Olympic gold medals.
Even when she was recommended for a position at the Langham, Shenzhen, where she served as a commis chef in pastry, Fang began her stint at the hotel kitchen just going simple errands like cutting ingredients and embroidering cakes. In time to come, with help and patience from Assistant Executive Chef Yang, Apple became able to make the Hotel's signature dessert soufflé all by herself.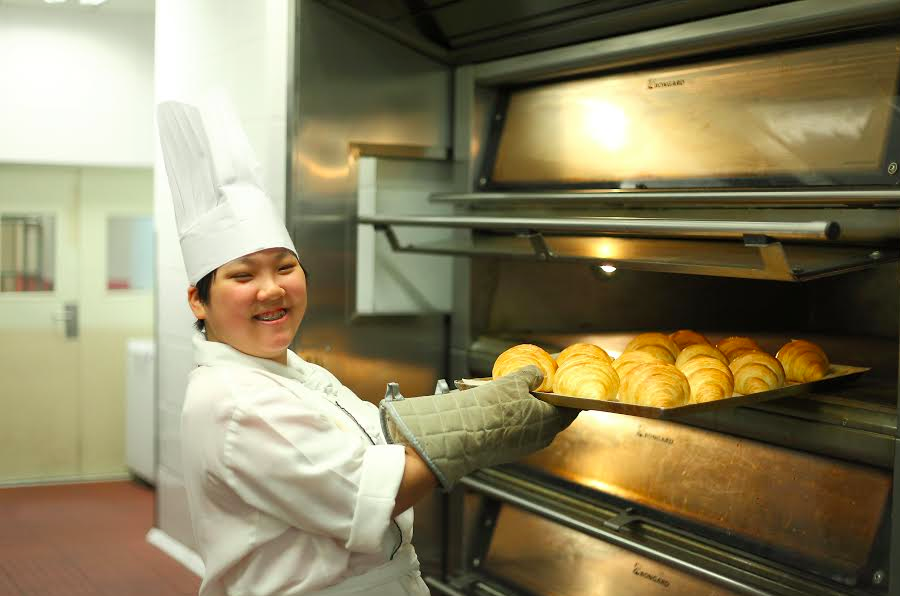 While Apple did not grow up with the same privileges as others, her beautiful smile and positive outlook on life warmed the hearts of people around her. She took on life with a positive attitude, giving her the additional boost in overcoming hardships that stood in her way.
The hotel has also been very encouraging in its efforts towards nurturing Apple and her colleagues. Upon realising that Apple was set to compete in Los Angeles for the summer Special Olympics, the hotel was delighted for her, offering strong emotional support and granting her leave immediately.
The Langham, Shenzhen also has two other physically-or-mentally challenged employees who stood out during recruitment sessions organised by the hotel.