There is a hidden gem within Fort Canning Park. For those who don't know, Lewin Terrace is a Japanese-French fusion fine-dining restaurant situated within the park. This hidden gem may take a little more effort to find, however the ambience is one that is exquisite and alluring, and definitely worth taking the extra mile for a good meal or to unwind for the day.
Since 1822, a spice garden has been developed in Fort Canning by our founder Sir Stamford Raffles. He set up the first experimental botanic gardens with some plants and herbs and it has been maintained as a spice garden up to date. Inspired by the spice garden near the restaurant, Director Kosuke Shima came up with the idea to add the spices into cocktails for a refreshing and unique drink.
Golden Age is a cocktail concoction made up of bourbon, lemon juice, pink peppercorn syrup, red capsicum and egg white. I thought it was a little too savoury and spicy for a drink, but the others at the table felt that it was really good. It's a a must-try if you are looking for a rare type of cocktail.
Ancient Garden, a cocktail of white rum, Falernum Liquor, lime juice, sugar syrup, coriander and raspberries, tastes exactly like popping candy, except that it is in liquid state. It was an amazing burst of sweetness and refreshing flavours all in a mouth. If you are somebody who dislikes liquor because it is bitter, you have to try this. You will fall in love with it.
Black & White, as the name suggests, is a cocktail that is black and white in colour. It is made up of dark rum, cardamom syrup, milk and egg white. It is refreshing and a hot favourite among everyone who tried, including myself.
The Lewin Terrace cocktail, made up of Boujifu sake, yuzu juice and cherry blossom syrup is highly raved and the most favoured of the lot  I tried. It is a light yet refreshing cocktail to have, and the colour is so pretty. A lovely light baby pink shade, this is the perfect "girls' night out" cocktail to have.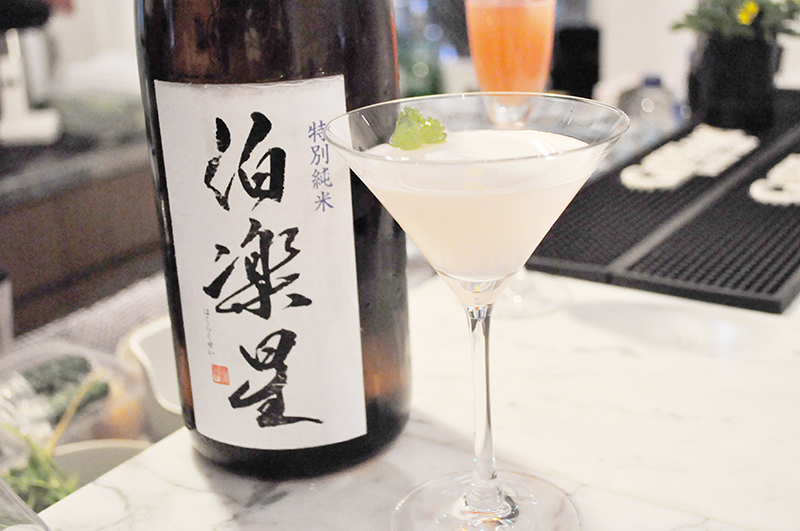 The cocktail names were also thoughtfully planned according to the history of the place or the ingredients used in the drink. For example, Golden Age represents the history of the ground (Fort Canning). The ones mentioned were just a handful of the newly launched spice-infused cocktails, take a trip down to try the other flavours as well.
Priced at only S$18++ each, the cocktails are pretty affordable and comes with a Instagram-worthy shot (the decor and setting are absolutely lovely).
Aside from the cocktails, premium sakes and luxurious bar chows are also brought in to please the sake connoisseurs. The Bijofu range of sake is a crowd-pleaser and is renowned for its distinctive floral and fruity flavours.
 To complement the new drinks, Chef de Cuisine Ryoichi Kano has created Japanese-French inspired snacks including  Hokkaido Tempura of squid and potato and chilli among many others. The bar chow is being served in a box and cost S$18 each, with a combination of snacks.
I am somebody who doesn't drink often, but if I do, I will be returning to this lovely hideout tucked within the lush greenery of Fort Canning.
Lewin Terrace
21 Lewin Terrace
Singapore 179290
Tel: +65 6333 9905
Email: [email protected]
Opening hours: Daily, Lunchtime 12pm-3pm (last order at 2pm), Dinnertime 6.30pm-11pm (last order at 9.30pm)