Lorong Ah Soo is an estate located in Hougang, one of the heartlands in the north-eastern part of Singapore. If you live around Lorong Ah Soo (situated between Serangoon and Kovan MRT stations) and love cafes, you are in for a treat as there are lovely hidden gems within the neighbourhood. As a resident in this neighbourhood, here are five cafes I'd recommend you to check out:
Ciel Pâtisserie
I have a close friend who once worked at Ciel Pâtisserie, but I never found time to visit the cafe despite it being close to my home. She used to often rave about the lemon meringue tart and other desserts. I couldn't understand what the buzz was about until I visited it for myself recently.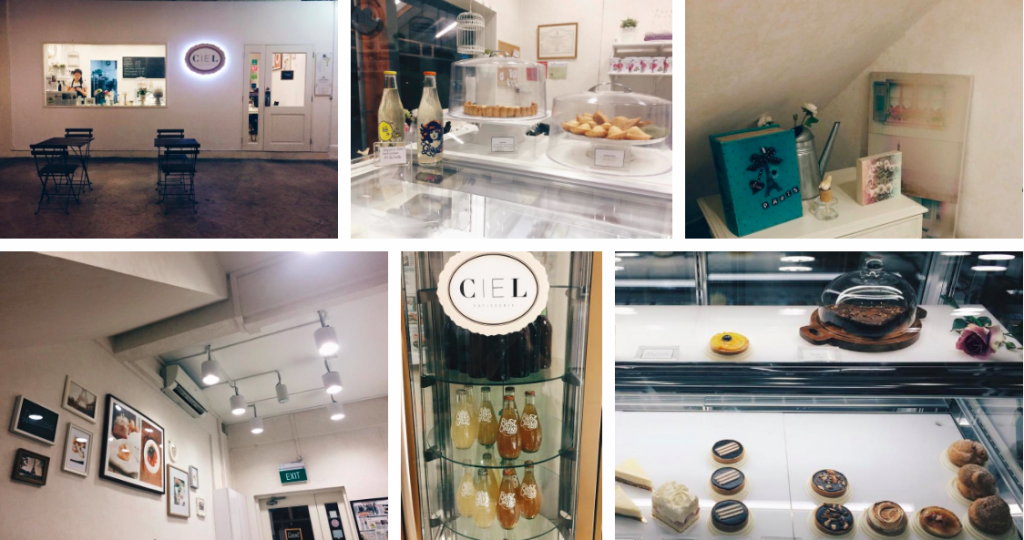 I love the exterior design of the cafe as it stands out amongst the old stores and mama shop (traditional sundry shop), giving off a chic and current vibe. The cafe has a seating capacity of about 10 indoors and four at the al fresco area so it is good to visit during off-peak hours or do a takeaway.
I had the chocolate caramel tart (S$4.20) alongside a cup of floral tea (S$2.80). The rich flavours of the dark chocolate blended well with the right amount of caramel used – not too 'gelat' as Singaporeans like to call it, or cloyingly sweet. I will definitely return for other desserts in the future. What's not to love when there are friendly staff around and an alluring ambience?
Ciel Pâtisserie, 124 Hougang Ave 1 #01-14444 Singapore 530124. Tel: +65 6383 0803 www.ciel.com.sg
Lickers
Lickers is a new cafes that is situated right next to Ciel Pâtisserie. It is an ice cream parlour serving an amazing selection of homemade ice cream. Its neon signboard is one that cannot be missed.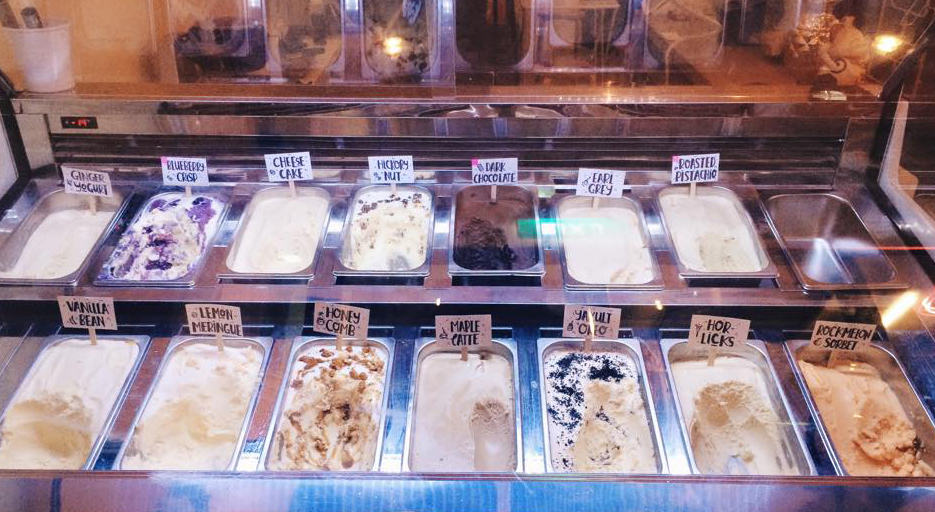 When I first visited Lickers, I squealed in delight because there were so many of my favourite flavours. The flavours at Lickers are not those commonly found in other ice cream parlours. There are earl grey, honeycomb and Horlicks, but the one that takes the cake is Yakult and Oreo! I have never encountered such a unique flavour before. Now, I love Yakult, and I love oreo so I am not complaining.
I had a sample of the Horlicks and the Yakult and Oreo flavours and they were one of the best ice cream I have had in awhile. The ice cream flavours were thick and rich. In the end, I went with Yakult and Oreo (S$3.20 for a single scoop). While I would desire more Oreo bits in the ice cream, it was still good nonetheless. I'll definitely be back to try the waffles and other ice cream flavours.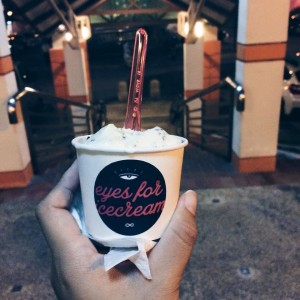 Lickers, 124 Hougang Ave 1 #01-1446 Singapore 530124 Email: [email protected] www.lickers.com.sg
Yi Li Pao Pao Ice
Tucked away in a void deck corner of a block of flats, Yi Li Pao Pao Ice is a Taiwanese dessert store which serves flavoured snow ice and Taiwanese specialty drinks.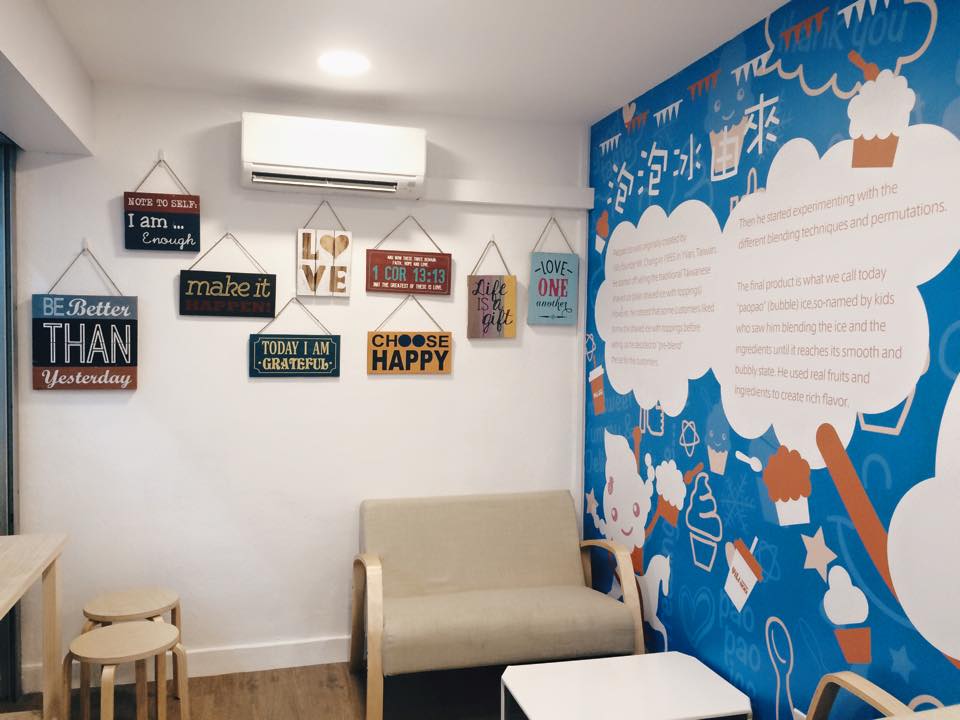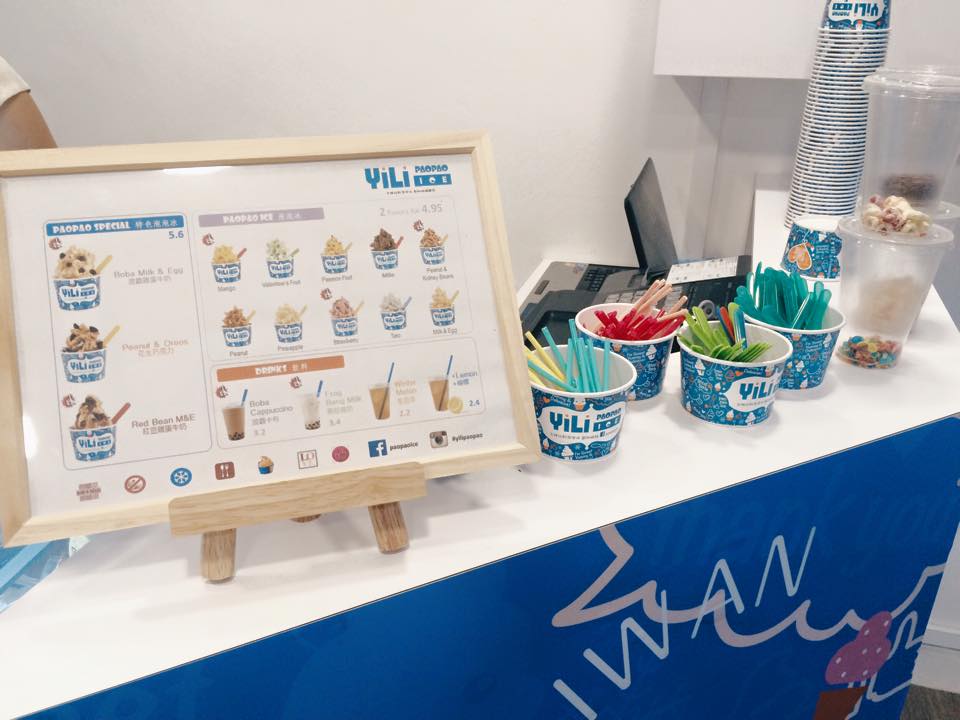 Despite its well-hidden location, Yi Li Pao Pao Ice serves pretty decent dessert and has a cosy feel to the shop. There are limited number of seats so try to visit during non-peak hours like weekday afternoons.
I love milk-flavoured snow ice so I was pretty disappointed Yi Li Pao Pao Ice does not offer that. Instead, I was offered a fusion flavour – milk and eggs (yes, it sounds a little queer). This flavour might not be a hit with people who dislike milk because the milk taste is quite strong. However, it was a pretty interesting blend and I'd recommend you to try it.
There are other popular flavours such as mango and peanut with kidney beans. A choice of two flavours of the snow ice costs S$4.90.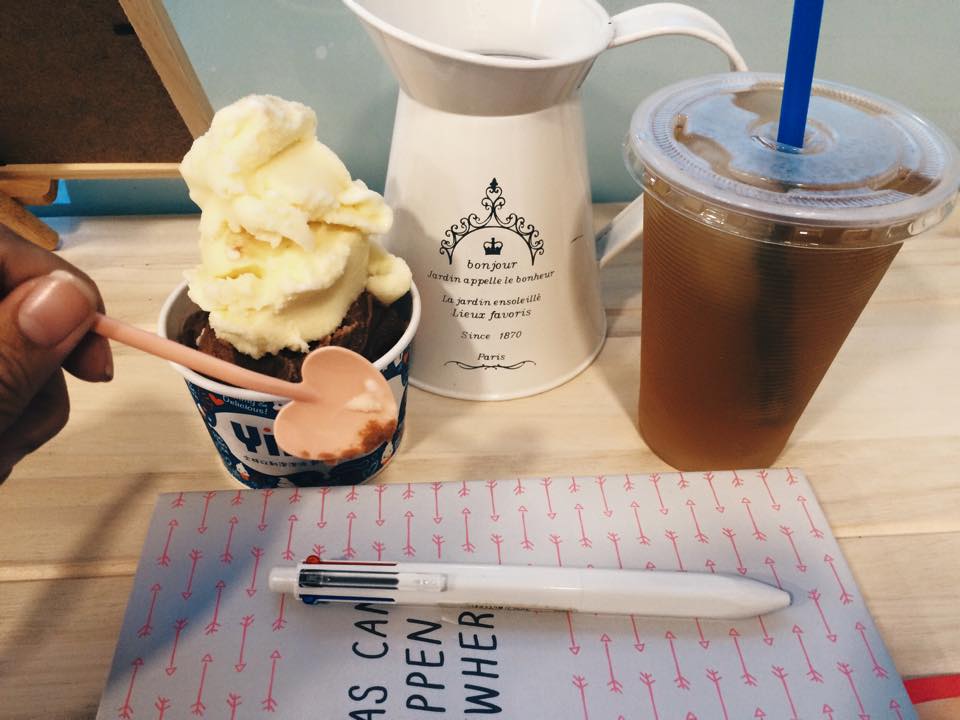 Yi Li Pao Pao Ice, Blk 142 Lorong Ah Soo #01-239 Singapore 530124 Tel: +65 8725 6001 
Hatter Street Bakehouse & Cafe
A hot favourite amongst local cafe-hoppers, Hatter Street Bakehouse & Cafe is located near Kovan MRT and beside the well-known Thai restaurant Nakhon Kitchen.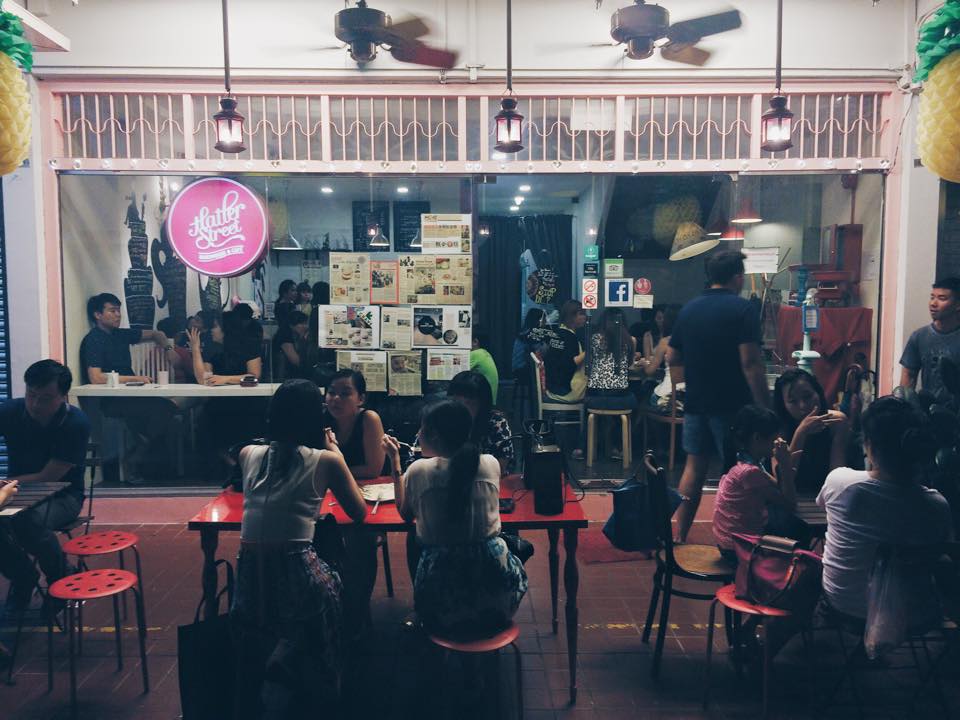 The café is usually packed on weekday nights.  Its popular waffles get sold out really quickly; I once visited the café at 7 pm and was told the waffles were all sold out.
It is not hard to see why the waffles are so popular. The fragrant waffles are crispy on the outside while fluffy and soft on the inside – definitely worth a try for a unique waffle experience. I had the Waffles with Pandan ice cream and Gula Melaka sauce, and Waffles with vanilla ice cream with caramel sauce (S$8.90 each). If you love waffles, Hatter Street Bakehouse & Cafe is not to be missed.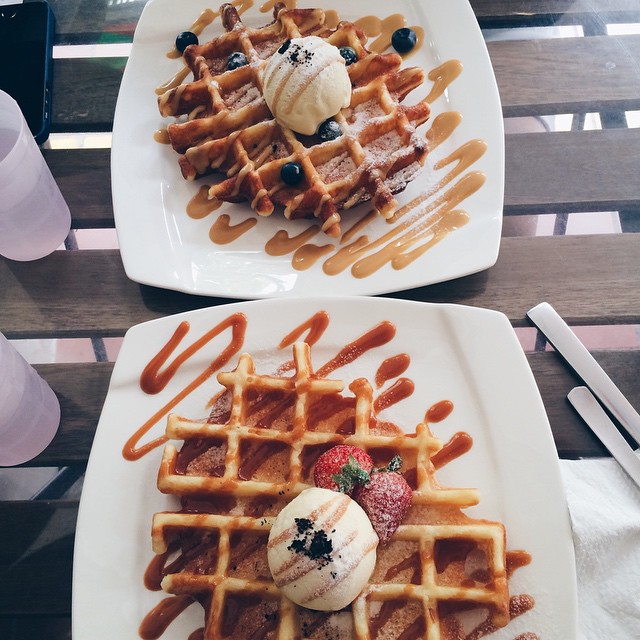 Hatter Street Bakehouse & Cafe, Blk 212 Hougang Street 21 #01-333 Singapore 530212 Tel: +65 6988 4591 www.hatterstreet.com
Knuckles Bistro
Knuckles Bistro is not exactly a cafe, but more of a small bistro serving affordable beer and western/German cuisines.  With no GST (Goods and Services Tax) or service charge, $5 truffle fries, $8 German pork knuckles and $8 beer, we are definitely not complaining about this one. It is particularly packed on weekend nights as people head down to have drinks and enjoy a late night dinner with their friends. Although not your usual quiet cafe, it is worth a visit in this neighbourhood.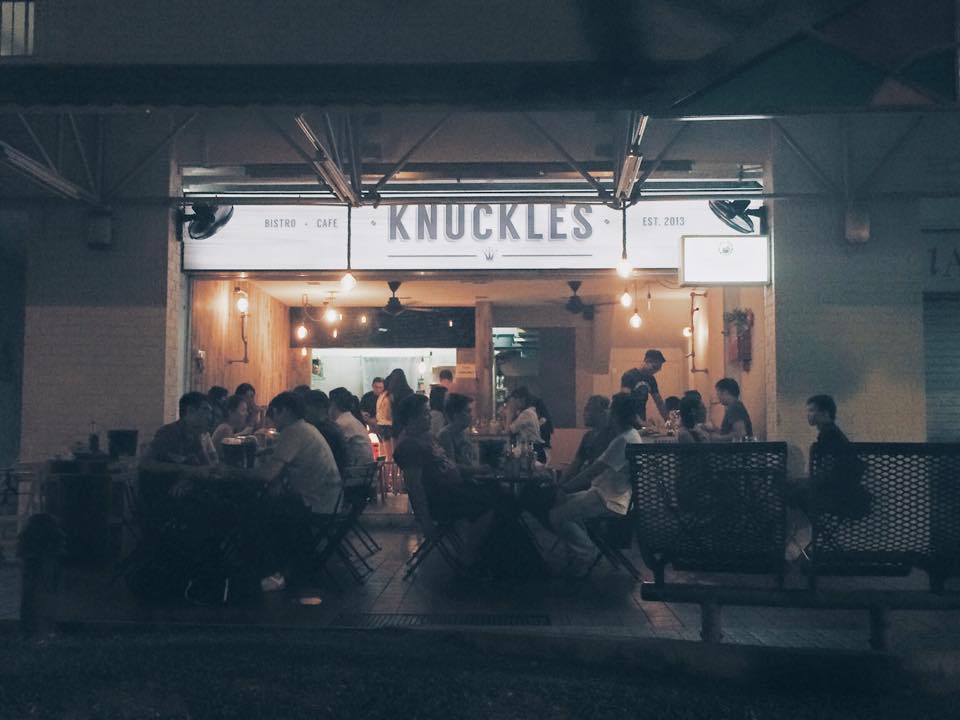 Knuckles Bistro, Blk 212 Hougang Street 21 #01-33 Singapore 530212