Orchard Central has a layout that can be confusing to those headed there for the first time. Located along Orchard Road in Singapore, this shopping mall is vast and has plenty of hidden areas. However, tucked away in the labyrinthine depths are culinary gems worth discovering.
So put on your fedora and boots, but leave your whip behind for this labyrinth houses no Minotaur and follow me on a food trail deep into the interior of Orchard Central.
TONKIN
Located at Orchard Central #B1-02, Tonkin (also the historical name for North Vietnam,
東
京
 in Mandarin) whips up all the sine qua non of  Vietnamese cuisine. Tonkin Vietnamese Noodles Bar will satiate all your cravings for the sweet, sour, spicy and salty ,with a menu that extends beyond just pho.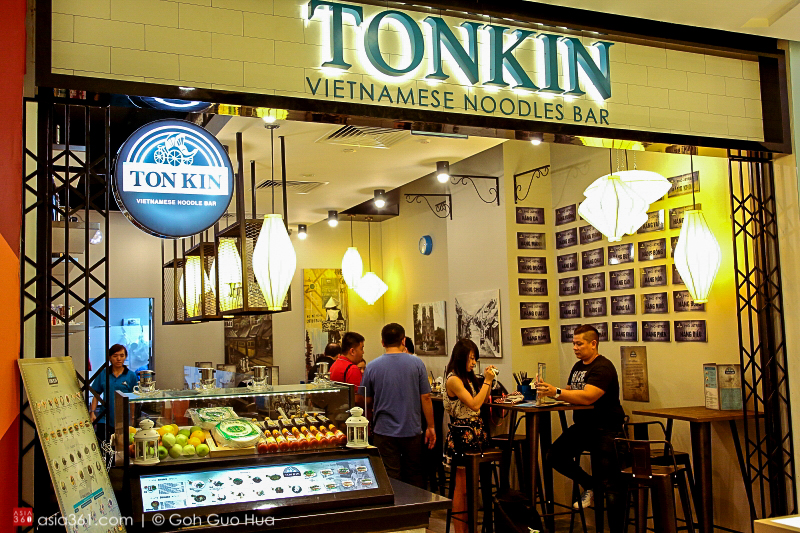 My favourite was the beef noodles prepared nam dinh style (S$9.90). This is a richly flavoured bowl of beef noodles in a thick hearty sauce with a consistency like that of ketchup. The full and heavy flavour will leave you with a satisfied smile.
To top it off, an earthly brew of Vietnamese drip coffee (S$3.90, milk cold) that doesn't skimp on taste will pack a punch strong enough to make it through the post lunch drowsiness.
Other Vietnamese classics on the menu include Rice Flour Rolls with Pork (S$6.90), Banh Mi Pate Grilled Chicken (S$6.90), Green mango salad with shrimps (S$7.90), Braised Beef Golden Coin Noodle Soup (S$9.90) and Fresh Spring Rolls, or nem cuon, (S$6.90).
MILAGRO
Tucked away at the end of a narrow corridor on the 8th floor, Milagro has been serving authentic Spanish fare at fair prices. After an inspired trip around Spain, owner and chef Raymond Chong laboured to perfect his Iberian recipes.
The highlight is the Paella Valenciana (S$47), which I dare say is the best paella I have tasted in Singapore. It compares favourably with the many varieties of paella that can be found in the seaside town of Valencia, which is synonymous with great tasting paella amongst Spaniards throughout the country.
Another hit for me was the Prawns al Ajillo (S$16), which has a fragrant, flavour packed sauce that will have you asking for more bread just to lap every last drop. The reddish sauce is infused with hints garlic, and is a delicious balance of spicy and salty.
Milagro's menu features many other Spanish favourites such as Cold Soup Chupitos (S$8 for three), Catalan Chicken (S$11), Fried Cauliflowers (S$4), Arroz Negre (squid ink rice) (S$59) and Chicken Harisso (S$13).
49 SEATS
49 Seats is an understated diner located on the eighth floor of Orchard Central. The outlet at Orchard Central is the second outlet in Singapore while the first is at Kreta Ayer Road. Comfort food takes centre stage here, amongst the trendy and quirky hipster decor.
An interesting dish that has its diners divided into two passionate camps is the Tom Yum Seafood pasta (S$14.90), which looks like a fiery version of a cabonara pasta dish. The first mouthful won't fail to jolt you with a surprising mix of Eastern and Western tastes. The texture and heaviness of the sauce has all the hallmarks of a heavy cream-based pasta sauce. However, let it linger in your mouth for a second and you will detect a delicately balanced aftertaste of Tom Yum.
I really like the vibes this place was giving off; the food hit all the right spots, and there was a very preppy feel to the restaurant. I could almost imagine myself 15 years younger.
NUNSARAM
My last stop was, aptly, Nunsarum, a Korean Bingsu 빙수 dessert shop. Bingsu, is Korea's take on a shaved ice dessert. It is somewhat similar to the Singapore dessert chendol and the Chinese shaved ice dessert that has been popular in Singapore for some years.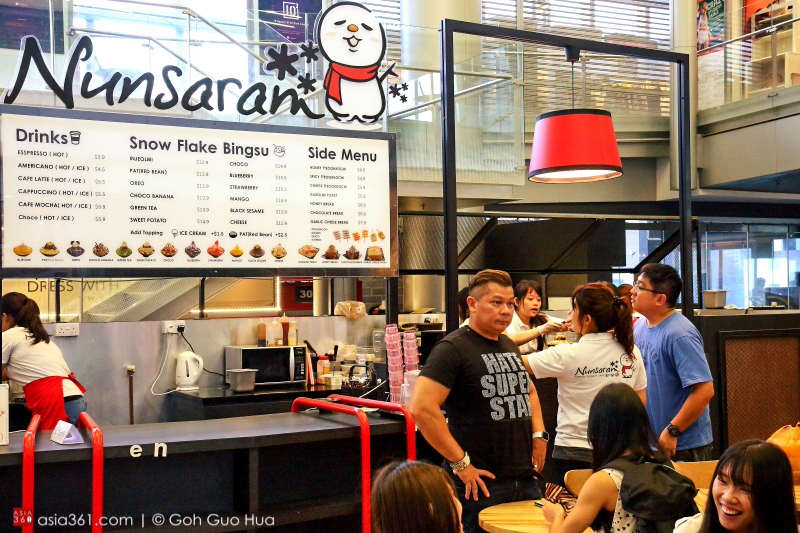 Fine fluffy flakes are piled high into a bowl as big as your head. The shavings of ice are soft, almost like snow, refined and delicate, in contrast to the rough chips found in chendol. The real treat, though, is the wide variety of toppings that everyone will find an appealing combination  My recommendation is the Injeolmi Bingsu (S$12.90) which is the best seller here. A famed creation from Busan, Injeolmi Bingsu is generously dusted in Injeolmi (rice) powder and nuts. It is not too sweet but I especially like the crunch of the almonds and peanuts.
For those with a sweet tooth, the Oreo Bingsu (S$12.90) will not disappoint. If you are in the mood for something different, the Injeolmi Toast (S$5.90) is the second bestseller for good reason.
Other items also popular with patrons include the Garlic Cheese Bread (S$7.90), Mango Bingsu (S$15.90) and Strawberry Bingsu (S$15.90).
Orchard Central has more to offer the intrepid mall explorer but I only had stomach enough to present a sampling. It is Singapore's first vertical mall, in the vein of buildings found in other space constrained metropolises like Japan or Hong Kong and appearing in others like Sydney and New York. With this in mind, break free from terra firma and ascend the stairway to food heaven. Happy trails.
Orchard Central 
181 Orchard Road
Singapore 238896