For the health-conscious, it seems like an uphill task to source for zero-MSG food beyond home-cooked dishes. But with the launch of a new array of no-added-MSG dishes by Eggs & Berries, patrons can now indulge in beloved American classics without any guilt. To enliven the taste of dishes, extra virgin olive oil and sea salt are used. We decided to head down to the new franchise outlet at Changi City point to get a sneak peek of some of the naturally flavoured American classics.
The first dish we tried was Eggs Florentine. Sitting above a perfectly pan-fried muffin is a combination of nutritious ingredients: smoked salmon matched with asparagus and poached eggs cooked to perfection – the eggs flowed out with a light touch! Unfortunately I personally feel the smoked salmon was not the freshest you can get. Nonetheless, it was still a satisfying dish for me since I can get quite a lot from this dish: muffins, asparagus, smoked salmon and poached eggs all in one plate for only $13.90.
The Fisherman Basket is a combination of fried dory fish, calamari rings and French fries, drizzled with one out of four choices of sauces – hickory sauce, Thai chilli sauce, mayonnaise and Yuzu mayo.
The fried dory fish and calamari rings were not too oily, which will appeal to healthy eaters. They were crispy on the outside and soft on the inside. I have to make a disclaimer though – there were four different sauces to go with the fried dishes, but this does not make the Fisherman Basket an outstanding dish. The sauces can be commonly found in any food place. For example, the Thai Chilli sauce is commonly used in food court dishes and hickory sauce tastes just like honey mustard that can be found in marketplace.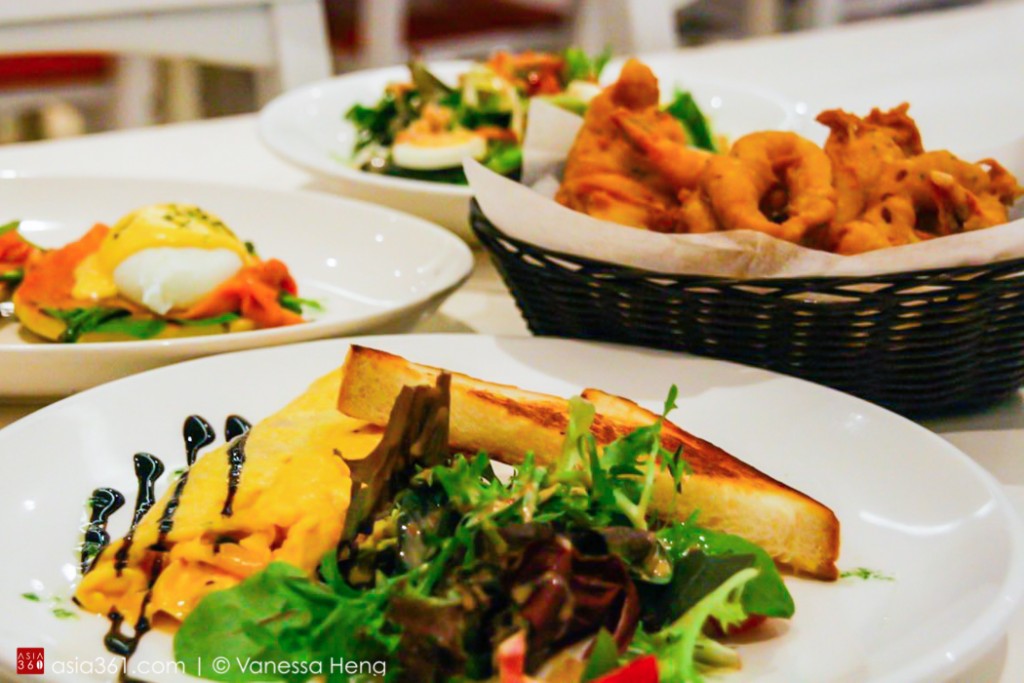 The Basil and Prosciutto di Parma Omelette is not just another ubiquitous omelette. You can find delicate prosciutto ham, diced tomatoes, chopped onions and a pocket full of surprises within the golden pocket of eggs. A drizzle of parsley vinaigrette (which looks like chocolate sauce) lightens the heaviness of butter.
For desserts, we had the Banana Soufflé. Having looked at the menu, the soufflé is supposed to contain both passion fruit and banana, but I couldn't taste any passion fruit at all. Having said that, I find this was a good dessert to end off the meal because it wasn't too heavy in taste, unlike a chocolatey dessert. The taste of banana also came through. I too like the vanilla bean ice cream which complemented the banana soufflé well.
Overall, Eggs & Berries does live up to its name of being an "egg specialist". The dishes with eggs did decent in my books but seafood is certainly not the restaurant's forte. While I may not travel all the way to Changi City Point for the restaurant, there's no harm in dropping by for the egg dishes if you are in the area.
Eggs & Berries
5 Changi Business Park Central 1
#01-37/38, Changi City Point,
Singapore 486038
Tel: +65 6636 4212
Opening hours: 8 am to 10 pm