Calling all ramen and spice lovers – the boldest spicy ramen has just hit town. Say hello to the "King of Ramen", Chabuton's Yoruton Ramen, with five tantalising levels of spiciness.
For the spice lovers, this piece of news is bound to tease your tastebuds. Boasting a well-curated menu, Chabuton created a ramen wave all around Japan, Thailand and Singapore, with 27 branches to date, and a brand new outlet at Millennia Walk, Singapore. This would be the birth of Chabuton's fourth outlet, the brainchild of Chef Yasuji Morizumi, who is the world's first ramen chef to receive a Michelin star. Chef Yosuji Morizumi was also crowned the "King of Ramen" by TV Champion in Japan.
If this alone is not enough to wow you, Chabuton is launching its new dish – the Yoruton Ramen that comes with five levels of spiciness, created specially with the Singaporean's love for spicy food in mind.
All you self-professed ramen connoisseurs, it's time for you to add one more dish under your belt.
Level 1 Yoruton Ramen: The Gentle Giant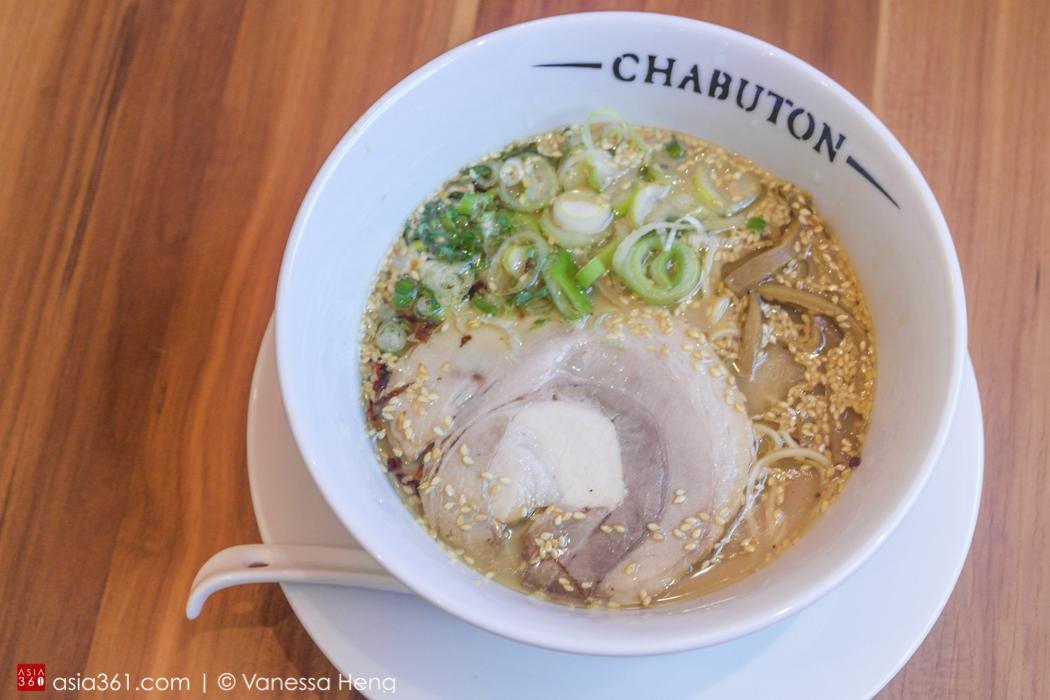 The
Yoruton Ramen
, at Level 1 spiciness, is a signature
tonkotsu
soup made a from a rich and thick pork broth. On its first taste, the
Yoruton Ramen
 sits easily with the palate, smooth and pleasant. A juicy, succulent slice of
char su
 sat atop the ramen broth. The
tonkotsu
broth, while not thick in terms of texture, was piquant with garlic and heavily laden with that delightful porky taste all ramen-lovers are familiar with – it was impossible to stop once I started on this dish.
The Level 1 Yoruton Ramen is an impressive twist by Chef Yasuji Morizumi on the Japanese tonkotsu ramen, hitting the sweet spot between being heavily accented with garlic and pork, while still remaining rather gentle on the palate. Suitable for those who prefer not to venture into the spicy zone, the Yoruton Ramen is a safe bet guaranteed to satisfy.
Level 3 Yoruton Ramen: The Temptress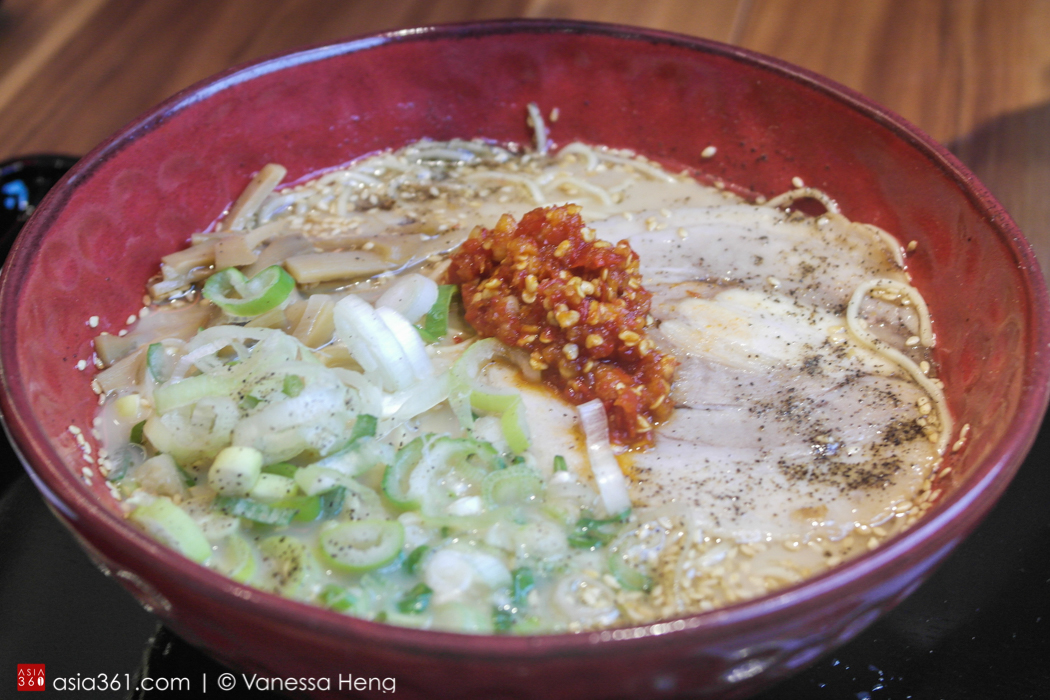 The Level 3 ramen is perfect for those who love some spice in their life. Tantalisingly spicy with heavy hints of garlic, the Level 3
Yoruton Ramen
is the feistier sibling of the Level 1
Yoruton Ramen
. It is savoury without being overtly sharp; aromatic without overdoing its spiciness. If the Level 3
Yoruton Ramen
 were to be a person, it would be a downright racy lady. With accents of garlic and pork, blended lusciously with fiery hints of chilli paste, this temptress is clearly out to seduce.
A caution for those with a low tolerance for spicy food: this wild child is not to be messed around with. She will leave you with a burning sensation on your lips, hungry for more.
Level 5 Yoruton Ramen: The Firehouse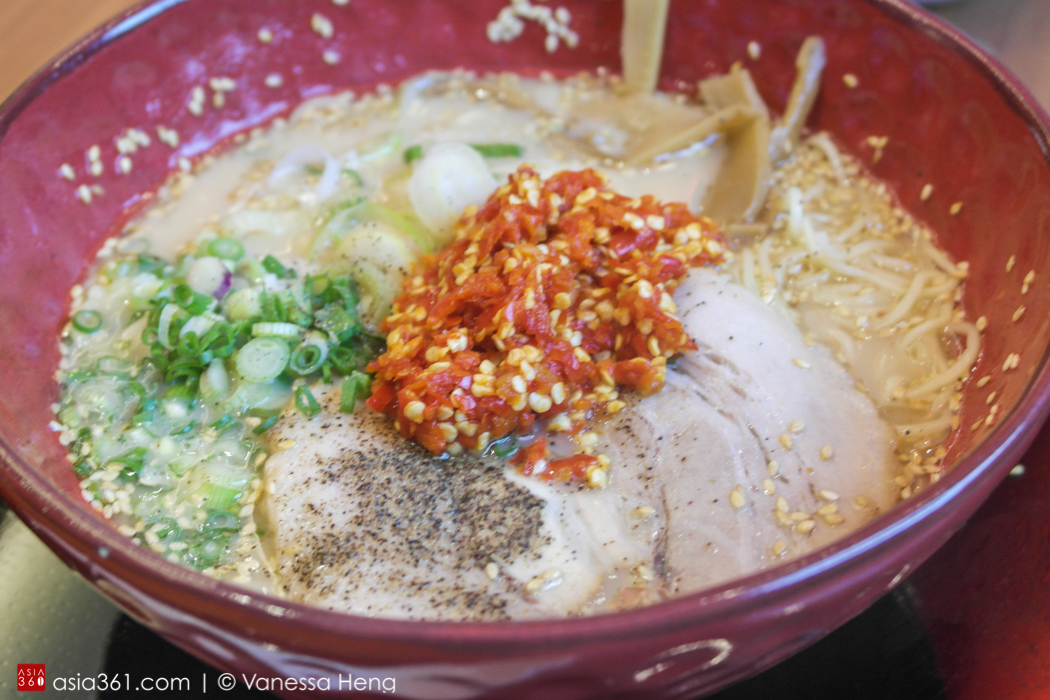 If the Level 3
Yoruton Ramen
 is a wild child, the Level 5 is its full-blown counterpart. A self-professed chilli fanatic, I found this raging bowl of liquid fire like nothing I had ever experienced – in a good way. The chilli paste was generous to the point where I could smell the chilli fumes as the ramen was served. If you can appreciate a strong ascerbic dose of chilli, you definitely have to try this. The chilli paste, when mixed into the broth, produces an intense aroma, so fragrant you can taste its sharpness and its slight bitter lingering aftertaste. Nonetheless, finishing the entire bowl of Level 5
Yoruton Ramen
 is no mean feat and for that, you'd need an iron tongue – no kidding!
Still, it is worth a try for those who truly enjoy burning in the flames of chilli and garlic. Not many can brag that they can love the one who makes their eyes tear and noses water. That's true love.
As a guide, there are five levels of spiciness to scale:
Level 1: Suitable for those with a low tolerance for spicy food
Level 2: Just a little spice to stimulate the taste buds
Level 3: For those who are feeling adventurous
Level 4: For self-professed chilli lovers who can withstand the fieriness
Level 5: Be warned: this is tongue scorching and nose-watering!
Apart from customising your desired level of spiciness, diners can also have a say in how they want their ramen and broth to be prepared. You can even choose the texture of their noodles, from soft or hard. Depending on your preferences, you may even choose how unctuous and salty you want your dishes to be.
Chabuton's traditional Japanese-style ramen caters to the tastebuds of ramen lovers. Chabuton prides itself in using original recipes and the best ingredients and boasts authenticity as its key to success. For an authentic taste of Japan, try it for yourself at Chabuton.
The Yoruton Ramen is available from 18 May 2015 onwards.
Chabuton
9 Raffles Boulevard
#02-15 Millenia Walk
Singapore 039596
Opening hours: 10 am to 10 pm
Tel: +65 68370335
Chabuton [email protected]
313 Orchard Road #B2-01
Singapore 238895
Opening hours: 11:30 am to 10:00 pm
Tel: +65 6636 8335
Chabuton @ Tampines 1
10 Tampines Central 1
#02-09/10 Tampines 1
Singapore 529536
Opening hours: 11:30 am to 10:00 pm
Tel: +65 6854 0335
Chabuton @ Star Vista
1 Vista Exchange Green, #01-41
Singapore 138617
Opening hours: 11:30 am to 10:00 pm
Tel: +65 6339 0335