Dazzling Cafe, the much raved-about and highly anticipated cafe from Taiwan is finally in Singapore. Their popularity since its emergence in 2010 has tamed fans all across the world and bedazzled us in more ways than we could imagine. Having heard much about their traditional Honey Toast and many other food offerings that promise to bring delight, I was excited to try them.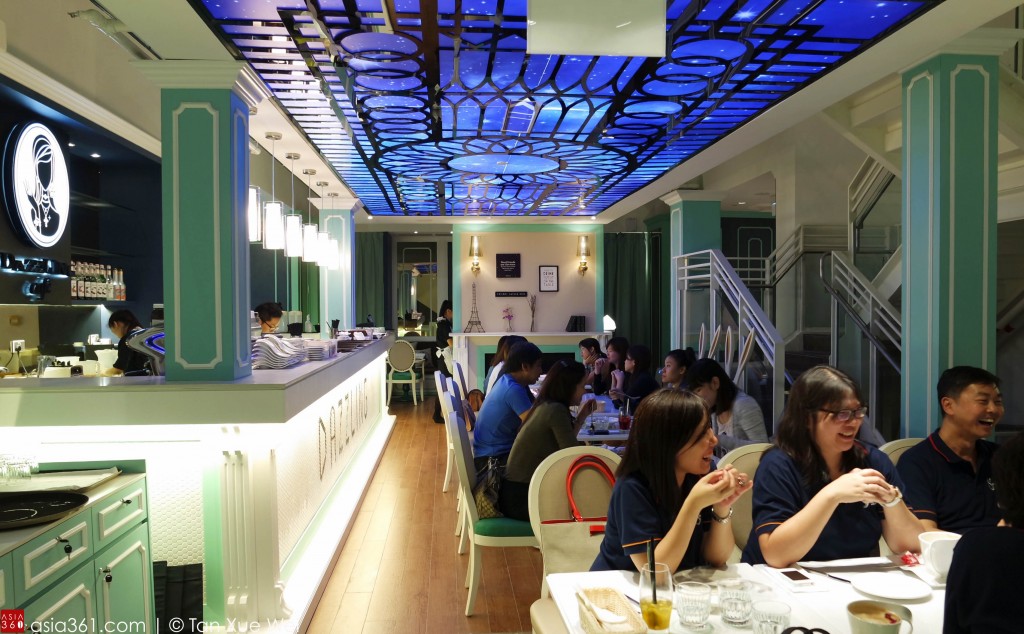 The interior is themed in a light pastel colour, entailing its sophisticated and elegant nature. This modern mix brings with it some quirkiness, like the chair with rabbit ears and the iconic 'Dazzling' logo within the establishment. If you are lucky enough, you could be one of the few busking in the cutesy rabbit chairs.
Being a huge fan of matcha, it goes without saying that I couldn't resist their Matcha with Azuki Honey Toast (S$19.90). Visually, this dessert is a delight and photos of it has been circulating on social media feeds for quite some time. With a scoop of matcha ice cream, macaron, pretzel and drizzled with matcha sauce, this honey toasted bread calls for some sweet loving especially from dessert fans. It is a beautifully crafted dessert that lives up to its reputation.
If you're there, do also try the Strawberry Ice Cream Waffle (S$14.90). This waffle goodness pairs quite fittingly with the strawberry ice cream, boasting a tinge of both sweet and sour flavours. Soft to the touch, the waffle has a light and chewy texture unlike the crispier and fluffier ones typically served elsewhere.
Another dessert on the menu that deserves attention is the Cheddar Cheese Danish Honey Toast (S$17.90). This may not be the most visually appealing dish, but much to our surprise, it is satisfying despite its simple outlook. Creamy custard fills its core and a slice of cheddar cheese is layered on the top of each toast. A delicious blend of sweet and savoury makes this a perfect dessert.
Not only does Dazzling Cafe serves desserts, they serve a wide range of savoury dishes as well. For mains, I have the Mentaiko Spaghetti in Cream Sauce (S$18.90). It is a simple dish, and yet packed full with flavour which makes it  absolutely delectable.
Beautiful food presentation, great ambience and friendly staff made our dining experience an enjoyable one. Although their food might be considered a tad pricey to some, I am looking forward to my next trip to Dazzling Cafe. I am crossing my fingers that the cafe will be introducing new flavours for their honey toasts and waffles soon.
Dazzling Cafe Singapore
15 Stamford Road
#01-85 Capitol Piazza
Singapore 178905
Tel: +65 6384 3310
Opening hours: Daily from 12 pm to 8 pm (last order at 7:30pm)