If it's worth coming back for seconds, it's worth coming back for a fourth helping. Into its fourth year, Singapore's premiere culinary showcase, SAVOUR, once again held court at the F1 pit grandstand.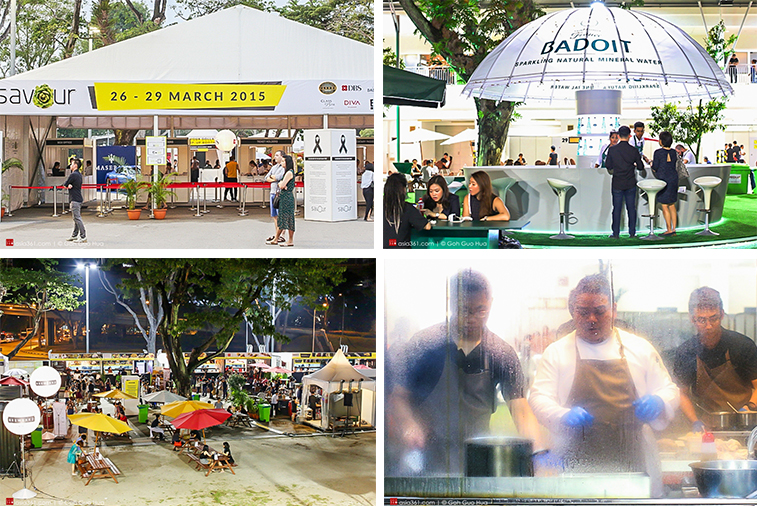 Assembled in accessible hawker fashion, the principal exhibition area offered culinary creations from 34 talented chefs who converged from various points of the globe, as well as from venerated names from the local dining scene like Osia, Ember and Saint Pierre. At the far end from the entrance was a large cream coloured tent that housed the demonstration area where the chefs divulged some of their tips, tricks and counsel.
Sharing this space was gourmet products from artisanal producers where you would find anything from the finest whiskeys from the rarest distillers to eclectic blends of nut butters. The entire parking lot was converted into a large dining area and that abuts the pit building which was taken up by Jasons Market Place, the upmarket supermarket which stocks mouth-watering treats from all around the world.

Spathe Public House, Singapore
Skipping down the aisle lined with the many enticing stalls, I felt like Dorothy skipping down the yellow brick road, bound for a culinary adventure. The Signature Garlic Fries from Spathe Public House was the first item that caught my eye. Hand-cut and perfectly fried; golden and yet not dripping in oil. The garlic added that additional note that made this a noteworthy opener.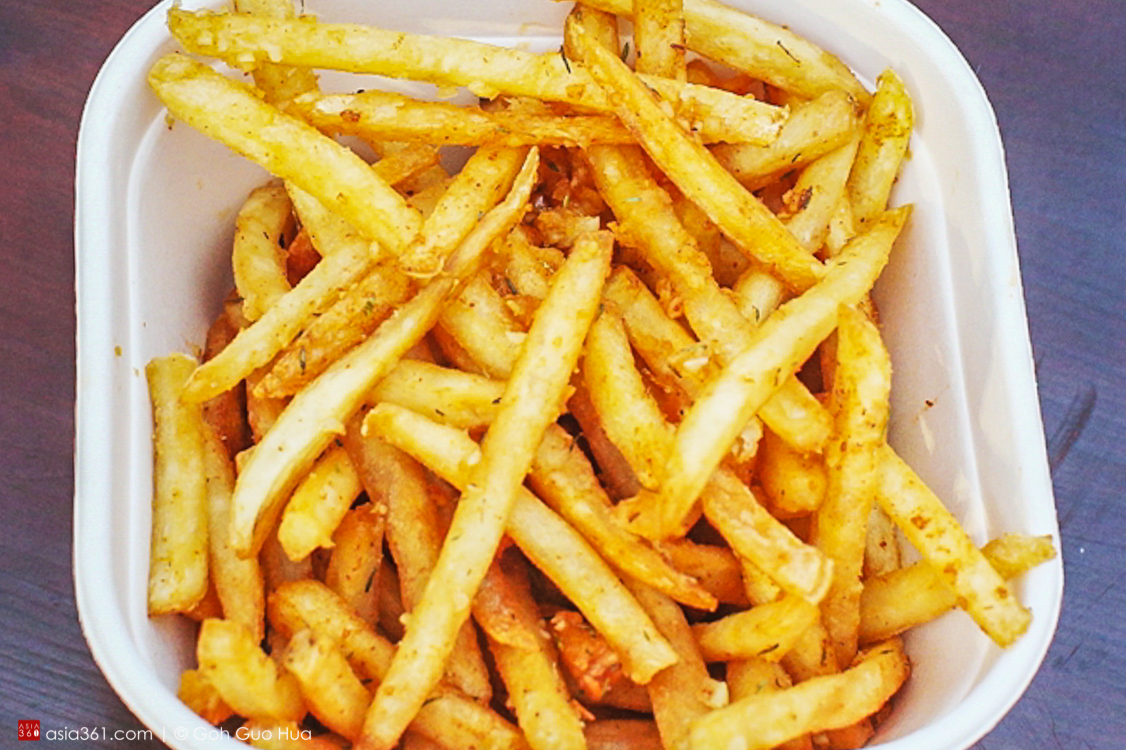 Garagistes, Australia
Garagistes  (pronounced as 'Gara-jee-tees'), made a name for itself in Australia for its insistence on locally sourced produce and a style that can be aptly called global eclectic. Chef Luke Burgess clearly drew on his time at Sydney's Tetsuya for this offering, the "Wagyu Beef Tongue, Fermented Jerusalam Artichokes, Kunzea Glaze". Presented seared and slightly charred, the bulky bovine chunk of tongue was striped down to delicate ribbons of meat gently folded back upon itself and marinated in a sweet teriyaki-inspired Kunzea glaze. True to its East Asian inspiration, the fresh flavour of the chilled artichoke slices functioned as the palate cleanser one would commonly find in the preserved ginger pieces in between sushi servings.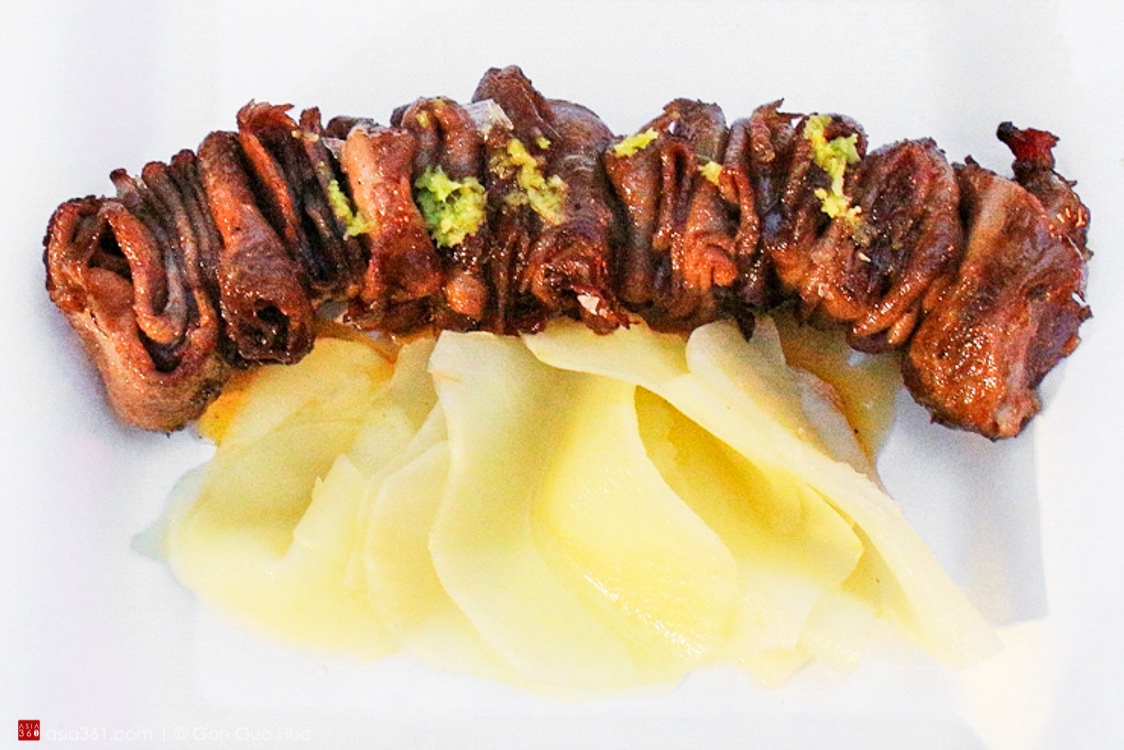 Ku De Ta, Singapore
Ku De Ta pulled all the stops with an ensemble that pleases and is difficult to fault. Tucking into the swordfish sashimi was  pure delight, a maelstrom of the fifth taste — umami. All the ingredients provided a satisfying crunch, but each of a different constitution. The airy crispness of the fried baby squid, the tender and moist munch of fresh swordfish, and the ikura, oh the ikura. Those orangey bath balls of pure bliss with its springy and slightly unyielding membrane tempted me to play around to the point of bursting it and keeping it intact, when at last it split and filled the mouth with a flavourful ephemeral mix of salty and sweet.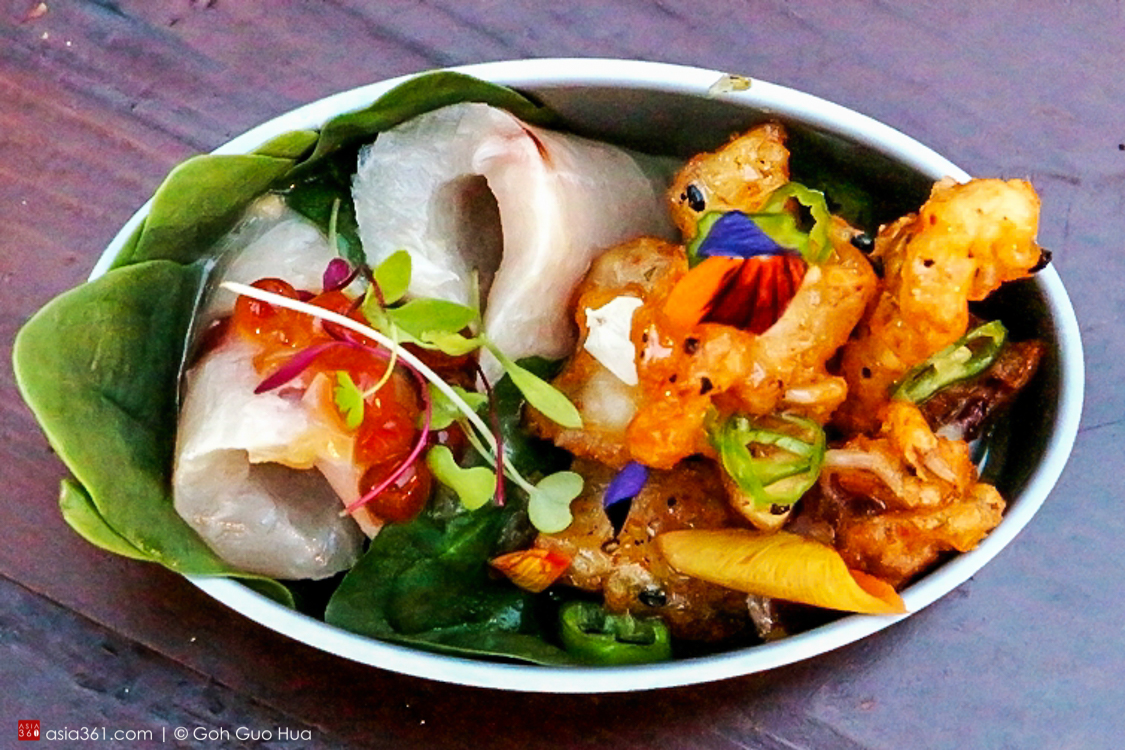 The meat platter by Ku De Ta, was one amongst a good number of similar offerings by the different kitchens. This begs a comparison with the meat combination by Stellar@1-Altitude and the crispy-skinned suckling pig by UNA@Rochester. With this trio, we had portions of sous vide duck breast, Angus beef with apple balsamic and a skewer of pork belly sweetened with apple jelly. These were complicated ensembles combining the main entrée with a number of garnishings, but what shone here was the attention to the nuances of each taste and how they fitted together.

Stellar@1-Altitude, Singapore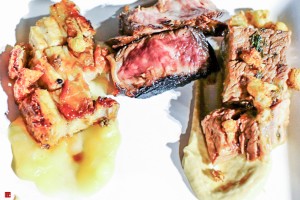 Stellar@1-Altitude's meat dish was a more direct take. The only pairing here was meat upon more meat, of which we have a Kobe rib-eye with a marbling score of nine, Kurobuta pork crackles and a sous vide US short rib.
The smoky savoury flavours could not be faulted. Seared on the outside but still juicy inside, the rib-eye maintained the smooth texture of freshly carved meat and tasted like velvety butter due to the gloriously sinful fat content.
As some are fond of saying, we have two stomachs – one for regular food and the other reserved for desert. I also went for one serving of the Stellar Ice Cream Sable, topped with raspberry meringue and blueberries. Again, here we have a melding of textures, sweet and tangy tastes that would make for a wonderful finisher.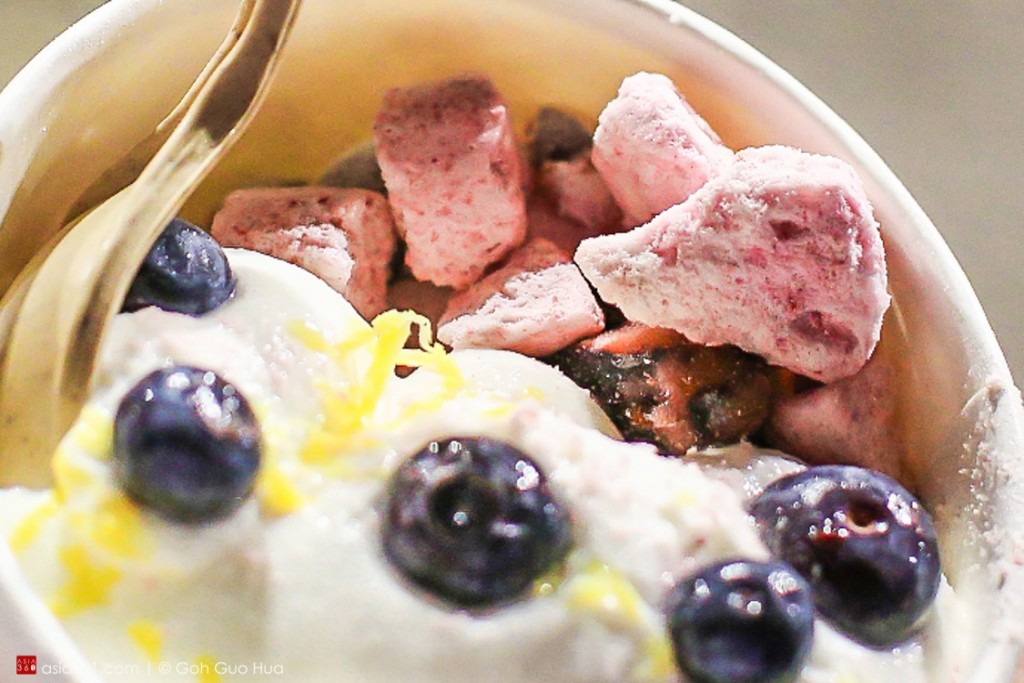 UNA@Rochester, Singapore
The roasted suckling pig from UNA was another crowd pleaser, judging from the long queue lines. A classic Catalan staple, strips of meat clung onto the bone just tenuously enough to preserve its form. As I pulled the meat apart and directed the tender moist chunks into my mouth, I couldn't help but notice and draw in the aroma that hung closely to the flesh. As an added delight, the crackle of the skin as I took that first bite was as addictive as popping bubble wrap.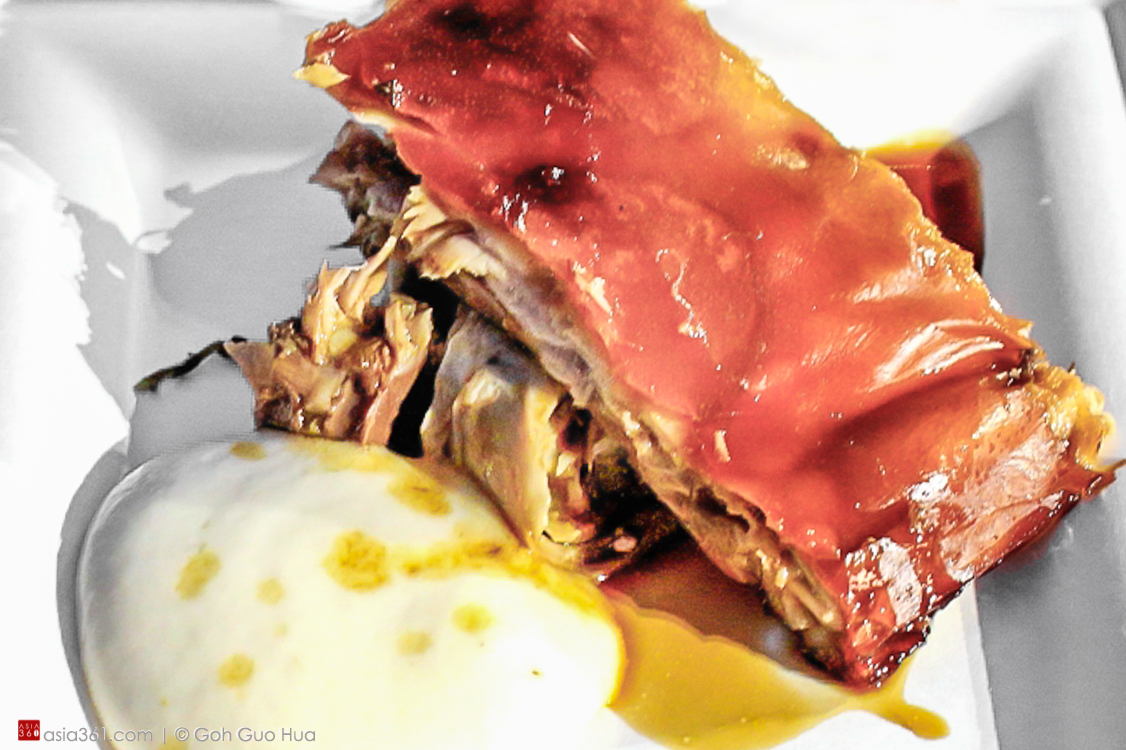 Bo Innovation, Hong Kong
A deceptively down to earth dish from three-Michelin-star Bo Innovation once again took on the familiar and upped the ante. Adapt at the understatement, this year Bo Innovation whipped up an upscale version of the humble Hong Kong Shrimp toast — with salted egg puree and truffles, this time.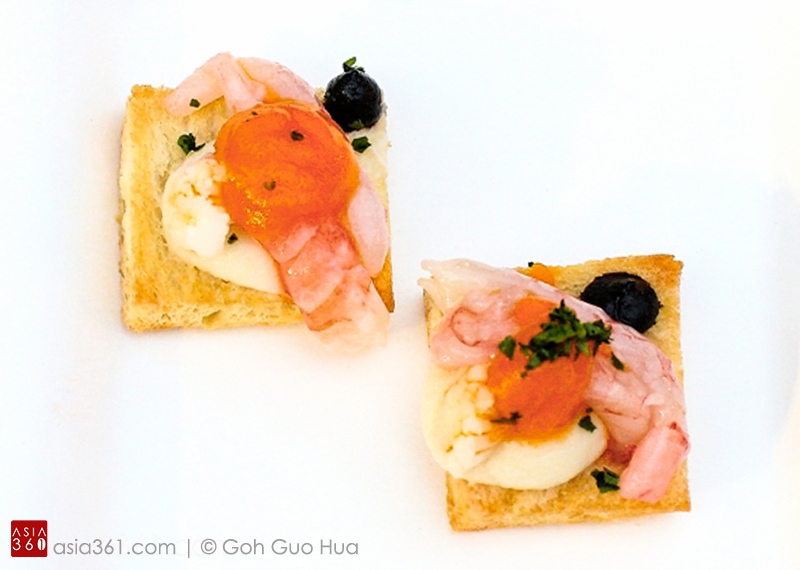 Il Cielo, Singapore
I would normally steer away from the strong taste of cod-fish and a mousse at that but the "Homemade Paccheri in Butter and Sage, Cod Fish Mousse and Caviar" from Il Cielo was prepared in a way that did not overpower, and tasted much like a savoury salmon cream sauce. The pasta squares were al denté and delicious but very filling.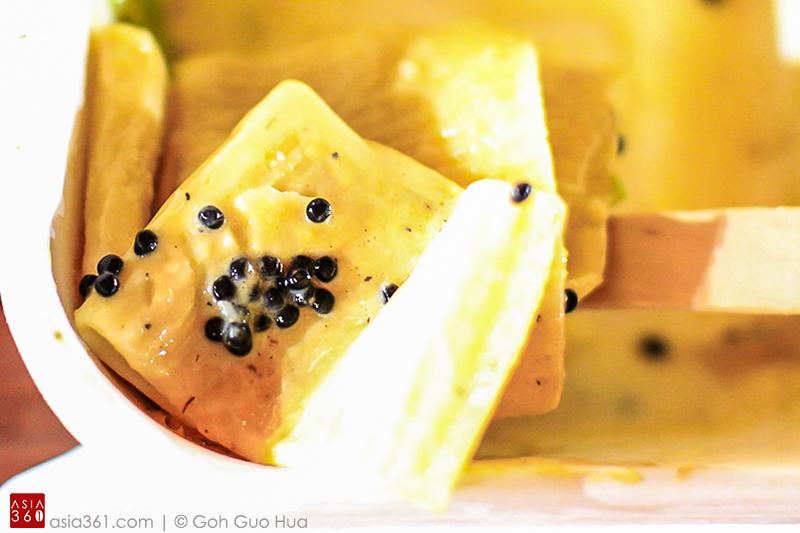 Saint Pierre, Singapore
The Foie Gras Magnum encrusted with almonds from Saint Pierre resembled its namesake desert. The creamed foie gras had been whipped into a consistent texture and reconstituted into a ball. Again, the chefs here thought to bring together contrasting ingredients, textures and flavours into a cohesive, appetising dish.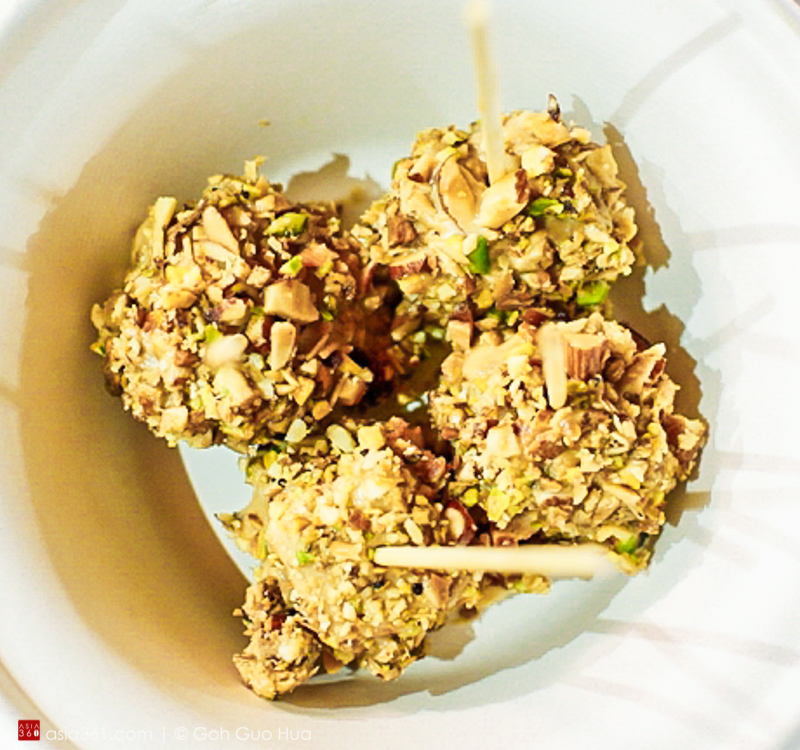 Kiin Kiin, Denmark
One-Michelin-star Kiin Kiin's Henrik Yde was on site, working the front desk as hard as the kitchen. This was one of the anticipated Michelin-stared names but unfortunately by the time I arrived, only one dish of three wasn't sold out.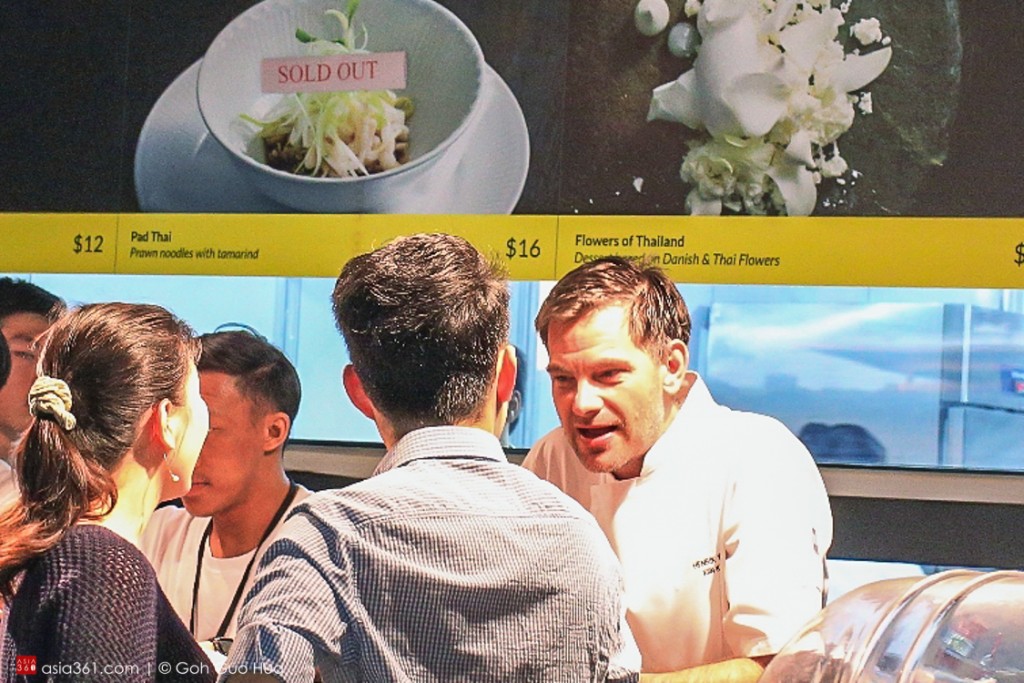 Their desert, "Flowers of Thailand", was very gracefully put together. This refined last course isn't your typical ice cream that you gobble in one gulp. Chilled flower petals were tossed around richly flavoured vanilla ice cream in an artful casual manner, making it a treat for the eyes as well as the palate.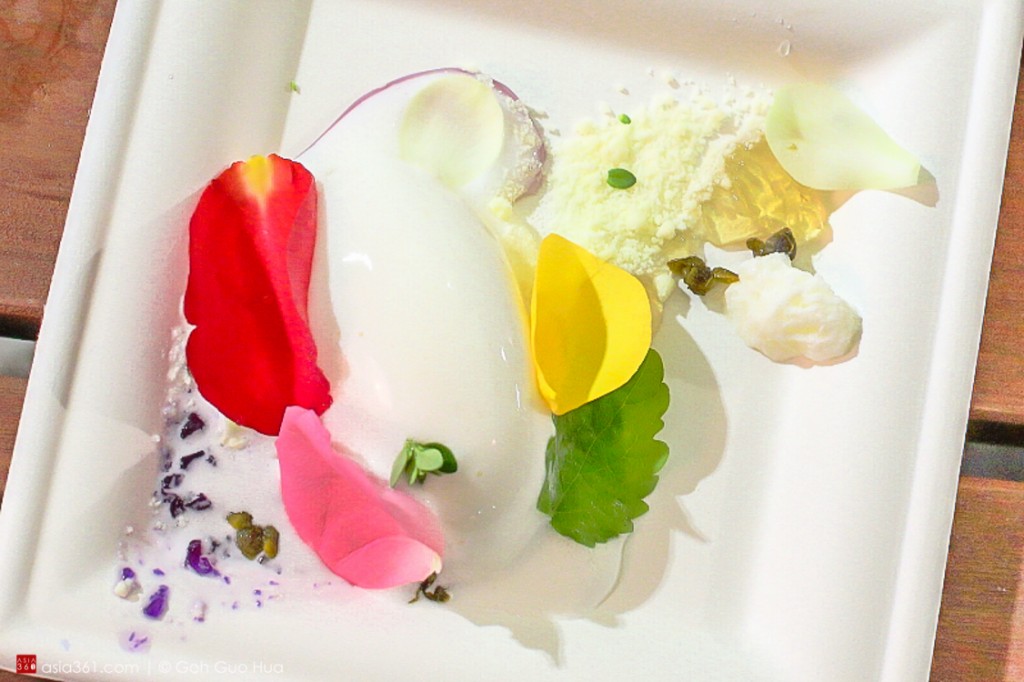 As is evident from the establishment's name, logo and the ode to the exotic yet accessible land in South East Asia, this is foremost, a Thai restaurant from Denmark, helmed by a Dane. However, its food is vastly different from the tacky interpretations of Chinese food in Western countries; this unlikely ambassador has brought Danish Thai food to prominence and garnered one Michelin star for the effort.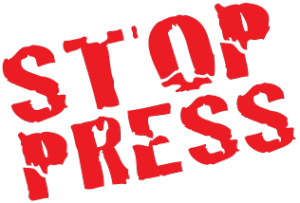 Well, I honestly thought I could do no more but I found my second wind, so here are three more flavours I savoured at SAVOUR 2015.
&SONS, Singapore
Mac and cheese is like the scrappy street urchin of civil victual society. It is unpretentious, has shed all decorum, and is almost crass sometimes. Mac, in &SONS' case, has paired up with a respectable piece of lobster tail and cleaned up enough to make it to the night's soiree. It made no apologies for the heavy orange coat of cheddar that weighed down the diner's belly with its full but very comforting flavor. The lobster added  a nice texture and much needed density for a satisfying bite.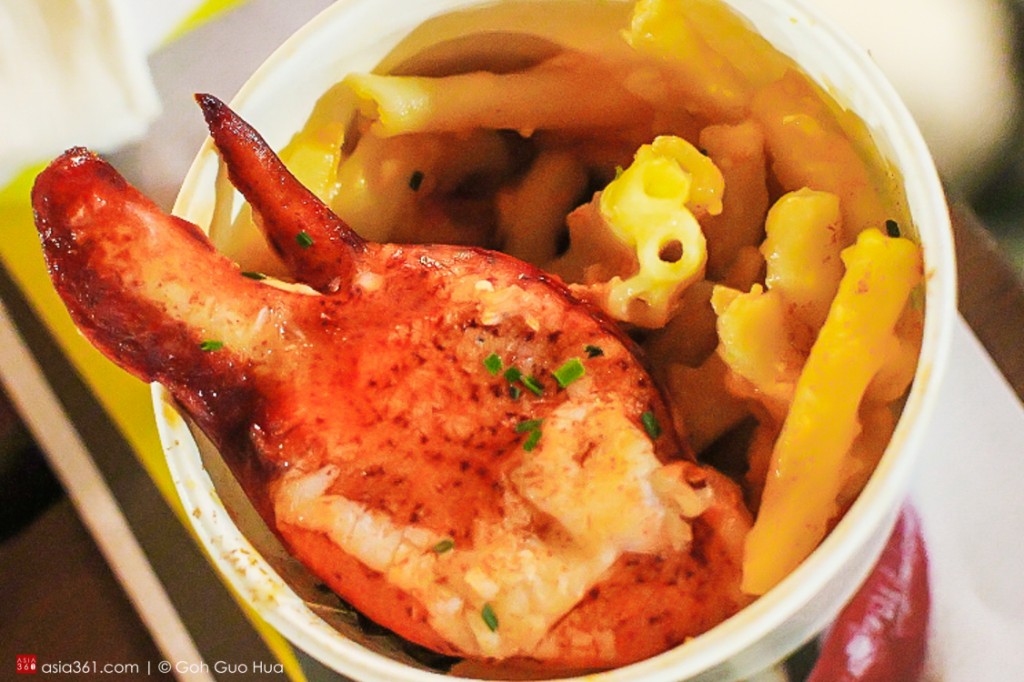 Bird Bird, Singapore
The offering from Bird Bird had me sit up, but more so, it had me piqued. Its chicken skin sundae, as the name suggests, comprised of otherwise milk ice cream, salted palm sugar butterscotch, corn and peanuts, was made remarkable with the unconventional condiment of coq scratchings.
This unexpected pairing was all about pushing conventions. On first look, concocted only to tempt the more adventurous to partake, the choices vindicated at first bite.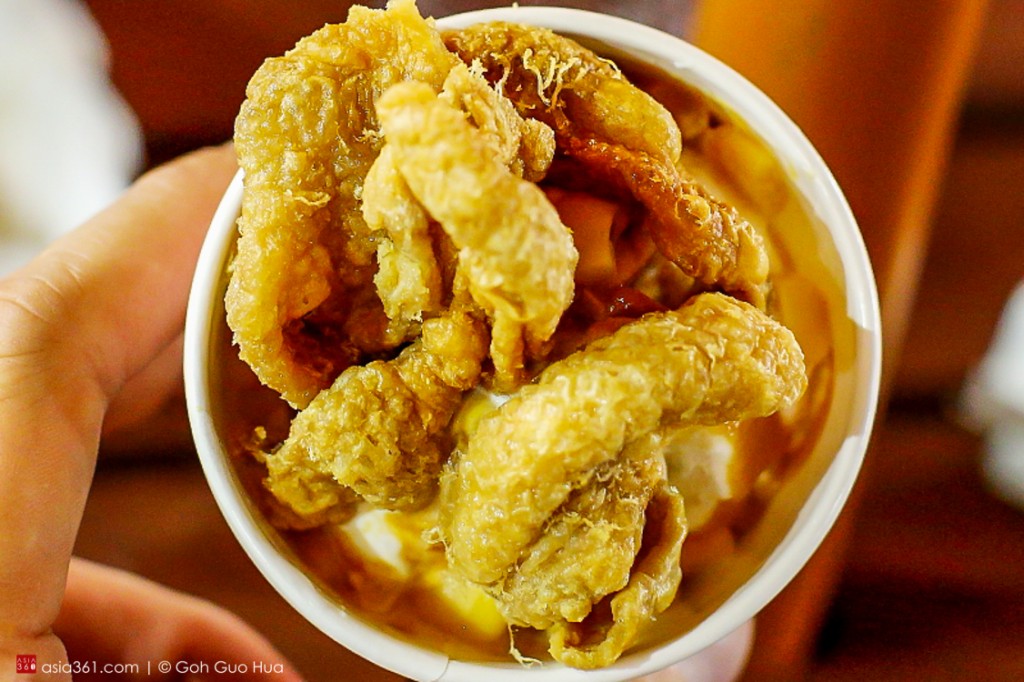 Forlino, Singapore
In case you weren't already feeling full from the list above, I have the final selection – Forlino's linguini with Hokkaido uni and traditional Sardinian Bottarga. Really fresh uni, or sea urchin, isn't always easy to come by here in Singapore but when you do get your hands on some, you might do well to toss some on your pasta. For this one, with ingredients that looked this good, it was no suprise it was as good as it looked.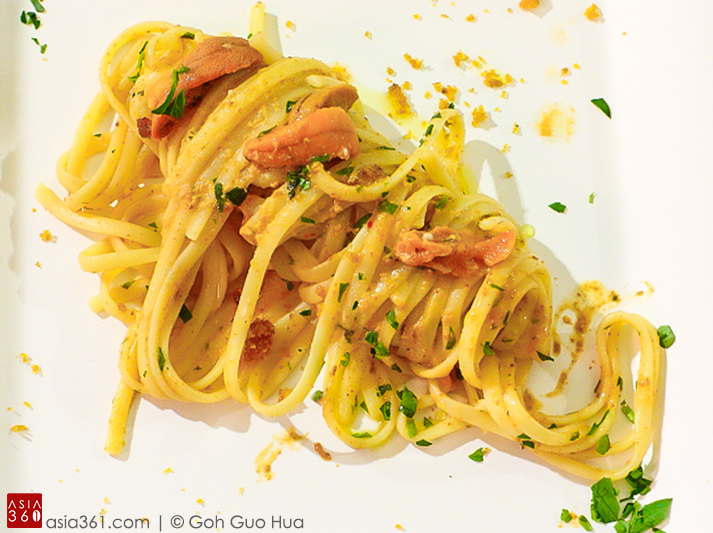 My top picks for the night were the wagyu beef tongue from Garagistes and the swordfish sashimi with crispy baby squid from Ku De Ta. To wrap up, my dessert choice was " Flowers of Thailand", a floral ice cream concoction that cleanses the palate with its light fresh subtle floral flavours. For seconds, I'd recommend the suckling pig from UNA and the stellar ice cream sables from Stellar@1-Altitude, just because it would be a cardinal sin to leave with merely a single helping.
Having had a week and a half – a sufficient amount of time for the sensations and flavours to steep in the old brain bucket, I've noticed some consistent themes as I deconstruct the experience. There were "shocking conventions", where the masterful pairings of unlikely ingredients brought about a result greater than the sum of its parts; the "play up", where simple, even common dishes were reinvented, turning into haute cuisine, the everyday bas. If none of the above, add seafood!
If any of the "deadly sins" could be absolved, it should be gluttony. Just once a year, at the annual SAVOUR gourmet food exposition.