The tropical sun slinks beneath the covers of the darkening horizon, diffusing its golden light into soft passionate shades of rose, pink, orange, and purple that spread across the sky in a vibrant surge.
"No one appreciates sunsets anymore, like people used to," my co-driver lamented, turning towards me.
"I do," I reply. "We're running late. That golden disc at the end of the road there, is our pot of gold. The closer we get to it, the further we get away from here."
"Could you do the first leg? I'll take over at Kuala Lumpur."
We are driving up to Myanmar from Singapore in my "Ferghana horse" – a zippy, 2005 sports-edition Toyota in white. It's 10 years old this year, and this could well be our final journey together before it's taken off the roads. In that time, it has been a faithful companion on my road trip adventures. I'll be sad to see it go.
The enveloping blackness of night helps me to think as much as it helps me to forget. If my mind detaches from the thought of pressing my foot on the accelerator and hands on the steering wheel, the windscreen soon begins to resemble a widescreen TV showing a looping video of roads passing before you.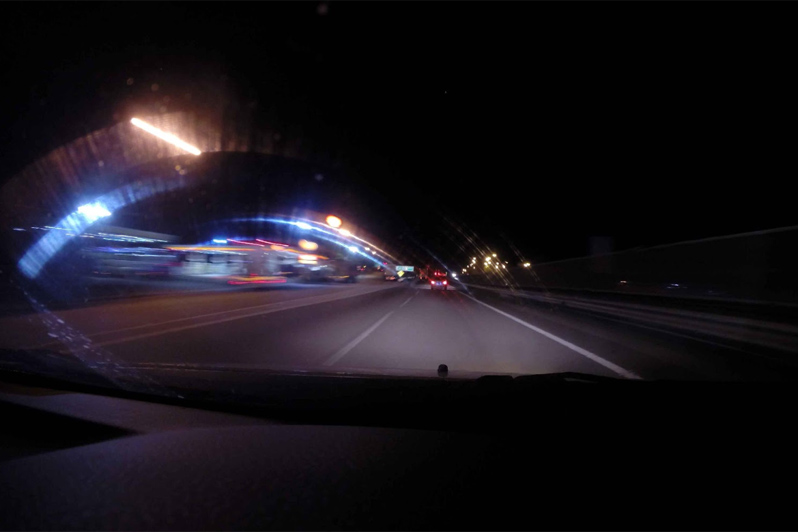 It's a good 10-hour drive up north. Not many Singaporeans would do long road trips in Southeast Asia, but I've been at it for 15 years now. Road trips like this have always been a quick fix for me when I need to get away.
The drive can be grueling, but makes me feel like a million bucks after. The darkness, the silence, and that single-minded purpose of reaching the destination – all these fuel me.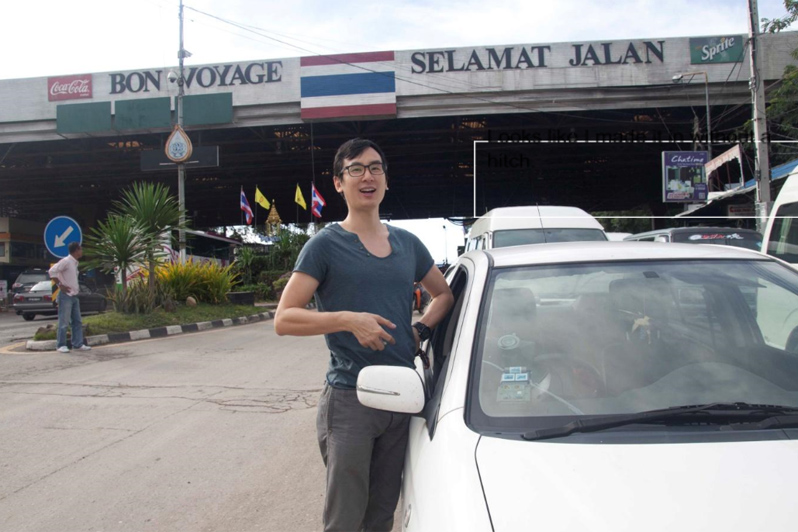 Our car pulls into Ranong Town, a little above the isthmus of Kra, Thailand. Relieved but in a mild state of disbelief, I still can't understand how a distance of about 1,500km while travelling at an average speed of 120 km/h has taken close to 24 hours of driving. I had planned on arriving at 3 pm and being drunk by 7, based on recollections of an earlier drive taken two years ago; but only arrived closer to 8pm.
Probably sensing my slight disorientation, my travel companion figures it would be the perfect time to exert an influence on the choice of accommodation before I get my bearings and make a beeline for the cheapest and most decrepit looking hostel.
The next day, we set off early in the small hours of the morning. The border crossing from Ranong to Kawthaung, Myanmar is unlike any other I've been through. As day breaks, rafts gather at the pier. The low rumbling chug of boat engines precede thin wisps of diesel smoke wafting in the air.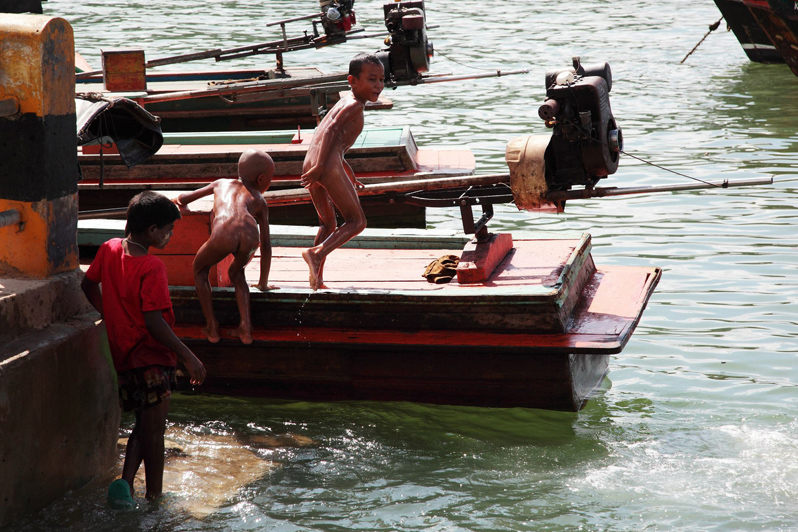 Clearing customs is uncomplicated but involves passing through multiple checks on both sides at floating stations along the river route towards Myanmar. Crossing the Malaysian- Thai border was more tedious. On my last few road trips, I had to talk my way through that border, with some begging and acting thrown in. This time, I came armed with documents, in triplicate, from the police, motor insurance agent, lawyer, and all sorts of other official documents enough to bury the customs officer under.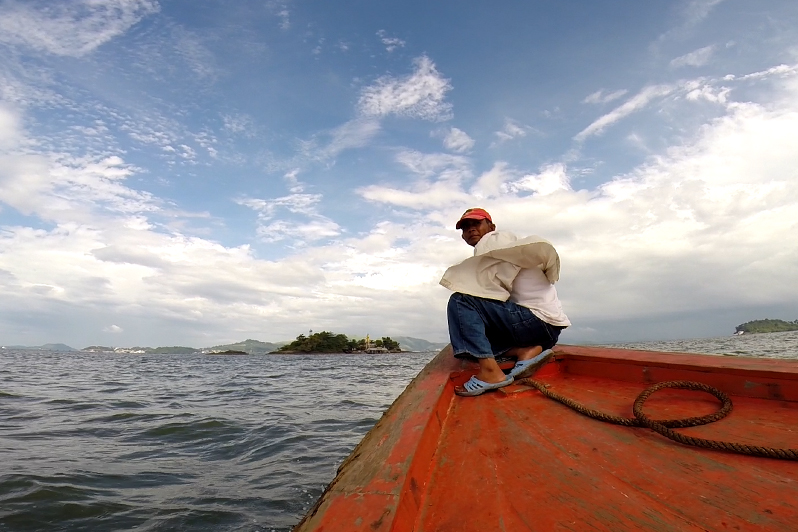 Visually, everything changes the moment we cross over to Kawthaung. People with teeth are stained red from betel nut chewing, buildings that look 30 years older, and teashops that are dark from yet another blackout. Here at the southern tip of Myanmar, it was just three to five years ago that certain areas were classified "black areas" amidst ethnic resistance against the government.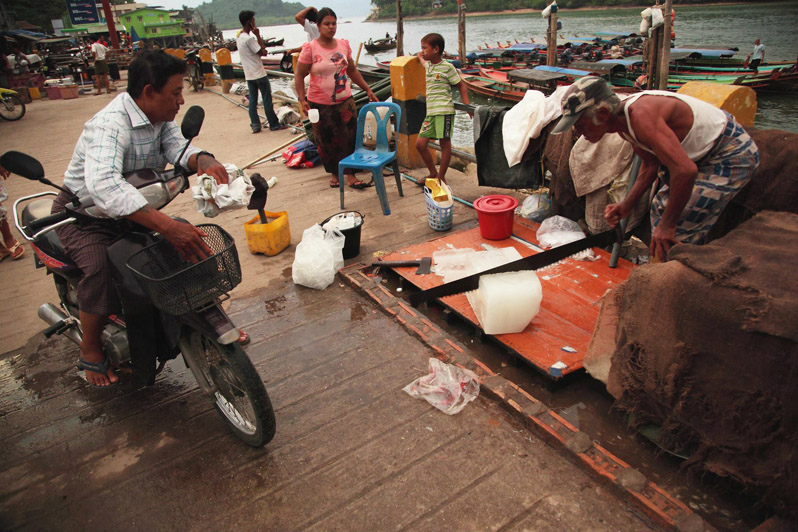 "Come on, I'm sure the hotel is just up this hill." I say to my travel companion as we arrive at a temple. After passing the same pagoda three times, she lets out a loud groan. If her groan has not come from the strain of her backpack, it is expressed more clearly when it suddenly rains and we are forced to take shelter in the temple shrine.
Shortly after, the rain abates. The local kids start to emerge from their shelters in groups. Some are carrying their younger siblings; some come in pairs and trios, while others are gangs of mischievous boys.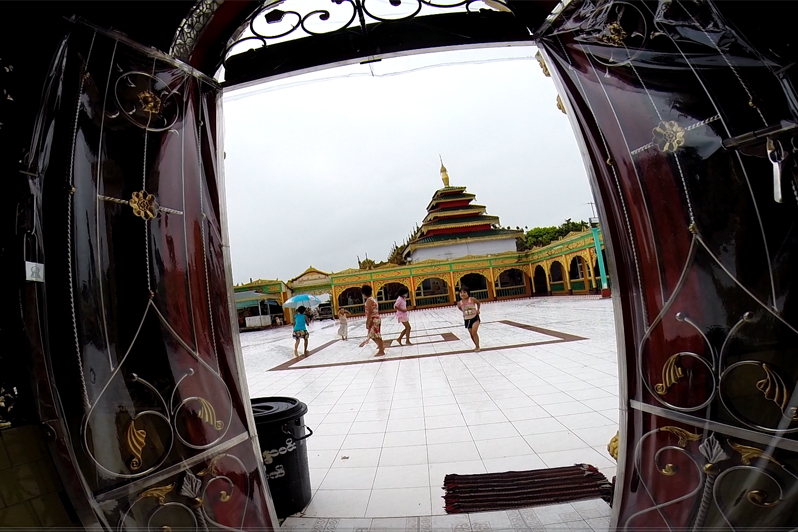 The kids start off with a short trot and a sudden halt, sliding on the slippery marble surface as they try to balance on their feet with a wide-legged stance. I join in the fun and drag my friend along with me. We slide around with the children, laughing and getting acquainted. We take photos, exchange addresses and apply Tanaka face paint on one another's face.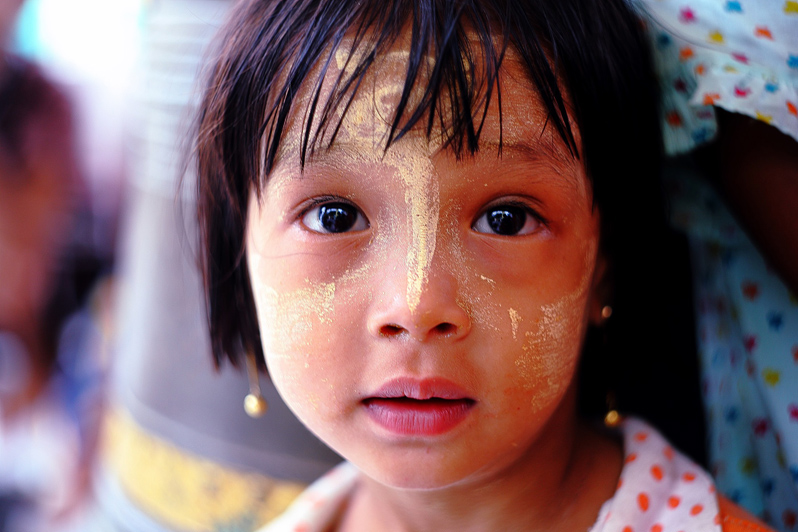 "So, this is Myanmar," I say to my companion. "And, the fun's just beginning."