Teeth whitening products aren't that new on the market. I have seen a fair share of Instagram posts with people biting down on fancy-looking UV light kits, or flash sales for scarily affordable whitening strips on e-commerce apps. The more ads I saw, the more convinced I was any form of tooth whitening was surely a gimmick.
At the same time, seeing how HD our selfie cameras are these days, a little voice at the back of my head wouldn't let it rest about how my teeth weren't looking as squeaky clean as they should. I felt slightly conscious, but it was never enough to warrant risking my dental health for a random online product. Then I came across Zenyum, a Singapore-based company that is known more for their invisible aligners,. And as it turns out, they too offer Zenyum White, a professional whitening kit.
Zenyum is a brand for the latest healthcare tech, and they're all about giving people a confident smile with their team of dental experts and creatives. They focus on making dental cosmetic solutions affordable and accessible, all while assuring safety and more importantly, results. I was fortunate to be able to try out Zenyum White, the first product in their Smile Cosmetics line, which is their answer to our bubble-tea stained teeth.
The Path to Treatment 
The treatment process, as it turns out, is quick and simple. The actual whitening treatment only needs five days.
To get things started, you first purchase your Zenyum White Starter Kit online. It's actually far more affordable than other professional treatments on the market, while being a good deal for a trustworthy HSA and FDA-approved product. For S$289, the Zenyum White Starter Kit includes a standard dental consultation, a customised 3D-printed whitening tray, and a set of whitening and remineralising gels.
Upon purchase, Zenyum will get in touch with you to arrange for the dental consultation, which is included in the deal. What I like is the folks at Zenyum go the extra mile to find out my preferred location and pair me with one of their trusted dental partners that's most convenient for me.
Within two weeks, I headed to the clinic for my consultation. Zenyum schedules these consultations to ensure your teeth whitening journey is first approved by a professional. You get proper advice about how to maximise the results while keeping your teeth safe. At this point, a quick scan of your teeth is also done for the customised gel tray that's part of your Zenyum White kit. If you're already an existing Zenyum user, you can skip the scan because your aligners will work as the gel tray instead.
At the consultation, the dentist asked me questions on my dental history, such as whether I had any prior issues with sensitivity, or previously tried such treatments and had reactions to them. She then checked my teeth and gums for any signs of sensitivity that could possibly cause any discomfort. As not everyone may be a candidate for whitening treatments, these dentists are in the best position to advise you based on your existing gum and tooth health.
I felt safe, and having had braces before, I was able to clarify my doubts about whether my permanent retainers would affect my ability to use Zenyum White. The dentist reassured me, and with that, the scan was done and I was ready to go in less than half an hour. The check-up and scan were completely free, but depending on your dental health, the dentist may recommend scaling or polishing on the spot for better outcomes, at an additional cost.
The dentist described the scan to be almost like an "ultrasound scan of your teeth", and the scan took less than five minutes. It was completely painless and simple; all it needed was the dentist to move a probe around your teeth to get their impression. This scan then gets sent to Zenyum, who will 3D print a personalised whitening tray that fits perfectly over your teeth.
The dentist also gave me additional brushing advice and also checked with me about my favourite foods and drinks, as they could have an impact on teeth staining. The common everyday culprits are tea and coffee, and being a die-hard tea fanatic, I was advised to pick cold over hot teas, green over black teas, and where possible, use a straw. However, for best results, the dentist mentioned I should hold off altogether until my kit arrived and throughout the five days of treatment. No exceptions made for bubble tea (cue dramatic sobbing).
The Unboxing
Soon enough, my Zenyum White package arrived at my doorstep and it was time for unboxing.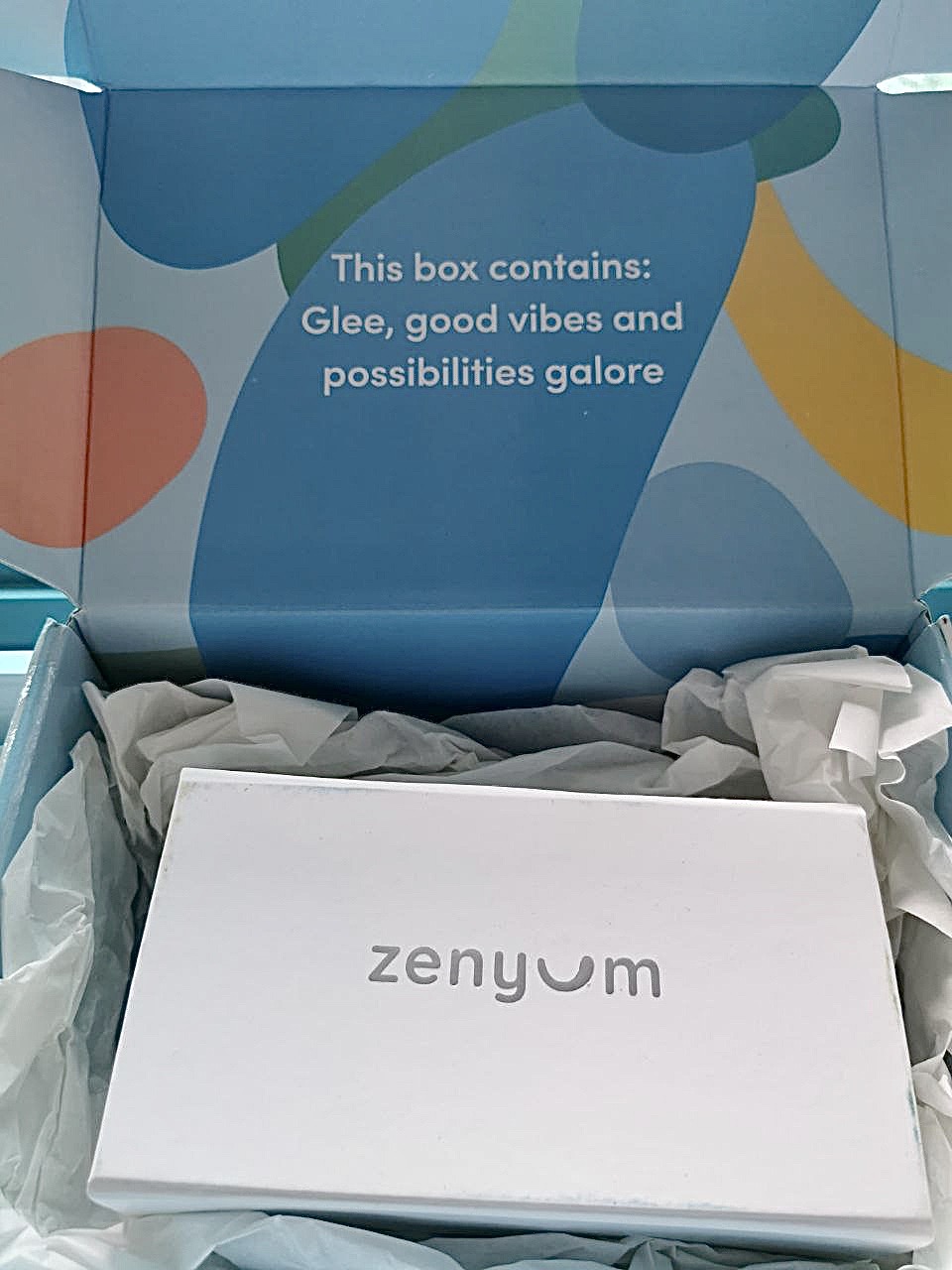 Neatly packaged in a cute and clean box was the 3D-printed whitening tray, three sets of medical-grade whitening gels, and one blue remineralising gel. I love the quirky, simple designs. Bold and bright, it was a fuss-free experience figuring out how to use the kit.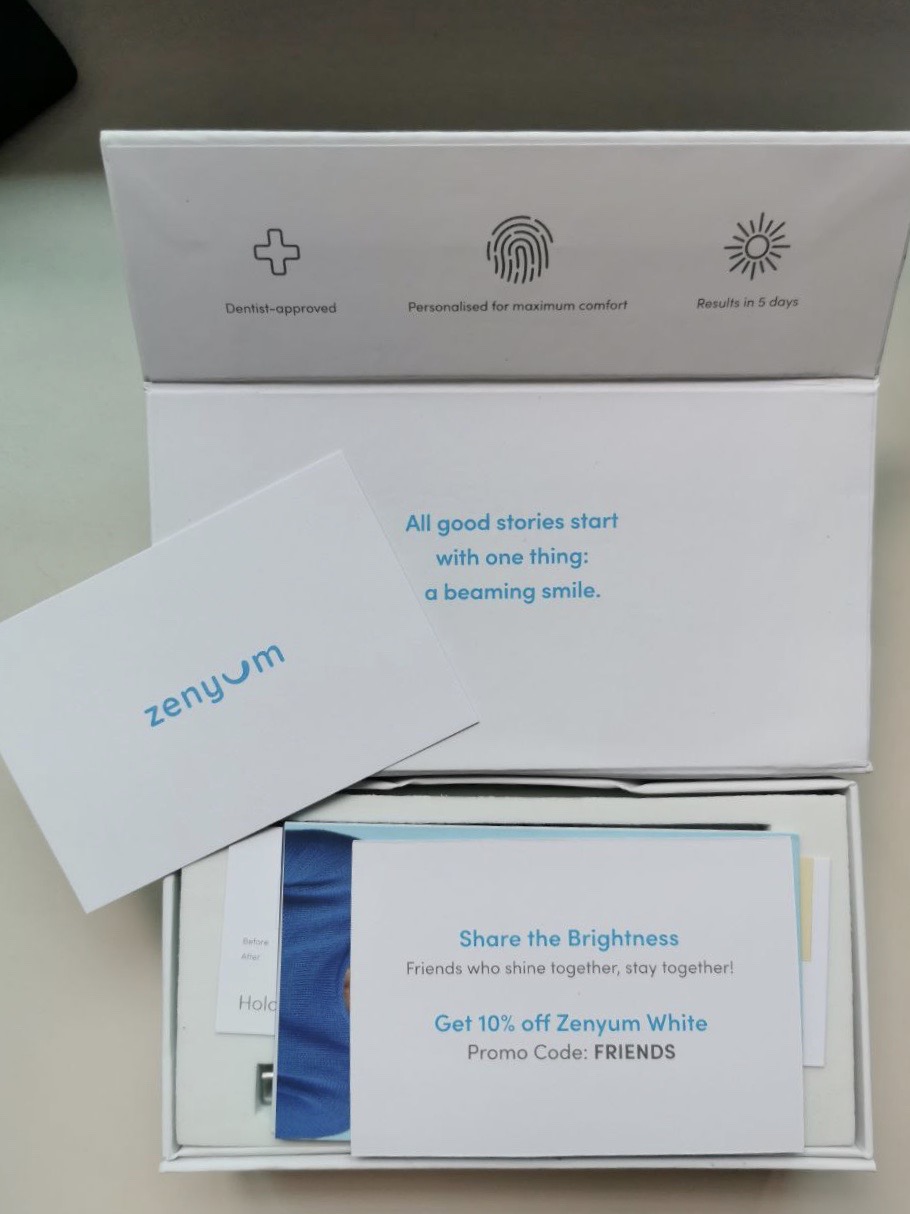 Their small product guide was clear and even had a QR code that directly linked you to the instructional video. The guide also was explicit about what to expect from Zenyum White, its limitations, and the ingredients. It was a transparency I appreciated and it helped allay my fears. What tickled me was also the colour strip for you to match against your teeth to find its special shade of yellow, that you could use for comparison once you complete the whitening process.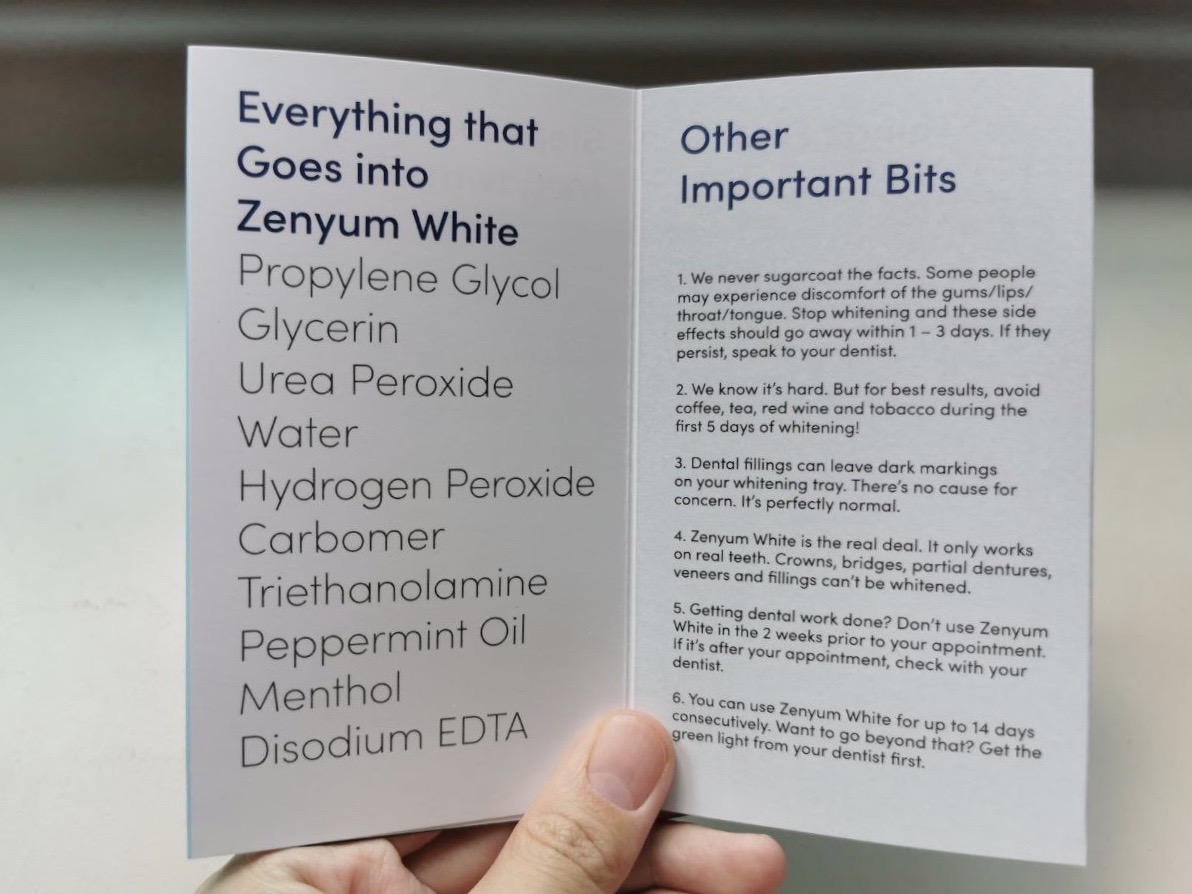 When you're ready to use it, the first thing to do is to check the fit of your gel tray. Brush your teeth as you would normally, give the trays a quick rinse and dry, and just place them over your top and bottom rows of teeth. For my fellow braces buddies, they're just exactly like your regular retainers. They're a thin, hard plastic covering over your teeth, and they did fit snugly, without feeling too tight as well. Having metal retainers behind my teeth didn't cause any problem either. A good fit is essential for the surfaces of your teeth to have sufficient contact with the whitening components of the gel, while avoiding any overspills.
Once the check is done, I gave the trays another rinse, and it's time to apply the gel! The gels come in a pen-like form, so using it was quite intuitive. After uncapping, all I needed to do is give it a twist and start brushing on the gel on the inner surface of the tray. The ends of the sticks are brush-like so it was easy, even satisfying to apply. Initially, I was cautious about rationing the amount of gel I applied, worried that I wouldn't have enough to last me. By the second day, however, I realised the 3 pens provided were more than enough, and I could apply a reasonable amount each time.
After application, I simply put the trays back on over my teeth, set an alarm for 75 minutes, and chilled out. Having the trays on didn't feel like much, but for people who have never experienced retainers, they may find talking a little different. After all, there is a foreign object in the mouth. But, that's only a minor issue and it simply takes time getting used to the trays.
The gel tastes of the slightest hint of mint, but otherwise didn't have much flavour nor did it cause any uncomfortable sensations. I took that time to settle into my nightly routine of just reading a book alone, or catching up on my favourite sitcoms. Before I knew it, the alarm sounded and it was time to remove the trays and head to bed.
The only thing I felt was a slight soreness around my teeth once I removed the trays — a feeling reminiscent of me wearing my retainers. For those blessed enough to have not needed braces, it resembles a vague tightness around your teeth, but it goes away after some time, and you get used to it pretty quickly.
From here onwards, all I had to do is repeat this straightforward process for five to 10 days. The instructions say it's up to each individual to decide how long to use the trays for, but keep it to a maximum of 10 days. I chose to keep up with it for 10 whole days, and by the third day, it felt like an easy routine that wasn't disruptive or troublesome at all. The hardest part of it all was simply having to be conscious about what I drank during the 10 days and having to abstain from the oolong teas I so loved.
After Whitening
Once done with the duration of whitening, I swapped out the whitening gel pens for the remineralising gel pens for two days. I applied them the same way, and they have a soothing effect on the teeth. Tooth whitening is debatable as it is known to cause enamel thinning, and can cause irritation to those prone to tooth sensitivity. This remineralising gel provided by Zenyum makes sure your teeth stay well protected and the process remains a feel-good activity with zero discomfort. Personally, I didn't experience any sensitivity at all throughout the 10 days, but it was good to know there was something available to relieve these side effects if they had appeared.
So, does it work? Personally, I did see quite an improvement, especially in my incisor teeth which have always been stubbornly stained. (I'll let the pictures speak for themselves.) Refusing to believe it myself, I forced my mum and sister to inspect my teeth too, and they agreed too that my teeth are whiter. Zenyum White results are said to last up to six months after treatment, but that also depends on what you consume on a daily basis. For now though, I am happy it worked for me. It's been a month down the road and I still see its effects hanging around!
Afterthought
My favourite thing about this whole experience was Zenyum's reliability and accountability. When I first read reviews about Zenyum, one thing that stood out was the praise for its level of service. While initially dubious, I was pleasantly surprised this was indeed true — the staff were easily contactable at any time via text and gave me regular updates about the status of my Smile Package. They were happy to address any of my concerns and questions. It was this service that really put my mind at ease, knowing their products were also medical-grade and guided by professionals at every step.
Overall, I have had a good experience and took away with me a brighter smile from Zenyum. If you'd like to give Zenyum White a go and also get that blinding white smile for yourself, you can check out Zenyum White here.