One strikes fear in its prey underwater. Another strikes fear in his opponents in the water. And, both are among the fastest swimmers of their respective kind. We are talking about the Great White Shark and Michael Phelps, the US swimmer who holds 39 world records and 23 Olympic golds.
What if the swimming legend pits himself against the great predator of the oceans?
Watch for yourself when Discovery Channel premieres its annual TV event, Shark Week, from 24 to 28 July 2017. During the week-long event, Discovery will air several ground-breaking shark programmes, shedding light on the majestic underwater predator.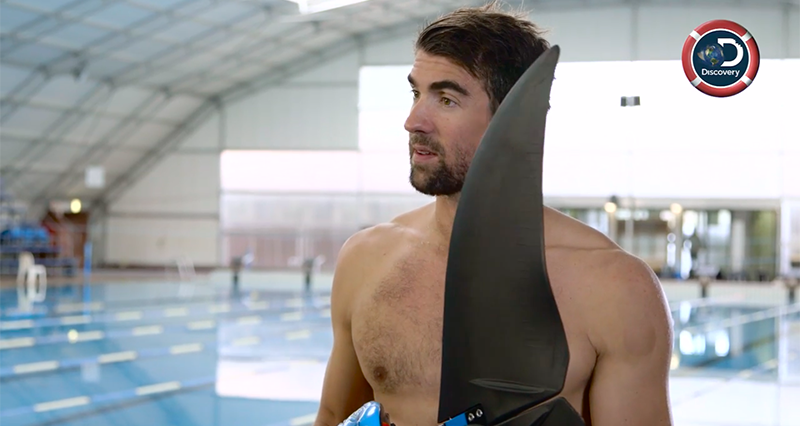 One of the programme highlights will be the episode "Phelps vs Shark" Great Gold vs Great White" on 27 July (Singapore time: 9pm). An unprecedented attempt, Phelps will race against the Great White Shark.
In another episode "Shark School With Michael Phelps", you'll see Phelps get a crash course of everything about the underwater predator with Doc Gruber and Tristan Guttridge of the Bimini Shark Lab – including learning how to safely dive with sharks.
Check out Shark Week's programme schedule:
24 Jul

25 Jul

26 Jul

27 Jul

28 Jul

Discovery Channel SEA, 9pm
SHARK SCHOOL WITH MICHAEL PHELPS
SHARK-CROC SHOWDOWN
SHARKS AND THE CITY: LA
LOST CAGE
PHELPS VS SHARK: GREAT GOLD VS GREAT WHITE
GREAT WHITE SERIAL KILLER LIVES!
SHARK VORTEX
SHARKS AND THE CITY: NEW YORK
GREAT HAMMERHEAD INVASION

SHARK SWARM

Shark Week airs from 24 to 28 July, 9pm on Discovery Channel (Starhub Ch 422 and Singtel Ch 202).